50 years of biscuit joinery
January 10, 2020 | 12:59 pm CST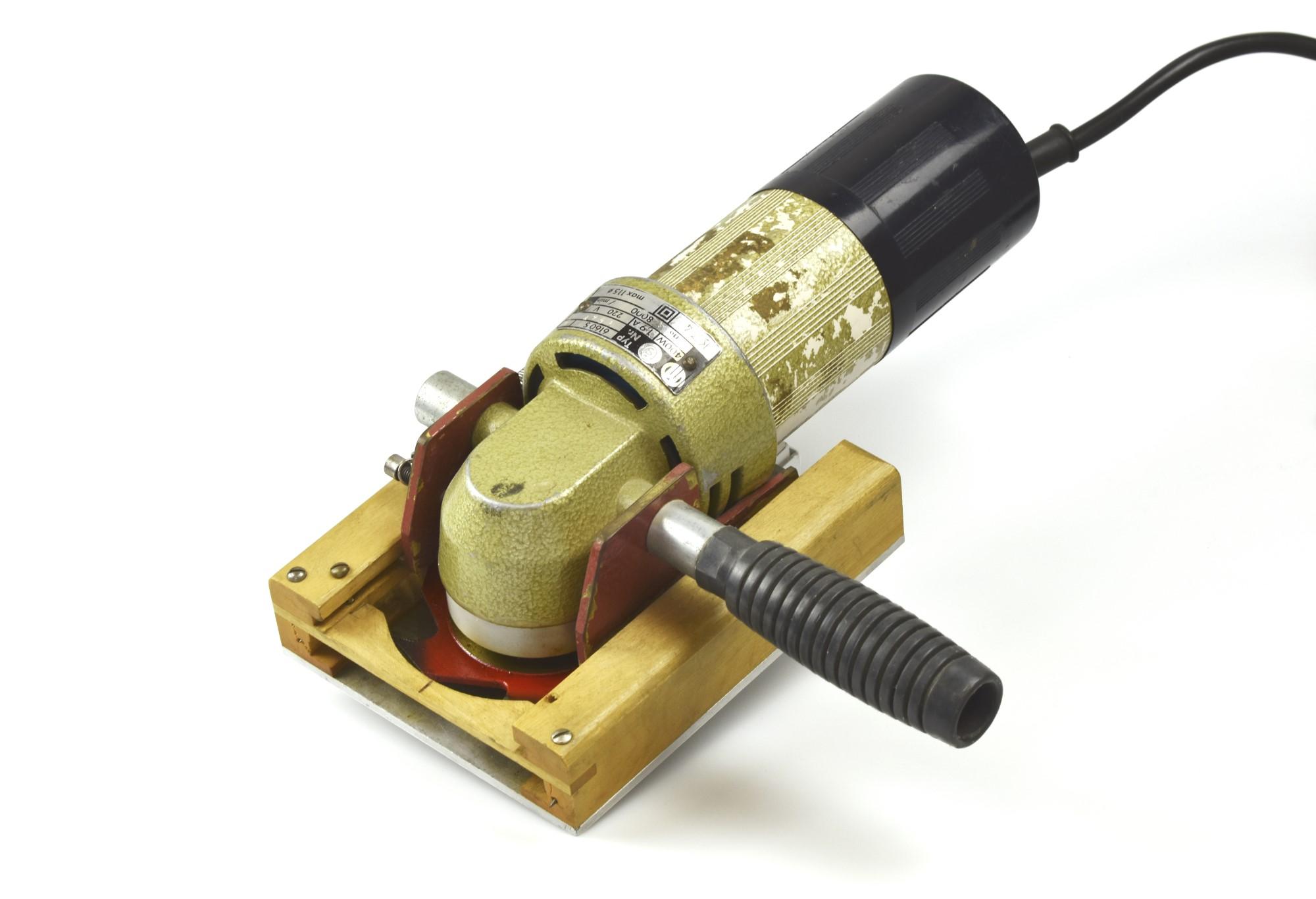 The company behind one of the most innovative wood joinery techniques of modern woodworking is now 50 years old. Invented by a Swiss cabinetmaker, Lamello biscuit joinery has changed the way both small custom shops and even large production operations make their products, expanding from a simple portable power tool process to integrated CNC fastening systems.
Taking its name from the small oblong beech wood fastener, biscuit joinery was first developed by Hermann Steiner in 1955, but it wasn't until 1969 that he founded Lamello AG to manufacture and promote the joinery to woodworkers around the world. Sometimes called plate joinery, the system is an advance on loose tenon joinery, employing machines, either portable or stationary, to create mating precision semi-circular slots in parts to be joined. Then the biscuits and glue slide into the slots to complete the joint.
Hermann Steiner invented the Lamello biscuit joining system in his cabinet shop in Switzerland.
How it began
Karl Steiner, former owner/CEO and current Chair of the Administrative Board of Lamello AG, was in high school when his father Hermann Steiner invented biscuit joinery in his cabinet shop in Liestal, Switzerland.
"The original wood biscuit is a joining element which joins wooden panels precisely and firmly. Yet my father Hermann Steiner's phenomenal invention is much more than that," said Karl Steiner. "This little wood biscuit is a joining element also in a figurative sense, marking an important turning point in our company's history: thanks to the biscuit, the Hermann Steiner Joinery evolved into a public limited company 50 years ago, now known as Lamello AG. The family business no longer focused on cabinetry work and interior fit-outs, instead becoming an industrial business. From this point on we dedicated ourselves fully to the production and development of innovative joining systems."
The invention was developed over time. Hermann Steiner first conceived the system in 1955, but it wasn't until three years later that he built the first stationary machine for biscuit joinery. Then, in 1968, he came up with a hand-operated portable power tool to cut the joinery, which really paved the way for launching the system worldwide.
"The company became part of our family life," said Karl Steiner. "For us kids it was normal for our father to return to the workshop after dinner to work on his inventions. My mother would also return to the office to do the bookkeeping for the business, which was then still a joinery (cabinet shop)."
Lamello biscuits are made of compressed solid beech wood with locally sourced wood in Switzerland.
Making biscuits
The wooden biscuit of the Lamello System seems so simple and has been used to join millions of wooden components since its invention in 1955. The oval wooden biscuits are still produced at the company headquarters in Bubendorf, Switzerland. The company has its own sawmill, wood kiln and several machines specifically developed for biscuit production.
The process begins with beech trees harvested within a roughly 12-mile radius of Lamello headquarters. Some 1.27 million board feet of beech is processed every year. Logs are cut and dried and then cut into cants. Dried cants are cut into strips that are compressed with 25 tons of pressure to the 4mm thickness of biscuits, also adding the Lamello logo and cross-hatch pattern in the process. The pattern makes it easier to slide the biscuits into grooves and for the glue to be absorbed.
Only about 20 percent of the raw material used is turned into biscuits. But the remaining material is not disposed. Large pieces of wood make for good fire wood. Wood chips and shavings are partly sold as fuel for heating and partly used for Lamello's own wood chip heating system, which is used to heat all company premises. Excess energy is fed into the Bubendorf district heating system.
Lamello has continued the spirit of innovation and invention started by its founder with more award-winning products beyond the original wooden biscuit system.
Expanding applications
It didn't take long for the inventive mind of Hermann Steiner to expand the uses and applications for biscuit joinery. A biscuit-based wood repair system was launched in 1970. Three years later, the company expanded with new production and administrative offices in Bubendorf, Switzerland.
Karl Steiner took over company management with his brother Alfred in 1979, ushering in new expansion. The Tanga 150 window cutter was invented in 1981, and the company launched a string of international subsidiaries in the 1980s and 1990s. In the United States, Lamello products are distributed by Colonial Saw, based in Massachusetts.
The iconic Lamello Top 10 biscuit joiner was introduced in 1988, but not everything Lamello did was biscuits. In 1996, the company acquired and developed the Schneeberger glue system. In 2001, Lamello invented the award winning and innovative Invis joinery system that used a magnetic drive system to activate hidden fasteners.
In 2004, the Lamello biscuit joinery system was highlighted as part of a special exhibition at the Museum of Modern Art in New York, titled "the most humble innovations of the 20th century." Since then, an original wood biscuit has been on display in the museum.
Millions of wood parts have been joined over the years with Lamello biscuits.
21st century advances
A new century brought new advances for biscuit joinery. The award-winning Clamex P system was developed in 2009 specifically for use in CNC machining applications, but a new portable tool, the Zeta, made the system accessible for those without a CNC machine. In 2013, there was the Tenso P-14 connector, followed two years later by the Divaro P-18 connector. In 2017, the Cabineo connector was designed specifically for use with CNC machining.
The Tenso P-10 joinery system last year won honors at Interzum. This system married plastic RTA fastening to the biscuit joinery system of Lamello for modern assembly procedures.
Karl Steiner took over Lamello from his father and saw the company expand to international sales.
Three generations
Born in a family-run cabinet shop, Lamello is now in its third generation of family management. After founder Hermann Steiner came Karl Steiner and his brother Alfred who died in 1981.
"I was interested in mechanics and developed a knowledge of metalworking. This enabled us to develop new machinery and improve production workflows," said Karl Steiner. "It is still to be seen, however, that our family background is in cabinet making: we continue to develop our products with the aim to make a cabinet maker's work easier."
Susanne Affolter, Lamello CEO and principal shareholder, is the granddaughter of the company founder.
Today, the third generation of the family has taken control of the business as Karl's daughter Susanne Affolter is running operations as CEO and principal shareholder. "Although not a tradeswoman, I am interested in mechanical and technical issues," she said. "The spirit of invention continues on through my search for pragmatic solutions. My highly skilled staff then develops these. Before taking on the role of CEO, I had worked in Lamello's HR department for many years, earning my spurs. As the daughter of the owner, this was especially important to me and helped the staff accept me as their new CEO. As for the company, I run it in the spirit of my predecessors."
That spirit includes some advice she says her father taught her. "A principle that he himself learned from his father: "Don't buy anything you can't pay for". We're still proud of our financial independence," she said. "I also aim to be a socially responsible employer and maintain the family-style company culture that my predecessors built."
"Our business philosophy has never changed since the founding days – we strive to create practical solutions for our customers," said Affolter.
Have something to say? Share your thoughts with us in the comments below.