Wood Industry 40 Under 40 winner overcomes challenges to focus on students
October 21, 2016 | 3:56 pm CDT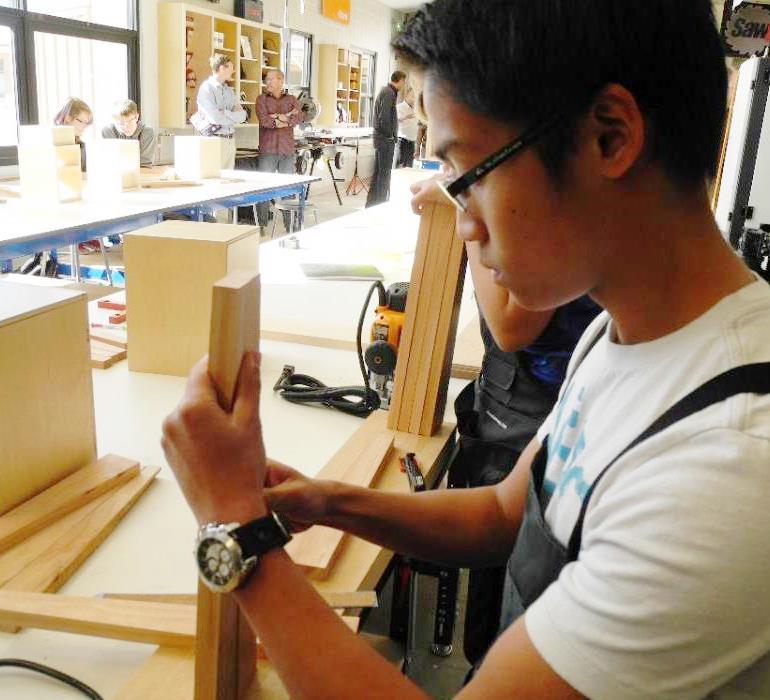 PEYTON, Colo. -- Chris Harding has had challenges in his past, but he is focused on his own future and the future of his students. Harding has an important role at the Woods Manufacturing at Peyton School District, Peyton, Colorado, and will be part of the new Peyton-Widefield Vocational Education Center, home of the National Manufacturing Training Center in Colorado Springs.
Woodworking educator Chris Harding, left, with program managers Dean Mattson and Andy Chidwick at the Peyton school.
"My current role in Peyton High School, as my education training continues, (is to) help train our new instructor David Davis and our new assistant teacher and close friend Jose Hernandez," says Harding. "I am also actively pursuing my part in the national training center and soaking up all the wisdom and knowledge I can from Dean Mattson.
ARTICLE

Wood Industry 40 Under 40 Class of 2016

At IWF in Atlanta, Woodworking Network saluted the incoming generation of leadership and educators, including Chris Harding, and Inova's Guy Busey, right. 

 
---
"I'm still teaching students daily and enjoy being hands on with students, helping them find their value in themselves and helping them change their lives."
Harding said the Peyton woods manufacturing program has gained a second production lab across the hall from the main lab. New assistant instructor Hernandez has also moved from Salem, Oregon, just as Harding did. The school can run two classes at a single time now with these new assets. 
"In the year of teaching I have under my belt I have a much better appreciation for what teachers really do each and every day," he said. "I have expanded and learned the difficulties and responsibilities in managing students and staff in the most effective ways. I have learned how to talk publicly to an audience every day and I'm constantly improving so I can connect and understand who I'm talking to and how I'm talking to them.
Chris Harding (upper left) and his charges at Peyton Woods Mannufacturing program
"My experiences of my past and present have shown students that an ugly background or a really bad lifestyle can be changed. You don't have to live the lifestyle you're were born into. You have the untapped potential that everyone has and you just have to turn that potential into actions and power to make your life what you want it to be."
The 40 Under 40 award program seeks the next generation of young people destined to make an impact on the wood products manufacturing industry in North America.
The program finds movers and shakers already making their mark in all walks of wood products manufacture, as well as suppliers and educators. Winners were selected from a field of more than 135 nominations. The call for nominations was issued May 10 at the Wood Industry 40 Under 40 Awards channel at WoodworkingNetwork.com.
From there, the nominating took on a life of its own, as wood industry professionals placed their colleagues - and in some cases competitors - up for consideration. The panel of six editors at Woodworking Network then reviewed the nominations, each balloting separately on a scale of 1-5, based on the nature of the nomination description, the impact these nominees were having on their business, their community, or the industry as a whole. When the scoring was tallied, these individuals rose to the top.
The celebration for 2016 Wood Industry 40 Under 40 took place at IWF Atlanta with a VIP Tour of the IWF Challengers Award winners and select exhibitors on the floor. After a VIP tour, an awards reception was held by the event's founding sponsor, the Woodworking Machinery Manufacturers of America (WMMA). WMMA is one of the organizations that owns and operates IWF.
Dean Mattson, director of Woods Manufacturing at Peyton School District, said that Harding came with him from Salem, Oregon, where he was a student at North Salem High School. 
"Chris came to Peyton two months earlier than I did and he helped put together and equip the woods manufacturing classrooms in the abandoned middle school," he said. "Chris then became a Para Educator in my classrooms and shared some of the teaching responsibilities as well as maintained more than $800,000 worth of machinery.
"Chris was recognized on the front page of the Denver Post for his excellence in the classroom.  Chris has been an invaluable link to the younger generation of high school students.  Chris is also responsible for bringing another former student Jose Hernandez from Salem.  Both these young men are teachers and are working toward a teacher certificate and WCA evaluators.
Harding is teacher assistant to a Red Rocks CNC Professor in Peyton. Chris is actually mentoring this professor in managing high school students and our teaching our curriculum. 
"(This school year) I will be training our new teacher in our ways and methods of teaching students to not only have the skills to work in today's manufacturing facilities, but also have the soft skills to be excellent employees with integrity, drive and the habits that will get them the jobs and help them work their way up in companies until their leading the companies," Harding said.
"During my high school career at North Salem High School I faced one of the hardest trials in my life to date. I lost my grandmother who had a huge role in raising me, due to my parents being 16 and 17 when they had me."
Harding was involved in drugs and marijuana, and missed two-thirds of his sophomore year of high school.
"Dean Mattson fought for me and was able to keep me in school during the time of my grandmother's passing. The woodshop was my safe haven so that I was able to turn my life around and eventually helped me graduate, which I never thought was possible at that time. 
"After graduating I immediately jumped into the industry. Where I began was a bad fit. I saw so many things I didn't like in the company and I learned a few life lessons the hard way."
"Mr. Mattson approached me and told me he would help retrain and refine myself. He recommended that I volunteer in the classroom and he turned me around once again. A year volunteering and training had passed and the opportunity of helping my mentor build his refined dream model of his program came to the table. I had to prove not only to myself but also to all my woods manufacturing mentors that I can make it 1,600 miles away from home. I've now been in Colorado for more than a year.
"My commitment to education goes far beyond teaching. I am where I am today because I want to help other young people that are like myself to find their true value. I will help them see that nothing of their past will determine or define their future, and show them if they are going through tough times or are in bad situations like I was. They can still turn their life around and no matter how hard life gets to never give up."
Have something to say? Share your thoughts with us in the comments below.