31 Forest Products Buyers Drop SFI Certification for FSC
October 25, 2015 | 8:57 pm CDT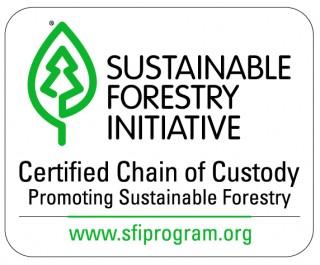 BELLINGHAM, WA -  Environmental group ForestEthics says 31 companies have dropped SFI chain of custody tracking for forest products, distancing their brands, says ForestEthics, from what it terms "controversial Sustainable Forestry Initiative paper and wood certification and labeling."
U.S. brands Xerox, Starwood Hotels, Delta Dental, and Bigelow Tea, are the most recent to drop SFI as a standard for paper and wood certification and labeling.
ARTICLE

Georgia, Maine Cancel LEED for State Projects

Georgia officially endorsed sustainable wood certifications more favorable to its wood industry, effectively abandoning formal LEED green building standards in state-funded projects.

 
---
The four companies join a list of 27 other U.S. brands that will avoid promoting SFI because, according to ForestEthics, the program is run by the logging and forest products industry. ForestEthics says the "program misleads consumers and allows massive clearcuts."
The latest challenge to SFI reflects questioning in recent months of other certification programs affecting architectural woodworking, including LEED, which incorporates FSC certification; and FSC itself, which has been banned for government projects by a number of hardwood producing states, including Maine and Georgia. These states feel the FSC program creates a disadvantage for smaller hardwood forestry and lumber companies.
In the latest case, "SFI is a serious liability to any brand that cares about its environmental reputation," says Jim Ace, a senior campaigner at ForestEthics, based in Bellingham, WA.  "The logging and paper industry should realize that misleading consumers is a liability for them, too."
The companies have each updated their policies on sustainability and sourcing, as listed at ForestEthics website: 
"Xerox is no longer directly involved in paper sales or distribution in North America and will work with our suppliers to avoid using or promoting the Sustainable Forestry Initiative certification program."
"Starwood Hotels & Resorts Worldwide is committed to sustainability and works with suppliers who commit to sourcing environmentally responsible paper and fiber that meet only the highest forest protection standards. As part of its Sustainable Meeting Practices, Starwood encourages recycling and is committed to reducing its paper consumption and promoting the use of post-consumer waste (PCW) recycled paper and fiber. For materials containing virgin fiber, Starwood prefers using and promoting content certified by the Forestry Stewardship Council (FSC) and avoids using, promoting or referencing Sustainable Forestry Initiative (SFI)."
"Our group of companies — Delta Dental of California, Delta Dental Insurance Company, Delta Dental of New York, Inc., Delta Dental of Pennsylvania and our affiliated companies — are committed to being an environmentally responsible business, which includes our ability to reduce paper consumption wherever possible and sourcing environmentally responsible paper." Delta Dental has removed the Sustainable Forestry Initiative (SFI) label from its consumer-facing mailings.
"Bigelow Tea constantly strives to deepen our commitment to environmental responsibility. As a part of that effort, we engage and educate our vendors about sustainability best practices. Bigelow Tea recognizes that Forestry Stewardship Council (FSC) has the most rigorous forest management standard and is widely considered the gold standard of forest certification. As part of Bigelow Tea's strong commitment to environmental sustainability, Bigelow Tea will promote the Forest Stewardship Council (FSC), and will educate our vendors about Bigelow Tea's purchasing preference for Forestry Stewardship Council (FSC)-certified paper and fiber."
"FSC is the only forest certification that aligns with these companies' commitment to protect endangered forests, wildlife, and human rights," say Ace. "Xerox, Starwood Hotels, Delta Dental, and Bigelow Tea know that consumers expect no greenwashing of damaging logging practices and respect for human rights."  
"We applaud Xerox, Starwood Hotels and Resorts, Delta Dental, and Bigelow Tea, and the dozens of other companies for protecting healthy forests, wildlife, and communities," says Ace. "This is exactly the kind of corporate leadership on responsible forestry and sustainability that the multi-billion dollar market for green products will reward."
Have something to say? Share your thoughts with us in the comments below.