22 Million Trees Killed by Bark Beetle; California Declares Emergency
November 2, 2015 | 2:18 pm CST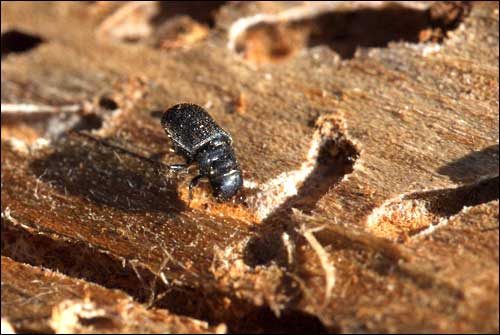 Photo By U.S. Forest Service
SACRAMENTO - With more than 22 million trees in California killed by a bark beetle infestation, exacerbated by the state's 4-year drought, Governor Jerry Brown declared a state of emergency to remove dead or dying trees in high-hazard areas.
"California is facing the worst epidemic of tree mortality in its modern history," said Brown in a letter to U.S. Agriculture Secretary Tom Vilsack. "A crisis of this magnitude demands action on all fronts."

Four years of drought have made trees in many regions of California susceptible to infestation by native bark beetles, which are normally constrained by the defense mechanisms of healthy trees.
PANEL TALK BLOGS

Five Questions for Corbin Clay, Azure Furniture Co.

Corbin Clay collaborates with local sawmills, the Colorado State University Forestry Department, and the U.S. Forest Service to transform otherwise unused beetle kill trees into elegant, high-quality furniture.

 
---
The tree die-off is of such a scale that it significantly worsens wildfire risk in many areas of the state and presents life safety risks from falling trees to Californians living in rural, forested communities, Brown added. Several counties in California have already declared local state of emergencies due to this epidemic tree mortality.

The new emergency proclamation on the tree mortality epidemic builds on a April 2014 executive order to redouble the state's drought response, which included provisions to expedite the removal of dead and dying hazardous trees. It also helps identify high hazard zones for wildfire and falling trees that have resulted from the unprecedented die-off and prioritizes tree removal in these areas. It also calls for state agencies to take several actions to enable removal of hazard trees. Governor Brown's letter to Secretary Vilsack requests urgent federal action, including additional technical assistance for private land owners, matching federal funding and expedited approval for emergency actions on federal lands.
Several environmental groups have voiced concerns about the suspension of some environmental laws and the possible effects on wildlife habitats of removing so much dead wood, which will be used by wood-burning power plants.
Bark Beetles Impose Nation-Wide Threat
California is not the only state hard-hit with devastating bark beetle (Mountain Pine Beetle, Emerald Ash Borer, Western Pine Beetle and many others) infestations. Colorado and the Rocky Mountain region has been dealing with the Mountain Pine Beetle epidemic for years and the Emerald Ash Borer has destroyed tens of millions of ash trees in the Midwest and Northeast.
The USDA Forest Service describes bark beetles as small (< ¼ inch), hard bodied beetles that bore through the protective bark of a tree to lay their eggs in the moist phloem (inner bark). These beetles and the larvae they produce feed on this living tissue, cutting off the tree's ability to transport nutrients. The gallery pattern on the underside of the bark created by adult beetles and their larvae as they feed are unique for each species of beetle. The parent gallery is typically created by the adult female beetle who deposits eggs along the gallery walls. The eggs hatch and the larvae create 'larval galleries' that tend to increase in width as the larvae increase in size.
Have something to say? Share your thoughts with us in the comments below.