2023 WMIA Scholarship Program opens
November 21, 2022 | 1:02 pm CST

The WMIA 2023 scholarship program is now open. Every year, WMIA gives out scholarships to college students who want to study wood technology, machinery, and related fields.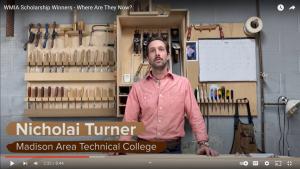 To date, the WMIA Education Foundation has awarded over $500,000 to 260 students. For an update on some of those previous scholarship award winners, see the video below.
Please spread the news of the 2023 WMIA Scholarship Program with students that you know who are studying, or interested in studying, woodworking in college.
Interested in donating to the foundation? Donations make the WMIA Scholarship Program possible. Help fund a woodworking student, and support the future workforce of our industry. Learn more about our scholarship program here.
Have something to say? Share your thoughts with us in the comments below.