2015 Remodeling Spending Heads To Record Levels, says Harvard
January 29, 2015 | 2:20 pm CST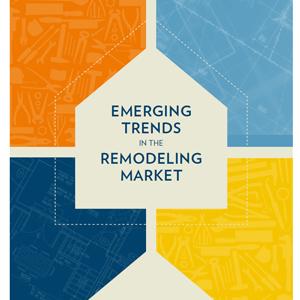 CAMBRIDGE, MA -- Remodeling spending is expected to reach record levels this year with Baby Boomers and Millennials driving the bulk of the spending, according to the Joint Center for
Housing Studies of Harvard University (JCHS).
"After years of declining revenue and high failure rates, the home improvement industry is, to some extent, reinventing itself," said Kermit Baker, director of the Remodeling Futures Program at the Joint Center. "The industry is finding new ways to address emerging growth markets and rebuild its workforce to better serve an evolving customer base."
At a high of $324 billion in 2007, the home improvement market dipped during the Great Recession to a low of $281 billion in 2011 and climbed back to nearly $300 billion in 2013 with baby boomers accounting for almost half of the remodeling spending.
JCHS cited several factors as aiding the surging home improvement market. Namely, home owners who decided to improve their houses instead of trading up to larger residences; federal and state government stimulus programs; and rental home investments by property owners.
Millennials are also expected to be a key part of the continual growth of the market.
"The millennials' increasing presence in the rental market has already helped to lift improvement spending in that segment," says Chris Herbert, managing director of the Joint Center. "It's only a matter of time before this generation becomes more active in the housing market, supporting stronger growth in home improvement spending for decades to come."
Additional opportunities for growth in remodeling include: sustainable home improvement projects and the fact that 3.6 million single-family homes that became rental property as a result of forclosures during the Great Recession will likely need maintenance work.
Have something to say? Share your thoughts with us in the comments below.