20 fire departments fight flames at Wisconsin pallet factory
May 23, 2023 | 6:34 am CDT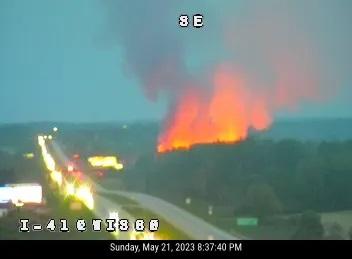 Photo By Slinger Fire Department Facebook
On May 21, at approximately 7:23 p.m., calls to 911 reported smoke and flame coming from Oak Creek Wood Products, which is located alongside Hwy/I-41 south of Slinger in the Town of Polk. The first responding Deputy observed dark smoke coming from the area while still en route. Slinger Fire was subsequently paged to the scene.
Upon the first deputy's arrival, a piece of equipment and a mulch pile were found to be actively on fire and spreading quickly in the rear of the business. The response was upgraded the fire continued to spread rapidly on large mulch piles and stacked pallets, before also entering the building itself, which is located closer to the interstate.
The fire response was again upgraded multiple times for additional resources and tenders. Hwy/I-41 southbound was shut down at Hwy-60 for approximately one hour while containment was still being established on the scene. Fire personnel were successful in preventing the spread into the entire building, stopping it in the back portion. The effort then switched to preventing the spread into other mulch and wood piles.
Fire crews were on the scene into the morning of May 22 as crews continue to extinguish the many areas that continue to burn and smolder. These piles are being systematically disassembled with excavation equipment and then wet down. There were no injuries reported as a result of the fire or the firefighting efforts. There is no damage assessment at this time, as the incident and investigation are still ongoing.
Slinger Fire was assisted by upwards of twenty other fire departments during the incident, and the Sheriff's Office was assisted by Slinger and Jackson Police Departments and the Wisconsin State Patrol.
Have something to say? Share your thoughts with us in the comments below.