Printed Electronics Find Home in Decorative Panel Papers
June 10, 2014 | 11:22 am CDT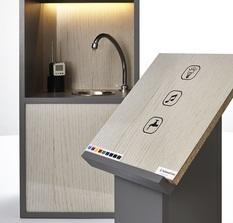 Osnabrück, Germany - At this year's LOPE-C the Felix Schoeller Group, Osnabrück-based manufacturers of high-quality specialty papers, showcased one of their innovative new developments: a touch-sensitive, functional, high-gloss wood-based panel that can be used in furniture fronts in kitchens or hospitals, for example.
It consists of sensors that are inkjet printed onto a specialty paper which is then laminated to a wood-based panel. In this way, a completely invisible switch is created that can be integrated into a furniture front and be used to control household appliances, switching lights and radios on and off or operating taps.
The development that will be demonstrated is based on the company's many years of experience in two different fields: printing electronics onto high-gloss paper – applications that are well-known as p_e:smart – and speciality inkjet decor papers, which Technocell Dekor, one of the Felix Schoeller Group's business units, produces for individualised designs in the market.
The first step involves using a large-format inkjet printer in the company's Applications Lab to print conductive ink in the form of a touch sensor to the inkjet decor paper. A standard HPL process commonly used in the wood-based products industry is used to press the printed paper onto a decor paper and onto a wood-based panel. The sensor created in this way is linked to an electronic circuit that can be used to perform the on/off or dimming functions.
The demonstration model was exhibited for the first time at LOPE-C 2014, where it met with great interest.
Background information on the Felix Schoeller Group:
Founded in 1895, the Felix Schoeller Group is a family business with worldwide operations producing specialty papers. With around 2,290 employees, the renowned Osnabrück-based company produced and marketed almost 296,000 tonnes of specialty papers in 2013 and posted a total turnover of 695 million euros. The Felix Schoeller Group develops, produces and markets specialty papers for photographic applications, digital printing systems, the packaging market, self-adhesive applications and for the furniture, wood-based products and wallpaper industry.
In addition to its Osnabrück main site and headquarters, the Felix Schoeller Group has four other production facilities in Germany – in Weissenborn and Penig in Saxony, in Titisee-Neustadt (Baden-Württemberg) and in Günzach (Bavaria). It also has production facilities in the USA and Canada and is involved in a joint venture in the Russian Federation. It has sales & service centres in Sao Paulo, Tokyo, Shanghai, Kuala Lumpur, Moscow and Prague.
The Felix Schoeller Group exemplifies uncompromising quality, unique flexibility and true partnership. The result: Best Performing Papers. Worldwide. Since July 2013 the Felix Schoeller Group has been the official premium paper partner of the German Olympic team.
Have something to say? Share your thoughts with us in the comments below.