DC Distributing Offers Discounts on Edgebanding in February 2015
February 2, 2015 | 12:53 pm CST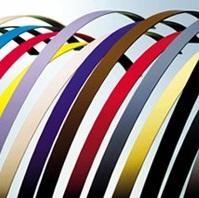 DC Distributing offers 3mm solid edgebanding at a 10% discount during the month of February 2015 Various colors and sizes available: 3MM x 15/16", 3MM x 1-5/16 and 3MM x 1-5/8".
Colors vary from your basic whites and blacks to mauve and marigold.
About DC Distributing
DC Distributing has a large stocking program of PVC Edgebanding in Solids, Woodgrains, Patterns, Paintable, and Gloss. We stock many sizes in different thickness' .018, 1MM, 2MM, and 3MM (Rigid and Flexible material) Widths (from 5/8" up to and including 1-5/8"), that are GREEN GUARD Certified. Some colors are also stocked in master coils (5-1/4"wide).
We do productions with short lead times and small quantities. Our Stock is continuously being updated. If you do not see what you want, give us a call and one of our experts will do the research for you and recommend the proper edgebanding to use for your project. We can match virtually any laminate including Formica , WilsonArt, Nevamar, Pionite and more, in many sizes and thickness'.
DC Distributing is one of the largest suppliers of edgebanding and related products in the United States. Our inventory of edgebanding from Canplast, Rehau, and other manufacturers is unsurpassed, and we are continuously updating our stock to meet the needs of our customers. We offer custom services like slitting and pre-gluing, and our live representatives will do the research and help you find the products that you need to complete your project
Have something to say? Share your thoughts with us in the comments below.