Cabinet Craftsman Sought for Pennsylvania Millwork HQ
March 25, 2013 | 11:18 am CDT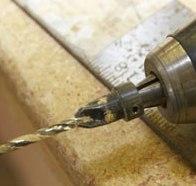 Pittsburgh, PA -- Estimated growth of cabinetry makers is expected to reach 3% from 2006-2016. The anticipated economic upturn should lead to growth in the construction industry, especially residential construction.
Dovetail Gallery is looking for craftsmen to fill positions for the upcoming summer construction season. Dovetail Gallery is actively pursuing several bids for the construction of medical and educational buildings. This is a slight departure from its current hospitality industry jobs that has made Dovetail Gallery a sought after millwork company for general contractors. Such pass projects have included sites:The Golden Nuggets Casinos,Vic& Anthony's,Nando's Peri Peri, Ping Pong, Carolina Kitchen, and two Georgetown Cupcake sites. Joe Matta, production manager for Dovetail, was quoted saying;" We excel at the high-design custom millwork packages that our contractors demand for these restaurants and casinos. We see a lot of new work coming in for hospitals and schools in the Pennsylvania area. We want to be their cabinetry provider. We want our work to be represented in these communities."
Dovetail Gallery is not a stranger to these markets with its past work being recognized in the Soilent Health third annual list of the 20 Most Beautiful Hospitals in America. Dovetail is proud to be a team member that worked on UMPC Hamot Women's Medical Center. Dovetail's work included warm woods and nature-inspired elements, soft color schemes, and cabinetry made for the medical industry.
Those craftsmen interested in working with Dovetail Gallery please email your resume to [email protected]. No phone calls please.
Dovetail Gallery Inc.
352 East 18th Street
Erie,Pa 16503
814.459.8071
Bid Fax: 814.453.3342. ( Attention : DVTL )
Have something to say? Share your thoughts with us in the comments below.