Woodworking firms see increasing virus impact
May 5, 2020 | 10:11 am CDT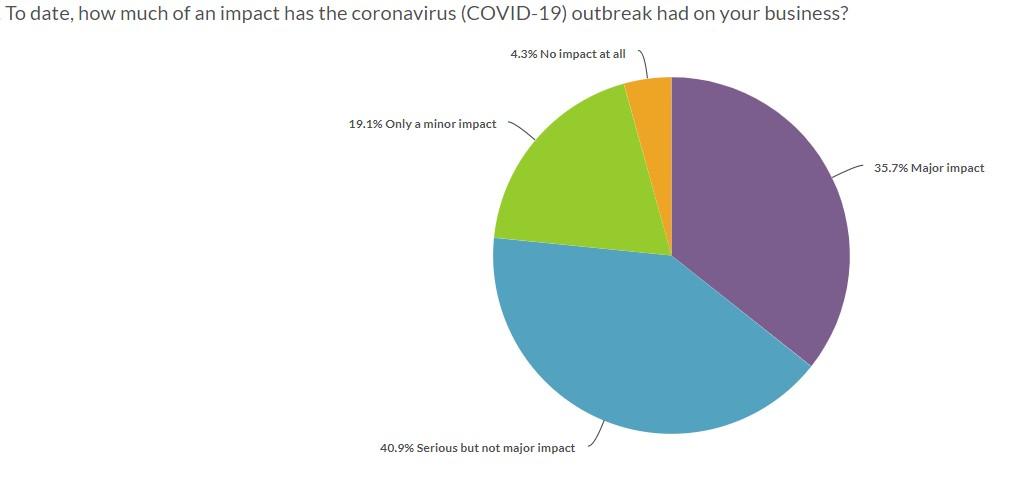 A new survey of the woodworking industry confirms that the coronavirus pandemic impact continues to grow with more companies reporting major to serious impacts. Still, the majority of companies remain optimistic that they will weather the storm.
Woodworking Network repeated its survey of the industry done a month ago to see what if anything had changed in industry perception and reaction to the crisis. Besides confirming the validity of the earlier poll, the new survey shows slight increases in several areas of concern.
More than three quarters of respondents in the new survey (77 percent) say the virus outbreak has had a major (36 percent) or serious (41 percent) impact on their businesses. That is up 4 points over the 73 percent who said the same thing a month ago. Most all of the increase is in those who say the crisis has had a serious but not major impact.
There was no change in the number of respondents who said the crisis has had no impact at all (about 4 percent in both surveys), but those reporting only a minor impact dropped from 24 percent to just 19 percent.
Scope of the impact has become more serious with almost 66 percent reporting loss of business compared to just 55 percent a month ago. Cancelled orders are about the same (36 percent), but disrupted schedules are actually down to 66 percent from 69 percent a month ago. The number of firms reporting mandated shutdowns is up only 1 point (40 percent over 39 percent), and disruption in supplies has improved from 47 percent to just 41 percent in the current survey.
While mostly still optimistic, those seeing a significant impact but expecting to recover long term have gone down to 58 percent from 63 percent four weeks ago. Those who see major impacts and are uncertain about their long-term prospects has gone down from 29 percent a month ago to 26 percent today. The number seeing major negative permanent impacts has gone up from 7 to 8 percent today.
More disturbing, the number of businesses already contemplating permanent shutdown has gone up from 3 to 5 percent. In the new survey, less than half of one percent of respondents report they have already permanently closed their doors. (That question was not asked in the previous survey.)
Nearly across the board, respondents show increasing use of common tactics to deal with the crisis. Some 59 percent have changed work procedures, up 3 points from a month ago. Some 43 percent have reduced work hours, up 9 points from last month. But fewer today report reduced public hours (29 percent) compared to a month ago (32 percent).
The number of firms reporting they have reduced their workforce is unchanged at 32 percent. Respondents who say they have ordered some staff to work remotely has gone up from 31 to 34 percent. Those curtailing business travel has actually gone down from 42 to 39 percent. Temporary business closures are largely unchanged going up only 1 point from 23 to 24 percent.
As was the case last month, the vast majority of those surveyed report no actual cases of COVID-19 in their employees, the reported cases has gone up. Although 95 percent report no infected employees today, that number was nearly 98 percent a month ago. Today, a little over 3 percent report one employee infected, and 1.5 percent report three or more employees infected. Last month, 1.4 percent had one infected employee, 0.2 percent had two, and just under 1 percent had three or more.
As for outside contacts, slightly more shops are limiting face-to-face contact, up to 51 percent from 50 percent last month. But shops not allowing any face-to-face contact has gone down from 49 to 44 percent.
Interactions with suppliers continue to show more disruptions in the supply chain. Only 28 percent reported regular orders and shipments with no change compared to 33 percent who said so a month ago. A quarter of all respondents say they are experiencing delays and backorders compared with less than 20 percent who said so a month ago. But less than 4 percent today say they are completely cut off from important supplies compared to double that number a month ago.
Whether the state has designated wood products businesses as essential appears to be less of an issue. In the latest survey more than 65 percent say their state gave them the essential designation compared with just 47 percent a month ago. About 10 percent in the latest survey report their state ordered them to close compared to 9 percent in the previous poll.
Communications with employees are largely unchanged from a month ago, although some shops report more layoffs. Reducing non-essential workforce was reported by 16 percent (14 percent last month) and major layoffs were largely unchanged, hovering around 11 percent.
Although state aid to woodworking businesses is still problematic, those businesses are more aware of what's available. While nearly 46 percent of shops reported a month ago that they weren't sure if state aid was available, that number has now dropped to just 24 percent. Unfortunately, a larger number (29 percent today vs. 17 percent before) report no state aid available.
That perhaps reflects the increased federal role in aid to business. Anticipating that, the survey added a question specifically about the federal Paycheck Protection Program (PPP) loans. Some 32 percent of respondents said they applied to the program and were funded. However, an almost identical number said they don't qualify for the program, and 22 percent said they applied but were not funded. Nearly 7 percent said they didn't hear about the program in time to apply, and more than 8 percent said they were unaware of the program.
Another new question in the survey focused on attendance at upcoming industry events. Just over 50 percent said they were uncertain about attending any events requiring travel at this time. Just over 21 percent said they would normally go to events but were not now because of the virus outbreak. When specifically asked, 16 percent said they still plan to attend IWF in August and 3.4 percent said they hoped to attend the Cabinets &Closets Conference & Expo in Arlington, Texas, in June. Some 25 percent said they would not go to those events even if the virus was not a factor. A little over 8 percent said they would consider attending if there was a remote option.
An increasing number of woodworking businesses continue to take steps to help healthcare workers battle the virus. About 25 percent in this survey say they have provided excess N95 masks and/or nitrile gloves to healthcare workers. That's up from 17 percent a month ago. Similarly, the number of companies repurposing production to manufacture healthcare products is up to 4.3 percent from 2.8 percent last month.
This survey went out to a sample size of 41,011, from which were received 324 responses, which indicates a margin of error of 4.532 percent with a 90-percent confidence level. As they did last month, respondents represent a wide cross-section of the industry, including cabinetry (27 percent), architectural woodwork (12 percent), other wood products (10 percent), residential furniture (9 percent), wholesalers (9 percent), commercial furniture (6 percent), builders/remodelers (6 percent), suppliers (3 percent), closet firms (3 percent) and about 8 percent for all others.
Two-thirds of respondents come from businesses with 1-19 employees compared with 75 percent in the previous survey. Respondents with 20-49 employees made up 14.5 percent of the current survey. Those with 50 to 99 employees accounted for 8 percent and firms with 100 or more workers were 11.4 percent.
A webinar, "COVID-19: Taking the temperature of the woodworking industry," discussing details of this survey and elaborating on trends the data suggest will be held Wednesday, May 6. 
Have something to say? Share your thoughts with us in the comments below.