How closet companies are handling the coronavirus outbreak
March 26, 2020 | 10:13 am CDT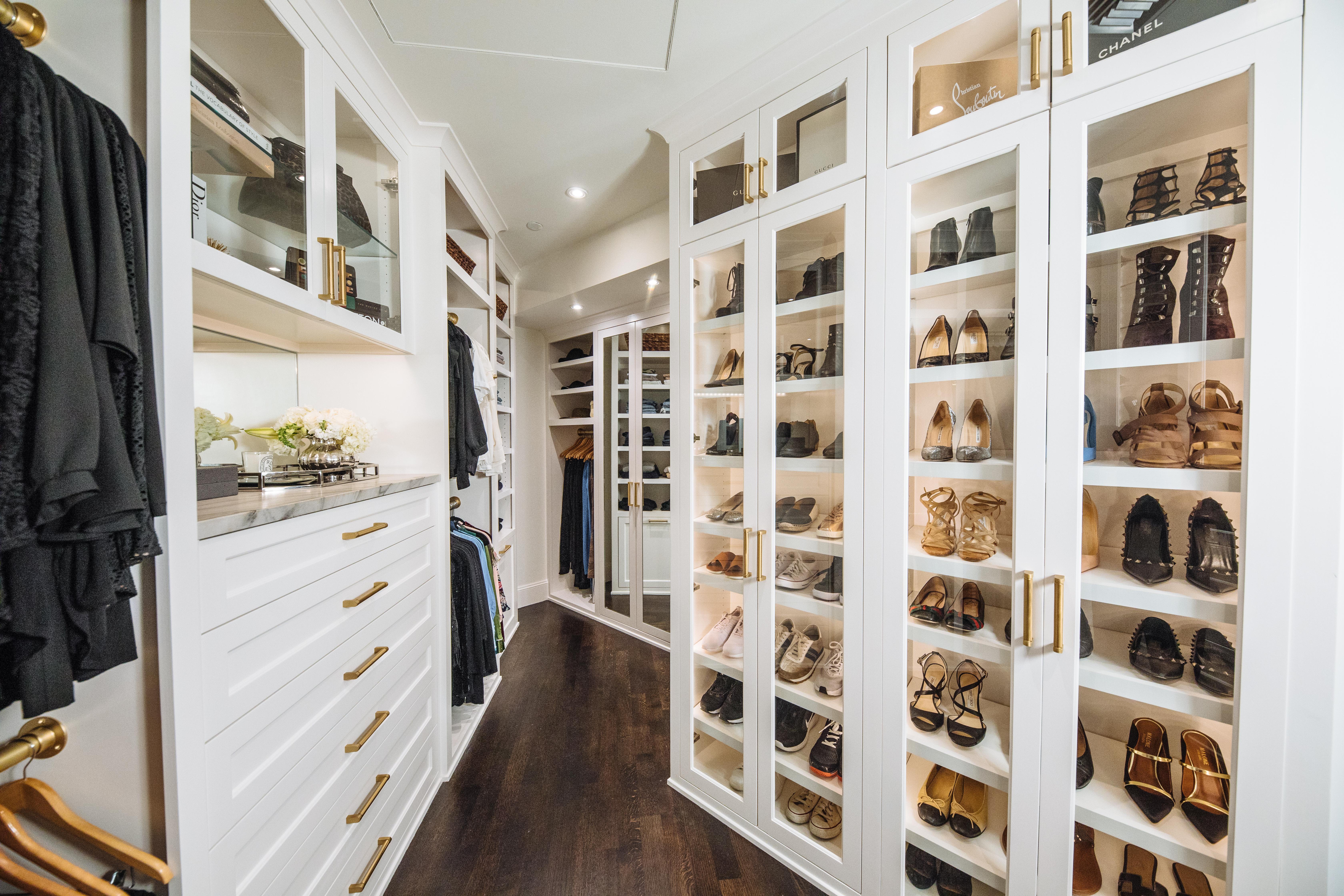 Photo By Kathleen Jacobson, The Couture Closet
As the number of coronavirus (COVID-19) cases continue to rise by astonishing numbers in the U.S., states and municipalities are implementing unprecedented shelter-in-place and stay-at-home measures for non-essential businesses and residents, leaving closet design firms and manufacturers, along with other businesses from coast to coast grappling with concerns for the health of their employees and communities as well as the economic health of their companies. 
Closets & Organized Storage magazine reached out to several of its readers to learn how they are handling the fallout from the outbreak. 
Approximately 18 states have adopted mitigation policies so far, and that number is likely to rise. The stay-at-home orders for each state have varying lengths as well as varying definitions of what constitutes non-essential business. Some companies, unsure of how to proceed, are operating within the gray areas. 
The impact on business from canceled orders and disrupted schedules to mandated shutdowns has been significant for some firms, especially companies located in or near hot zones.
In two of the hardest hit states, New York and California, three of the closet companies we interviewed said they shut down either all or a portion of their operations with key staff working from home where possible. Some companies are still installing projects that were already in progress, while others have completely shut down shops and are allowing staff into their facilities only to handle incoming shipments ordered before the crisis hit.
San Francisco and its surrounding counties was one of the first areas in the country to implement a shelter-in-place policy effective on March 17. Larry Fox, president of Valet Custom Cabinets and Closets in the San Francisco Bay area said that once his company received confirmation of the order, they immediately shut down the business. 
"Although residential construction is considered exempt, it is questionable whether our closets and cabinets would fall into this category," he said. "Also, as only about 40 percent of our business is tied to new construction, and we have the additional logistics of being a manufacturer, we have completely shut down all physical operations – manufacturing, installations, showrooms. We had to move out over 60 jobs, but no customers have yet requested cancellation of existing orders. Several potential customers with projects still in the design stage have decided to postpone until we get through this crisis, but not all."
Another custom closets firm located in California (which preferred to remain anonymous), reported that it has closed three of its showrooms and will furlough that staff within the week. However, the company is still installing current projects at about an 80 percent capacity, with some customer postponements due to customer health concerns, and will continue for the next six weeks. "All installers have hand sanitizer, viral cleaners, latex gloves, N95 masks and are practicing social distancing," the company said. "All installers have (the) right to refuse working in suspect location/or conditions. (We) will reduce headcount by (about) 20 percent this week."
On the other side of the country in New York, a state that has become the epicenter of the outbreak in the U.S., Diana Augspurger, owner of Creative Storage in Buffalo, New York, said she shut down her business last Friday, days before New York Gov. Andrew Cuomo ordered all nonessential businesses to close on Sunday, March 22.
"No canceled orders but last week people were canceling on house visits and postponing installations," she said. "The fear in Buffalo, even though nine hours away from NYC, is real. We are sending one person in to receive a few outstanding shipments only. Otherwise, the material would be sent back, and I don't want the shipper to have to pay for that. I have had calls from a few suppliers offering whatever I need help with which is very nice...and generous."
Another Northeastern custom closet company (which preferred to remain anonymous), noted that it is still in limited operation. "Our state is in lockdown, but construction is allowed," the company said. "The definition of construction now states "heavy" construction. We feel we fall into a gray category and are continuing to install only in non-occupied new construction. Quotes are being done by email."
Tom Happ, president of Closet Works, located just outside of Chicago, said the firm implemented several innovative measures to keep the business open and to protect its employees.
"We were able to determine we are defined as an essential business and could continue to operate," he said.  "We implemented many processes for the health and safety of our staff and customers. All of our installers are required to have their temperature taken each day before departing to clients' home. All other staff also are performing temperature checks to confirm their health."
Other measures applied include taking two-thirds of the lunch tables out of its factory so staff could properly separate while using the lunchroom; allowing all office staff to work from home and closing the showroom to appointment only visits. 
"We have switched almost 100% of our appointments to be virtual to avoid our designers from having to enter a client's home. These virtual appointments at least get the design portion started," he added.
In other parts of the country in states like Arizona, a few major cities - Phoenix and Tucson, have ordered the closure of bars and restaurants, but the state has not mandated an official stay-at-home order. To-date, the governor has resisted those calls, however businesses are mindful that things could change quickly as COVID-19 cases continue to rise.
Eric Marshall, Kitchens and Closets by DEA, in Gilbert Arizona, said his company is "Getting as much work as we can done before (Gov.) Doug Ducey shuts us down. Luckily, our pipeline is full for five weeks so we may survive. Arizona definitely categorizes closet organizing as nonessential as we are not electricians, plumbers or infrastructure contractors."
Working from home
Although manufacturing capacity and at-home client visits by designers have been disrupted with most of the companies we spoke to, many have been able to allow some of their employees to work from home.
Fox said that his company has completely shut down but "management, administrative staff, engineers, and designers are all working remotely so long as they have work to continue with."
Augspurger is also allowing designers to work remotely but there is no production taking place,  she said.
Ohio enacted its stay-at-home order on March 23 and Mike Foti, president and CEO of Innovate Home Org and Innovate Business Solutions, located in Columbus, Ohio, said he has been able to move all of his salespeople, except one key office admin for its two locations, into a work-from-home status.
"We are absolutely applying social distancing standards," he added. "We are still installing product (most of our people really still want to work) but are doing it with masks and gloves. We do not have the showroom open for people right now. We haven't reduced hours, but I am eliminating OT."
While the state of Texas has not issued emergency stay-at-home orders, to date, several metropolitan areas, including Dallas County have. Its order went into effect March 24. 
Kathleen Jacobson, owner of The Couture Closet in Dallas, Texas, said that her staff is currently working from home on design and purchasing with shorter work hours. Like several other companies, projects currently in the process of being installed, are still moving forward. "Residential construction is considered essential infrastructure in Dallas, so The Couture Closet can move forward on installation as long as employees maintain a safe distance," she said. "Right now, our projects are all new construction and not homes that are currently occupied. No more than a few installers are allowed onsite at a time."
One custom closets firm located in California that preferred to remain anonymous reported it has furloughed some of its showroom staff. The company also has some operations staff working almost entirely from home. "(The) operations team (is) calling all customers to notify of safety precautions implements, asking if customer has been traveling, are sick or have come into known contact with virus. (We) will reduce hours of some operations staff this week," they said.
Some of its design consultants are also working from home and have been able to convert initial in-person consultations into virtual consultations using Zoom and Facetime. "Roadblocks are (the) ability to do follow-up on-site measurements. (We) will furlough half of designers within 30-45 days," the company added.
With sales and leads down approximately 90 percent, the company said that along with the 20 percent workforce reduction this week, there will be another reduction in approximately 4-5 weeks in the form of a furlough with the intent to return most employees within 60 days.
Economic impact
The economic impact of the COVID-19 outbreak is already being felt nationwide as unemployment claims spiked to 3 million this week, the highest number on record, and the U.S. Congress is in the process of passing a $2 trillion aid bill offering direct payments to most U.S. taxpayers, boosting unemployment benefits, and loans and grants to businesses.
When asked about the long-term effect on their businesses, some companies took an optimistic outlook while others acknowledged that the remainder of the year could be a struggle.
Fox said that Valet Custom Cabinets and Closets is in a strong financial position and has a customer base likely to fare better than most.  "We are also in an economically strong part of the country, albeit one of the more impacted by the virus," he added. "If we can return to work on April 8th and there is some sense of order to the economy, then we are optimistic we can pull through. We are monitoring the situation daily and evaluating plans for several scenarios."
Foti said he believes that economic outlook will be determined by the type of recovery phase we enter. "I've heard there can be three types of (recoveries): a 'V' shape (it comes right back) a 'U' shape – it comes back but takes a while or an 'L' shape (it hits bottom and stays there). I think this one is going to hurt this year's results anywhere from 10 to 15% would be my gut feel."
Some companies are expecting deeper shortfalls. One custom closets firm located in California that preferred to remain anonymous anticipates a 30-40 percent loss of sales by the end of 2020.
But the uncertainty of the present moment makes it difficult for some to make a long-term estimate of how business will recover. 
"The long term estimate is still unknown because we're in the very early phases of fighting the virus and the markets are in free fall," said Jacobson. "Best case, consumers aren't spending on luxury items like a new walk in master closet for at least a few months. Many are wanting to put those big purchases on hold until things settle down. Once the economic growth resumes, companies ramp up their workforce, American's will feel confident spending again. A beautiful walk-in closet will always be a top priority for new home construction and our clients in Dallas, Fort Worth."
Have something to say? Share your thoughts with us in the comments below.