Three-ton slab from massive tree makes one of a kind bathtubs without glue or epoxy
August 7, 2017 | 4:20 pm CDT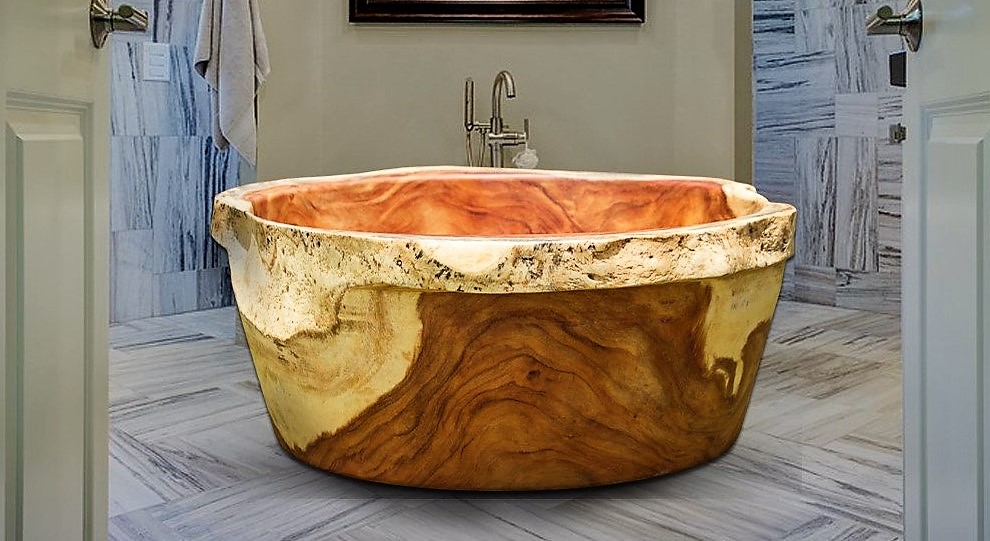 TORONTO - Is it possible to make a solid wood bathtub out of a single three-ton mass of wood, without glue or epoxy? And can it be done sustainably?
"The general consensus is you can't even make a kitchen cabinet out of solid wood let alone a nearly 6-feet diameter bathtub," says Jonathan Kitzen of Timber Neutral, a Leiceister, U.K., studio which fashioned the tubs for Toronto retailer Amelie & Max. The big concern was, "Will it hold water?"
Conventional wisdom holds that the wood will crack from uneven drying, and it could be too unstable, moving and twisting on location. But a similar wood project has been around for hundreds of years: the dugout canoe, which is water tight and floats despite many cracks and fissures.
---
Timber Neutral says there is something within the fiber of wood that no other material can capture - the vitality and uniqueness of an organic object. The tubs are said to be the fusion of high-tech craftsmanship and the originality and form of solid wood. Each is made from a solid, single 6,600-lb. block of wood that has been painstakingly carved down to create a two-person tub, with no two alike. Amelie & Max retail the tubs for $34,000.
Each bath is also given an individual identification, bearing the personalized name of a tree, reflecting both the personality of the bath and its exotic origin.
The trees, harvested in Columbian forests, must be very large to yield such a large block of wood, so Timber Neutral goes to lengths to make the case that the harvesting is sustainable.
"Few trees, perhaps one out of a million, grow to the massive size needed for the tubs," says Kitzen.
Trees are cut down, then pulled from the forest with a horse team before arriving at Timber Neutral's workshop. Each is then carefully designed based on the structure of the wood block. After a two-month process, the tub is complete, then left to dry for three years to slowly age and harden the wood, yielding a "one-off" product that can never ever be duplicated.
"Most architects have very limited training in wood," says Kitzen. Of the more than 2,000 tree species in the world used commercially, and each one has different mechanical and aesthetic qualities.
Founded in 2004, Timber Neutral is a trusted adviser within the sustainable forestry sector. Its breadth and depth of experience in responsible forestry practices help mitigate the environmental impact of commercialization and allow consumers and manufactures to take control of their own wood product use with out relying on vague and incomplete third-party certifications. In the past, Timber Neutral has consulted on a locating another large wood piece: a 2.4m (8-foot) by 25m (80-foot) hardwood slab from a single tree. It was able to derive it from a tree which was under 100 years old - about one-quarter the age of many mature European hardwood trees.
"Just because it's big doesn't mean its old," says Kitzen. "In fact, if you think about it you can cut one single big fast growing tree or 300 to 500 slow growing temperate ones to equal the same mass, which is more sustainable? Which is better for the environment? Cut down an acre or a single tree? And this is not a 3000-year-old softwood sequoia, we are talking huge fast-growing hardwood tree."
This limited run of tubs was made from trees that are less than 75 years old, sourced from a supplier in Colombia, about the same age as most mature oak, or beach trees, but far more massive. Under Timber Neutral's planting scheme, sustainable timbers once harvested are replanted endangered species.
"There is no point in replanting a maple, for example, as they grow like weeds; we need to rethink sustainability and replant those in need," says
Matthew Roberts, a partner in Timber Neutral.
The company offers timber audits to wood manufacturers to allow them to take control of sustainability directly, without relying on third part chain of custody, because as Roberts pointed out, "Certified does not mean replanted; most people do not realize that."
"The goal was to make a 100% natural object and a reflection of the organic nature of wood and true to the spirit of the tree," said company spokeswoman Fiona French of Timber Neutral. "The client was very happy with the result and appreciated that we replanted scores of endangered trees in the area we took the single tree down in."
While the company has no plans to continue making them, a few of the limited collection are available in North America and sold exclusively through
www.amelieandmax.com
.
Have something to say? Share your thoughts with us in the comments below.