Montreal's Resolute Forest Products donates lumber to help Houston rebuild
August 29, 2017 | 11:57 am CDT
MONTREAL - A Canadian-based forestry company has put politics aside to help U.S. residents in flooded Houston neighborhoods. Resolute Forest Products has pledged to send a rail car of lumber to help Houston rebuild following record-level flooding caused by Hurricane Harvey. 
Seth Kursman, vice president of Corporate Communications, Sustainability and Government Affairs with Resolute Forest Products, told news sources he was moved to act after watching footage of the devastation. Kursman lived in Houston prior to moving to Canada 15 years ago.
Kursman said he contacted CEO Richard Garneau with the idea of donating a truckload. Garneau not only upped the amount to a rail car, but on Resolute's twitter page, @resolutefp, the company calls on others to join the effort.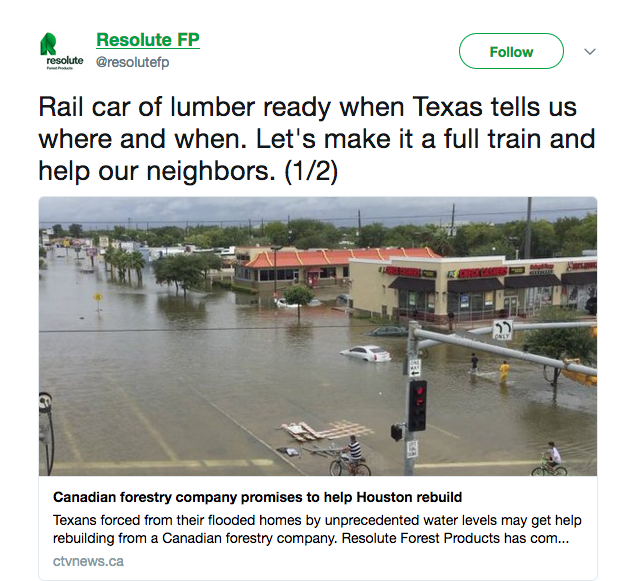 Based in Montreal, Resolute Forest Products' product range includes: wood products, pulp, newsprint, specialty papers and tissue. The company posted 2016 sales of $3.5 billion and has approximately 40 manufacturing facilities in Canada and the United States.
 
Have something to say? Share your thoughts with us in the comments below.