Pierre Announces $70,000 for Muskoka Cabinet CNC Robotics
July 20, 2015 | 1:20 am CDT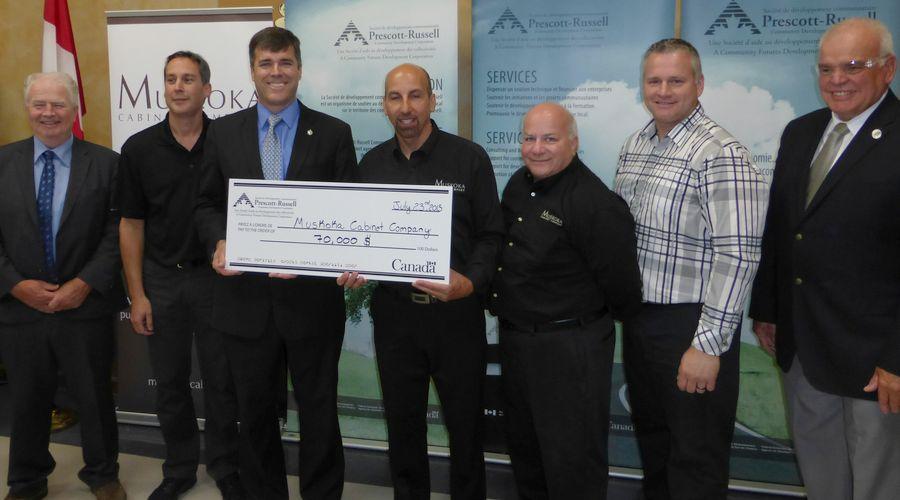 ALFRED, ON -  Pierre Lemieux, Member of Parliament for Glengarry-Prescott-Russell, joined Muskoka Cabinet Company in Alfred today to announce a federal grant of $70,000 through the Eastern Ontario Development Program (EODP) that will assist the business with the cost related to developing a new robot that will improve the process and speed of loading and unloading CNC machines. The funding was delivered through the Prescott-Russell Community Development Corporation (PRCDC).
 "As the Member of Parliament for Glengarry-Prescott-Russell, I am a strong supporter of our local businesses, and I am pleased to announce significant funding for Muskoka Cabinet that will allow them to increase their production. Our government understands the importance of business growth for our local economy and our federal investment will help Muskoka Cabinet succeed," said Mr. Lemieux.
Pierre congratulates Muskoka Cabinet Company on the federal funding supporting their innovative project.  Muskoka Cabinet Company will be the first cabinet manufacturing company to use this type of robotics in manufacturing.  Left to right:  UCPR Warden Robert Kirby, SDCPR Vice Pres Michel Poirier, Pierre, Muskoka President Luke Elias, Muskoka Vice President Eric Elias, Production Manager Sylvain Gariepy and A-P Mayor Fern Dicaire
Muskoka Cabinet Company is a highly innovative cabinet manufacturer of kitchen and bathroom cabinets, closet organizers and Murphy beds. In addition to making cabinets, they also develop and implement new high technology processes and procedures that benefit the entire industry by improve productivity. Muskoka supplies new home builders and a dealer network throughout Ontario. Their mission is to continue providing unsurpassed value to their customers. This particular project will help create up to 10 new jobs.
"The Eastern Ontario Development Program has allowed Muskoka Cabinet Company to introduce an innovative technology that will integrate Robotics, RFID and ERP with all facets of production.  This technology will significantly increase productivity in our manufacturing process by reducing part handling time, damage, and provide on-demand delivery of parts to other work stations.  Increased productivity through automation has given Muskoka a competitive edge leading to growth and job creation in our region." - Luke Elias, President of Muskoka Cabinet Company.
The total cost of the project is $600,000.
Pierre delivering the good news to Muskoka Cabinet Company !
"As MP, I and our federal government have worked hard to deliver funding that supports the local economy. As a result, we have helped to create more than 1,300 jobs within our communities through my work with the SDCPR."

The Eastern Ontario Development Program is an initiative of FedDev Ontario, a federal government agency that promotes sustainable economic development in the Prescott-Russell area, leading to a diversified and competitive regional economy and directly contributing to job creation and retention in Prescott-Russell .
 
Have something to say? Share your thoughts with us in the comments below.