Elias Woodwork launches revamped wood components website
February 22, 2019 | 5:35 pm CST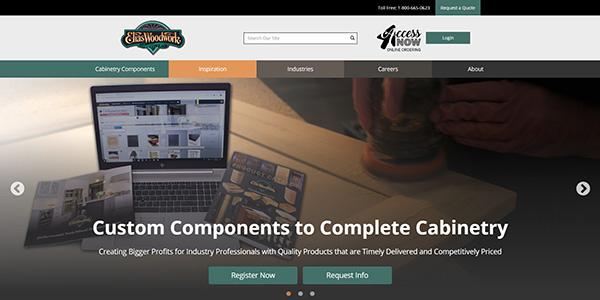 WINKLER, MB — Elias Woodwork has revamped its website, with features including a streamlined and simplified design, improved functionality and enriched content areas making it easier for industry professionals to find the wood components needed for cabinetry and millwork projects.
The company says its new website, eliaswoodwork.com, will improve and increase user engagement with new search and filter features that give users the ability to quickly find the inspiration, product options, and technical information they require.
"We are excited about our new website with a fresh, modern look and new features that make it easy for visitors to find what they are looking for," said Jeremy Funk, sales and marketing manager. "Our goal was to create a funnel driven website that caters to a wide range of professionals across several industries. The new site is also a key component in our marketing strategies and aligns our digital platform more closely with our future goals and branding."
He added, "As we strive to improve every aspect of our on and offline presence, significant projects like this not only demonstrate pride in our company, but shows our commitment of excellence for our customers, partners and friends."
Founded in 1983, Elias Woodwork is a lean manufacturer of kitchen and bath cabinetry and millwork components for sale throughout North America and internationally. The company's products include: tenon, miter and slab cabinet doors; drawer boxes; mouldings; refacing material; custom AOS Elite (Assemble On Site) cabinet boxes; and decorative accessories.
Have something to say? Share your thoughts with us in the comments below.