Canadian winners named in Wood Industry 40 Under 40 Awards
July 24, 2018 | 1:48 pm CDT
TORONTO - Managers at two firms based in Canada - Jeremy Funk, sales and marketing manager at Elias Woodwork in Winkler, Manitoba and Alex Khosravian, founder of Chic Carpentry & Cabinetry in Toronto were among those selected as honorees in Woodworking Network's 2018 Wood Industry 40 Under 40 Awards.
Elias Woodwork is among North America's largest manufacturers of kitchen cabinet doors and related wood components, sold wholesale to the trade. While Funk carries a high profile within his organization, he keeps the spotlight on the Elias brand in marketing and sales efforts. 
Funk (right) has worked in many different roles at the company since starting there in 1998, beginning in job costing, data entry, and customer service before advancing to business development, then software development and production scheduling. His growing passion for the business lead him to become Sales and Marketing Manager, where he has been a driving force behind incredible company growth. 
The company expanded its plant by 30,000 sq.ft. (for 300,000 sq.ft. total) and added 20 employees in 2016, and that year Elias Woodwork was listed among the Wood 100 fastest growing wood products firms in North America. 
Alex Khosravian (left), owner of
Chic Carpentry Co
., immigrated from Iran in 2005, knowing no English. From ground zero he grew his company from only one employee  2010 one of the best woodworking companies in Toronto, handling high profile clients with a staff of nine employees.
B
ecause he loved working with the wood, Khosravian sought a job and started working as a helper at a woodworking company. Within 4 months he 
became a supervisor overseeing seven carpenters for whom he had formerly served as 
a helper.
Climbing the success ladder step by step, he worked four straight years for that company and when his friends pushed him to start working on his own, in 2010 , he opened Chic Carpentry and hired one helper.
Now his company has nine employees including six master carpenters and is among the best woodworking firms in all of Ontario. (See a sample project at left.) His goal is to keep growing and add CNC machines and become a one-stop service for clients. 
This year marks the third annual awarding of the
Wood Industry 40 Under 40
, which celebrates the next generation of industry professionals who are making an impact on wood products manufacturing in North America.
Those selected are considered innovators, achievers – and even disruptors – who demonstrate excellence in the categories of productivity, profitability, social good, ingenuity, peer inspiration, product development, organizational leadership, or another facet of the wood industry.
"Woodworking Network is proud to be associated with this year's 40 under 40 honorees. This is a program that is critical for the future of the industry. We were overwhelmed with nominations so the process to narrow down the list was harder than ever. We congratulate all of those nominated and look forward to meeting the honorees personally."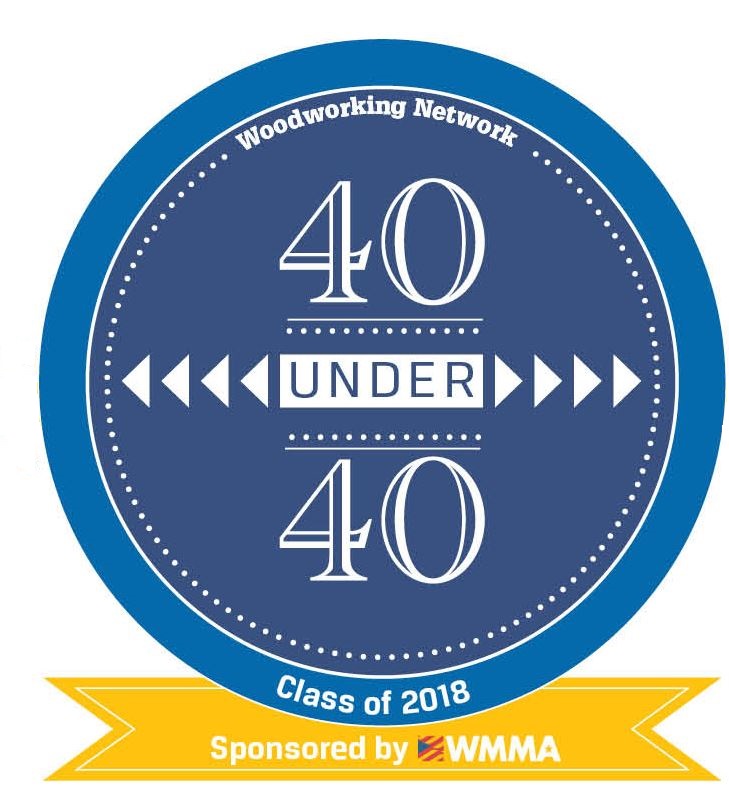 Honorees will be recognized at the Leadership Reception on Aug. 21, the evening before IWF, the International Woodworking Fair, in Atlanta. The 40 Under 40 Class of 2018 is sponsored by the
Wood Machinery Manufacturers of America (WMMA)
.
More than 130 nominations were submitted for recognition this year.  Due to a tie in the voting process, 41 people were selected. Click here to view a full list the 40 Under 40 Class of 2018.
Have something to say? Share your thoughts with us in the comments below.