Baptism by fire: Miralis reopens cabinet plant amid COVID-19 crisis
April 24, 2020 | 8:14 am CDT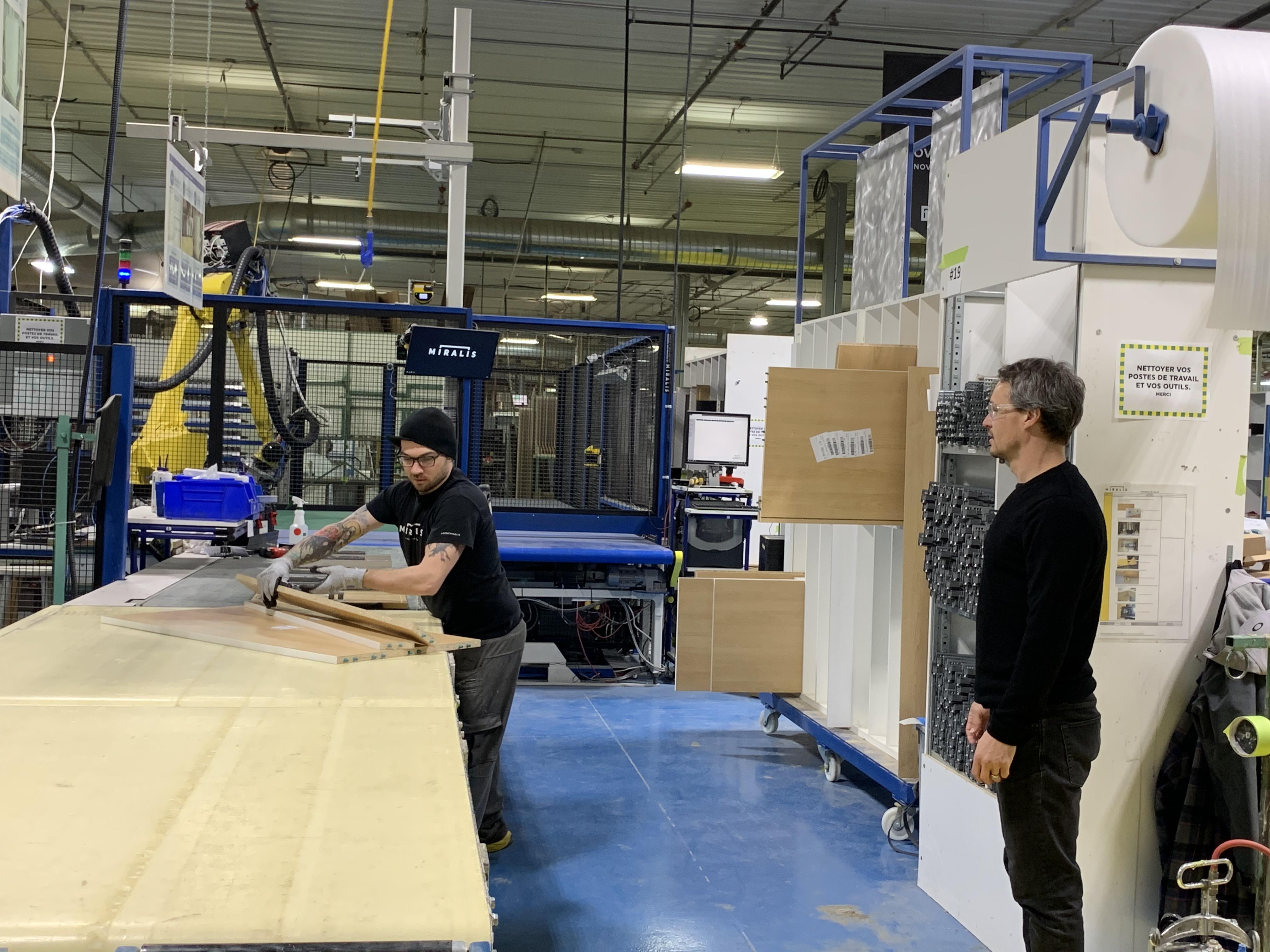 SAINT-ANACLET, Quebec – Daniel Drapeau, president and CEO of Miralis, is searching for silver linings while focusing his attention on reopening his company's cabinet manufacturing operations amid the global coronavirus pandemic.
As "tough" as things have been, Drapeau said he knows that they could be worse for Miralis and its 300 employees. So instead of anguishing over the COVID-19-s calamitous impact on his business, he is counting his blessings. Number one on the list is the fact that no Miralis employees have tested positive for COVID-19. Other reasons for giving thanks include having a company on relatively solid financial footing, a "great team" pulling together to make it through the crisis, kitchen dealers supporting Miralis with new orders, and suppliers willing to offer payment terms that will help preserve the company's cashflow. 
Drapeau said a recent bit of good news was that the Quebec government was authorizing contractors to resume home construction and remodeling activities effective April 20 as long as all work is completed by July 31. Like home builders and other wood product manufacturers in Quebec, Miralis was ordered to shut down its operations, effective March 24 by the provincial government, which initially deemed most wood product manufacturers as non-essential businesses.
Miralis actually got a slight head start on its reboot. The Quebec government granted the company its request to resume operations a week earlier so that it could service customers in Ontario and the United States where residential construction was listed as an essential activity, Drapeau said. "We have already shipped a few kitchens and add-ons."
While restarting a business shuttered for more than three weeks is not easy, it also was challenging to shut down in compliance of the government mandate, Drapeau said. "It's a lot more complex to shut down a plant like ours than winterizing your RV," he said. Crucial decisions that had to be made quickly included "managing cashflows; building a strong communications plan with employees and clients; shutting down machines appropriately so we could re-start them without damage; and "managing myself to remain logical, focused and be a good leader. That was sort of a challenge."
Bottles of alcohol-based disinfectant are a ubitiiquos sight throughout Miralis' plant as the company, just one of the new safety measures the company has teakn in step with government COVID-19 regulations. 
"It's been complicated but we managed it well financially," Drapeau said. "Over the last few weeks, we have been in constant communication with our clients and our team members to provide updates about where we are at. We've had a lot of Zoom meetings with our 300 employees including our plans to reopen the business. "It's been tough, but we've managed it well. I've got a great team. Instead of worrying about salaries and commissions, they said, 'We're going to manage this through with you."
The shut-down blues
"To be frank, it was a little frustrating being forced to shut down because I was very anxious to serve our clients in Ontario," Drapeau said. Adding to his frustration was the uncertainty of how long the shutdown would last. "When we first shutdown, everyone was told they would be without salary for two weeks while we waited to see what wage subsidy programs we could apply for from the federal and provincial governments."
Drapeau praised the Canadian government for its quick action provide relief help businesses and employees financially stressed by the COVID-19 crisis. He said most of his employees qualified for the Canada Emergency Response Benefit, a federal emergency aid program that provides $2,000 a month to workers laid off due to the virus. "Everybody accepted the need to reduce his or her salary so that we can protect the company and the jobs long term."
In addition to government assistance, Drapeau said, "We benefitted from some cost reductions due to the shutdown. For example, if we had to produce only one or a few kitchens, we would still need three and sometimes four of our dust collectors to remain functional. So, we would consume way too much electricity in proportion to our production."
In preparing to reopen the plant, Drapeau said, "The first goal was to comply with all of the regulations to safeguard our employees in the plant," Drapeau said. "We're reopening slowly but surely with all of the sanitary, health and security rules that we need to follow. We'll start with a small number of our team in the plant plus office staff working remote from home. Managing the health and safety of our employees is the most important thing. Second and third are serving our clients and building up our business to bring more team members back to work."
Miralis managers hold daily "scrum" meetings to make sure all sanitary measures are in place and working as expected in the plant. They also make adjustments as needed to meet government workplace hygiene measures to stay one step ahead of the COVID-19 virus. 
Drapeau said he feels fortunate to have booked orders to produce 100 cabinets a day with about 50 shop floor employees for the first week of the start-up and 300 cabinets a day with about 100 production employees in upcoming weeks. That's a still well below the 500 cabinets a day that the plant normally produces, but is nevertheless a good starting point to rebuild, he added.
"My goal right now is to bring back the business to close to what it was and to not be too distracted by what's going on that I can't control," Drapeau said. "If we can even get back to 400 cabinets a day, we could recall almost everyone. But for now, our volume is too small and we have no choice but unfortunately keeping people at home. At least the federal government put some OK measures in place to look after them."
'Really good year' goes bad
"We were off to a really good year. Our revenues were growing and we were well-positioned to continue to innovate and invest in the plant," Drapeau said. "Then boom! We shut down so 2020 is definitely now a year to forget. But I strongly wish and believe that we can hope to have a normal 2021."
Drapeau said he could not divulge information about the capital improvement projects that were in the works "because I don't know if we still be able to do them." In an interview last summer, however, he discussed the company's ongoing plans to automate production including increasing the number of five-axis robots in use on the plant floor from five to 20 over the next five years.
"From a philosophical point of view, I think the economy was not well balanced. I think this sort of shock is very tough. People are afraid for their families, their friends and themselves," Drapeau said. "This virus is scary but at the same time this whole shutdown of planet earth is maybe a wake-up call that people are consuming too much stuff. I think businesses have to adapt to a new normal. We have been planning to present our company and our brand as a more earth-friendly by offering products that are high quality in construction and design so that consumers can choose products that not only will last but will still look beautiful over time. I would rather sell someone a kitchen every 30 years than every seven or 10 years. I truly believe other entrepreneurs will adopt a more long-term vision and strategy."
For the short-term, Drapeau said, it is important to stay informed because "things are moving fast. I'm on several calls with lots of people in the construction industry. Some of them are very well connected and say they are 100 percent certain that the economy is going to open up by May 4. Maybe they're wrong, but there are signs that our kind of industry will restart pretty quickly."
"I think that all companies that were strong before the crisis will emerge strong after the crisis passes and I strongly believe that Miralis will be one of them," Drapeau said. "I hope our competition and our industry will remain strong as well. The stronger our industry will be, the more innovation and evolution there will be. That would be a good thing."
Have something to say? Share your thoughts with us in the comments below.