Lumber Liquidators Tops Woodworking Network Stories of 2015
November 23, 2015 | 12:45 pm CST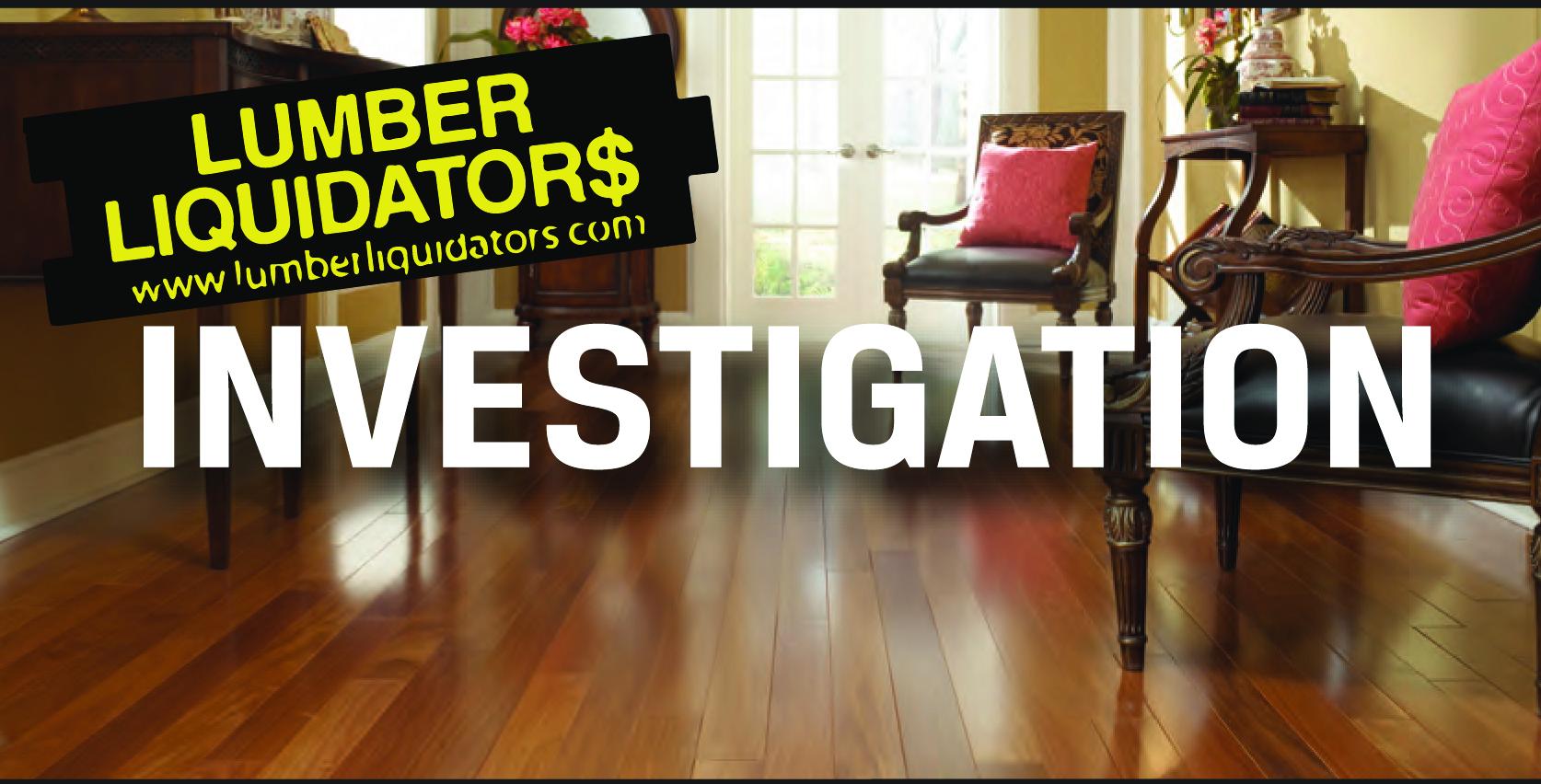 For several years, the business trends in the housing market have topped the news. But in 2015, legal issues took center stage.
Dominating all media channels throughout the year were the tribulations faced by Lumber Liquidators. The flooring manufacturer is dealing with allegations that some of its laminated lumber imported from China was mislabeled as CARB-compliant, a fact made public in a 60 Minutes' expose.
Separately, the company pleaded guilty this year to violations of the Lacey Act with regards to its hardwood flooring, resulting in the largest fine ever and the first felony conviction under the Act.
ARTICLE

Lumber Liquidators Stock Surges as Investor Reverse View

An investment manager who was a steady critic of its business practices reversed his position saying he is now certain Lumber Liquidarors did not knowingly sell Chinese made laminate flooring with high levels formaldehyde.
---
And speaking of the Lacey Act, there is still no movement on recent attempts to amend it. No movement is how to best sum up the hardwood checkoff proposal, which was debated, amended, reopened for comments, amended again, and reopened, before being put down.
And in other highlights, the industry continues to move forward, with expansions and reshoring making the news.
Lumber Liquidators Floored
It's been a tough year for Lumber Liquidators as the embattled flooring maker faced charges of CARB and Lacey Act violations.
Lawsuits were filed against the company following a March expose by 60 Minutes that some of the company's imported flooring was mislabeled as CARB-compliant. Stock price fell, the CFO and compliance officer were fired, and on May 20 CEO Daniel Lynch quit. Lumber Liquidators has since announced it would stop manufacturing laminate flooring in China. bit.ly/1PwMuQ9
If that wasn't enough, Lumber Liquidators will pay the largest fine ever issued for Lacey Act violations — $13.15 million — after pleading guilty in federal court on Oct. 22 to felony and misdemeanor charges related to its importation of some hardwood flooring from China, made from illegally logged Russian timber. The hardwood and laminate flooring manufacturer is scheduled for sentencing on Feb. 1, 2016. bit.ly/1OcnzhC
Top Woodworking States
Recent employment figures from the Bureau of Labor Statistics (BLS) revealed that the top states for doing business are not necessarily the ones where woodworkers tend to congregate.
Earlier this year, CNBC compiled "America's Top States for Business 2015." It ranks the best states for work in top 10 order as Minnesota, Texas, Utah, Colorado, Georgia, North Dakota, Nebraska, Washington, North Carolina and Iowa. But the BLS census of Employment and Wages among 13,104 household furniture and cabinetry makers ranked California tops for making a living, followed by New York, Illinois, Texas, North Carolina, Florida, Ohio, Michigan, Pennsylvania and Georgia. bit.ly/1kARBSJ
DIY Online Closet Design
Closets manufacturing giant The Stow Co. launched NeuSpace, a brand of do-it-yourself custom organization systems, sold online exclusively through HomeDepot.com.
Featuring a choice of five colors, four drawer and door styles, a wide variety of accessories and configuration options, NeuSpace lets homeowners get creative in organizing any space in new or existing homes. With just a few clicks, they can put together a combination of configurations to fit their needs, then select the size, color, and style. Pricing is updated at every step of the design process. bit.ly/1l0DZzN
Ashley Ownership at Status Quo
Ashley Furniture tested the waters earlier this year, hiring Goldman Sachs Group to handle the search for a buyer. Shortly thereafter, the nation's largest residential furniture maker ended its exploration of a sale. Update: Ashley is expanding in North Carolina, and has aggressively  moved into e-commerce, building a new Tampa, FL, campus for its Ashcomm LLC online subsidiary. bit.ly/1X3eWIp  bit.ly/1MBhp7W
USDA Kills Hardwood Checkoff Program
The USDA stopped the rulemaking process on the controversial "Hardwood Lumber and Hardwood Plywood Promotion, Research and Information Order,"  effective Oct. 29. Originally published in the Federal Register in November 2013, the proposed Hardwood Checkoff sought to set a tax on lumber producers to help promote wood sales. The USDA said the majority of comments opposed the program. bit.ly/1QrkJbF
Timber Towers
The trend of using cross-laminated timber (CLT) to construct high rises continues to grow, with London as the site for the tallest wood building in the world to date: a 121-unit, 10-story apartment complex.
Architects Waugh Thistleton and CLT engineers Ramboll and developer Regal Homes say the most exciting aspect of the project is its sheer size and its completion without the use of thousands of cubic meters of concrete. The project used more than 3,500 cubic meters. bit.ly/1SxTxFX
Norcraft Acquired by MasterBrand
The nation's largest cabinet conglomerate became even bigger with the announcement that MasterBrand Cabinets' owner Fortune Brands Home & Security Inc. acquired Norcraft Companies. bit.ly/1OcpsLd
Arauco to Build Largest PB Mill
Arauco is investing $325 million to build the largest continuous press particleboard mill in North America. Located in Grayling, MI, the new mill will produce 424MMSF (750 MCM) of panels per year, along with full lamination capabilities to support the Prism TFL decorative surfacing program. bit.ly/1NAbpw0
Supreme Court Upholds Obamacare
The Supreme Court rejected a challenge to Obamacare, thereby cementing the Affordable Care Act which had been of deep concern for wood manufacturing businesses large and small. A previous challenge to tenets of the law — brought by Conestoga Wood Specialties and Hobby Lobby — resulted in a judgment favoring the wood industry challengers on religious grounds over mandatory funding of birth control services. bit.ly/1NXDrGl
J&L Tonewood Indicted for Lacey
Harold Clause Kupers, owner of J&L Tonewood, a lumber mill producing figured big leaf maple tone wood for the custom guitar industry, was indicted by the Department of Justice for violating the Lacey Act by purchasing wood illegally harvested from the Gifford Pinchot National Forest located in Southwest Washington state. bit.ly/1X3kKSe
SawStop Sues to Block REAXX Saw
Just months after Bosch debuted its safety-sensing REAXX saw (bit.ly/1QJur8G), SawStop filed complaints at the U.S. International Trade Commission and the U.S. District Court in Oregon against Robert Bosch Tool Corp. to stop what it says is an infringement of its patented inventions that protect workers from serious injury. The suit asks the ITC to exclude Bosch's REAXX  table saws from entry into the U.S. bit.ly/1YdRMS8
Cardell Cabinetry Still in the News
Although the cabinetmaker closed in 2013, the defunct firm still made news when Masco purchased the trademark to produce kitchen and bath cabinets under the Cardell Cabinetry brand. Also, former Cardell Cabinetry CEO BJ Tidwell started a new company, Nations Cabinetry, in partnership with Miami Nation Enterprises, the investment arm of the Miami Tribe based in Oklahoma. bit.ly/1WWIzjN bit.ly/1MS6l5q
Vaughan Furniture Closing
One-time furniture manufacturing giant Vaughan Furniture, Galax, VA, closed operations. The company at it peak employed 1,800 in multiple factory sites. bit.ly/1MyaUTp
Lincoln Logs Reshores Production
Lincoln Logs' owner brought production of its tiny logs back to the U.S., after it found a domestic supplier in PrideSports, Burnham, ME. The logs had been produced in China for toy maker K'Nex Brands, which is famed for insourcing its other toy lines. K'Nex produces Lincoln Logs under license from Hasbro. bit.ly/1NAd1Ga
Gingrich Closes After Union Vote
Leon Gingrich cited Scripture when he closed his privately held business Aug. 17, five days after workers voted join a labor union. The Mennonite Christian owner of the wood components firm said, "We are required to 'live peaceably with all men,' and not to use force to gain what we want or for what is required to succeed." Meetings with labor union Unifor to reach a settlement on the lockout also hit an impasse, and the matter went to the Ontario Labor Relations board. Subsequently, Gingrich stated it was in negotiations to sell the company. On Nov. 11, the Ontario Labor Relations Board announced that Gingrich Woodcraft must pay its employees 35 weeks of salary over the lockout, whether or not the company is sold. bit.ly/1OcqI0P  bit.ly/1lnvkYr
Lacey Act Goes Before Senate
Earlier this year Senator Rand Paul and Senate Majority Leader Mitch McConnell reintroduced the Freedom from Over-Criminalization and Unjust Seizures (FOCUS) Act of 2015 which would amend the Lacey Act by substituting criminal penalties with a "reasonable" civil penalty system, and reducing maximum fines from $500,000 to $200,000. It would also remove all references to "foreign law" within the Lacey Act. A number of companies were hit with Lacey Act violations in 2015, including Lumber Liquidators which will pay $13.15 million — the largest fine ever issue — plus face felony penalties. bit.ly/1kBZJlU  bit.ly/1OcnzhC
Components Maker OMT-Veyhl Expands
Furniture components maker OMT-Veyhl USA Corp. announced plans for a 98,000-square- foot, $8.8 million expansion at its Holland Township, MI, facility. OMT-Veyhl said 206 jobs would be created as part of the expansion. bit.ly/1LoGNvT
Columbia Installs Giant Lathe Line
The installation of a Meinan lathe line at Columbia Forest Products' production facility in Hearst, ON, completed the conversion of all of its North American core-peeling facilities to Meinan's state-of-the-art peeling technology. bit.ly/1YdSm25
Etsy Invites Makers to Supply Sellers
In September Etsy announced that it is opening Etsy Mfg., a marketplace for its online sellers to find and connect directly with manufacturers. The move is a departure from its individual crafter-sales model. Wholesale manufacturers restricted to the U.S. and Canada will supply four categories of its online merchants: apparel and textiles, machining and fabrication, printing, and jewelry and metalwork. bit.ly/1S1gAsH
OSHA Hits Ashley With Penalties
In October OSHA again cited Ashley Furniture for on-the-job machine hazards and proposed $431K in fines for safety hazards at its Whitehall, WI, residential furniture plant. In February this year the largest residential furniture maker was hit with $1.76 million in fines for safety violations at its Arcadia, WI, plant. Ashley disputed the allegations. bit.ly/1NB1MgB  bit.ly/1HVv9Zk
Forest Products Firms Drop SFI for FSC
Environmental group ForestEthics says 31 firms dropped SFI chain of custody tracking for forest products — including Xerox, Starwood Hotels, Delta Dental, and Bigelow Tea — distancing the brands from the Sustainable Forestry Initiative paper and wood certification and labeling. bit.ly/1MzahsQ
Quanex Acquires Woodcraft Cabinetry
Quanex Building Products Corp. acquired cabinetry components maker Woodcraft Industries for $248.5 million in cash. bit.ly/1SVyZb2
Cooperatives Open Door to Millennials
Woodworking Network has reported regularly on the rise in woodshop collectives springing up around the country, including Fort Houston in Nashville; Dock6 in Chicago; or the TechShop chain of public work centers spotted around major U.S. cities. A new collective, Bloomington WoodWorks, opened in Bloomington, IN this year. Also, The Forge, a woodworking and makers collective in Greensboro, NC, named Joe Rotondi as its first executive director. Collectives are not only a trend in the U.S., as the video from Hamilton, ON-based Bench Dog Collective explains. bit.ly/1YeMG88  bit.ly/1X4GHAp  bit.ly/1lsMOmc
Services for Finding Contractors
Google, Facebook and Amazon entered the home improvement space with new services helping match home improvement consumers with professional contractors.  Angie's List, however, is going it alone with its own lead service and Houzz offers a Pro service for lead generation. Big box retailers are also making waves in the service finder market: Home Depot has a similar lead service with Red Beacon and Lowe's works with Porch.com. bit.ly/1H6uUzB bit.ly/1MT0OvG
 
AWFS Names Visionary Award Winners
Eight woodworking machinery and supply manufacturers received Visionary Awards at the 2015 AWFS Fair. The Visionary Award recognizes creativity and innovation, as well as leadership in green/environmental product development. The winners were: Schenk Ltd for the Kitsilano- Smoked Larch textured panel; SurfPrep Sanding by Dixon Enterprises for the SurfPrep 3" x 4" Sanding System Kit; RSA Solutions for the Wood CAD/CAM  3D/2D AutoCAD and SQL software; Striplox for its Striplox Rapid Assembly Connectors; Vortex Tools Co. for its Tool Selection APP; SawStop, LLC for the SawStop Jobsite Saw; Next Wave Automation for the Piranha FX CNC; and Holz-Her US for the  Evolution Vertical Machining Center. bit.ly/1N94WxQ
Sawdust Accident Kills Employee
A wood manufacturing company employee was killed when the cab of his truck was accidentally filled with sawdust. OSHA is expected to investigate the incident, which took place at Chips Inc., a wood pellet manufacturer near Zion Crossroads, VA. The accident, which happened May 5, took the life of Sean Lucas, 46. bit.ly/1PNJ4Hf
Chinese-Based Cabinet Firm Opens in US
U.S. Go Goal Cabinets, a Chinese-based manufacturer of kitchen cabinets, opened a U.S. headquarters in the Metro Atlanta area. The company recruited employees for its 3,000-square-foot showroom and 35,000-square-foot warehouse located in the Metro Atlanta area. bit.ly/1kClli1
Semihandmade: INC 500 Fast Growers
Semihandmade, a maker of high-end replacement doors for IKEA cabinets, has made the INC 500 list of fasting-growing privately owned U.S. companies. bit.ly/20Zn69i
Homag City Snapshot: LIGNA
At LIGNA, the HOMAG Group was among those presenting integrated solutions, from a compact workshop over an area of 1,000 square feet, up to a fully networked Batch Size 1 system with a length of 900 feet — including automation, software and IKEA Wedge-Dowel. Known as Industry 4.0, the term would resonate throughout the woodworking industry. bit.ly/1OdyRlH
Oak Shortage Crimps Jack Daniel's
Whiskey distiller Brown-Forman said the rising cost of oak for its whiskey barrels cut into profits. With one of the most advanced barrel-making plants in the world, the company ran into a shortage of oak barrels as Jack Daniel's bourbon production rose. bit.ly/1X4MfuG
La-Z-Boy Earnings Up, Casegoods Out
La-Z-Boy ended its year with 2015 Q4 sales of $374.9 million, up 6.2%; and $1.43 billion for the year, up 5%. But while La-Z-Boy's upholstered furniture is Made in America, the firm is exporting its casegoods production.  bit.ly/1NbkD7V
Woodworking Gets a Dose of 'Reality'
Audiences nationwide saw the trials and tribulations of woodworkers as they competed on reality TV shows for a chance at prize money and fame. Spike TV's show Framework, hosted by hip-hop artist Common, debuted January 6. "Ellen's Design Challenge" on HGTV, featured six contestants being challenged to sketch, design and build custom furniture. Hosted by Ellen Degeneres, the show ended its season with some controversy as debates raged over a design's originality. "Deposed winner," furniture designer Tim McClellan, presented his side of the story and McClellan and his company, Western Heritage Furniture, also were later featured in Woodworking Network's May issue. bit.ly/1S1DDDD  bit.ly/1MzBhbG  bit.ly/1H6Bnuo
Small Robots Take Up Hand Sanding
At the AWFS Fair, smaller-scale robots were taking up hand finishing duties. Biesse and Prime Heat each used Fanuc robots to sand and finish doors and furniture parts. bit.ly/1WXekct
 
Have something to say? Share your thoughts with us in the comments below.