Technology Drives Innovation in Wood Industry Materials
November 24, 2015 | 10:57 am CST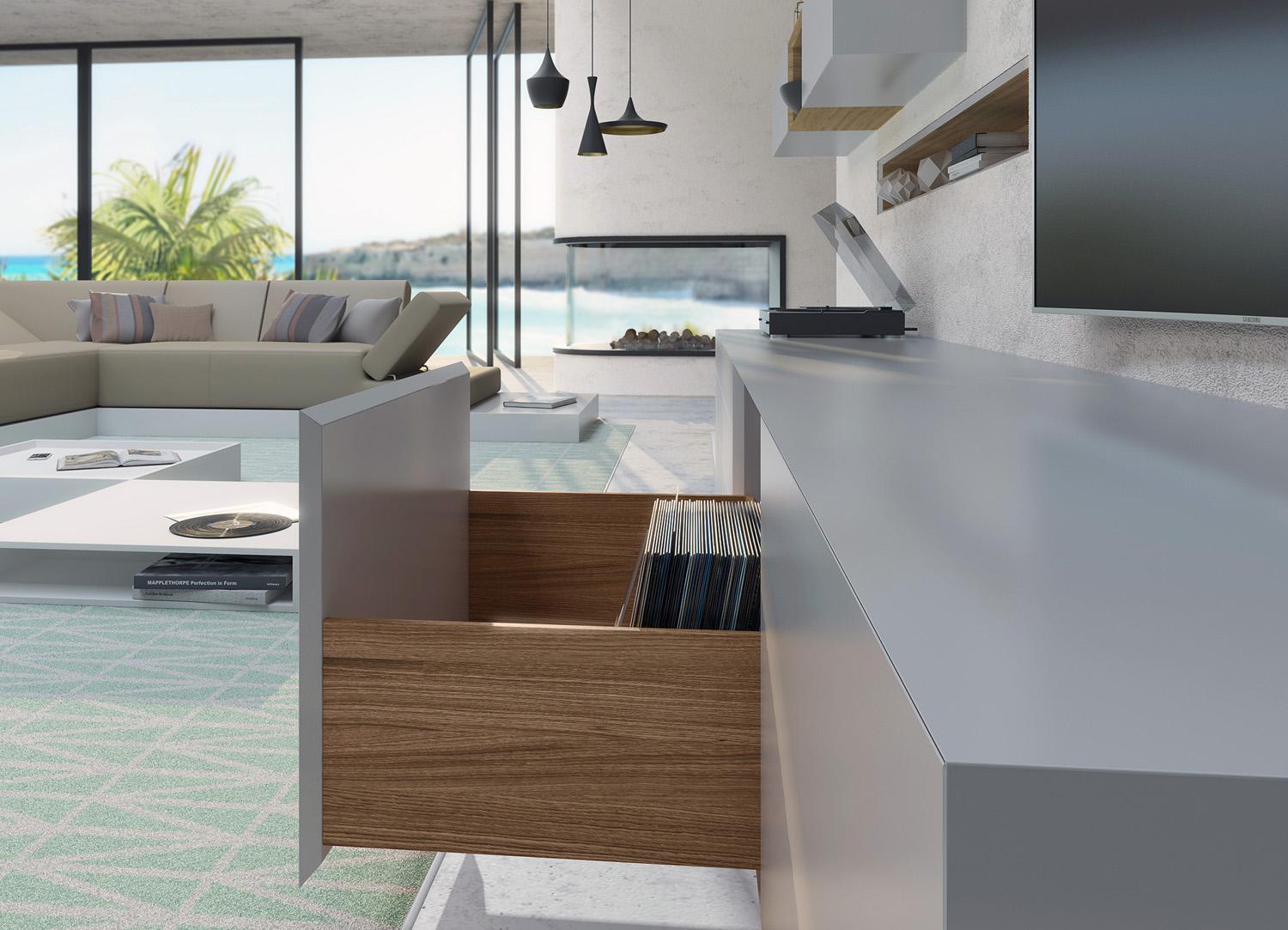 Design driven materials in wood products manufacturing, supplies — adhesives, hardware, veneer, laminates, edgeband —  took on leading roles during 2015. The sweet-spot where technology meets material has set in motion new vistas of design possibilities in cabinetry and furnishings. 
In fact, technology has enabled production of super high-gloss cabinetry, seamless, zero-joint edgebanding, and textured laminates with grain or other patterns embossed in register with the decor paper images.
Hardware has moved in concert with the interior planning trends that include open plan living, aging in place and urban chic. That calls for functional hardware like barn-door rollers, hide-a-beds, and powered flap doors that lift up and out of the way.
Drawers, meanwhile, are getting deeper, so beefier slides must support longer extensions and greater weights. Since the sides of drawers may be visible in the living/dining/family rooms, dressier drawer slide sides are catching on.
Hardware Flexes Its Muscle
Soft-close hardware, designer drawer sides, cabinet and drawer organization, and 3D printing were top trends from the more than 1,561 exhibitors at interzum 2015, held May 5-8 in Cologne, Germany. Narrow reveals, new organization systems and functional designs distinguished many of the offerings. Shown is Hettich's InnoTech Atira drawer system with sharp contours, using a concept based on a single drawer side profile.
Flexibility and modularity continue to be popular and new products on the market are catering to the concept. An example at interzum was Hafele's Smuso fluid damper/soft-closing system for 35-70 kg weight classes. Low opening resistance of the fluid dampers lets doors be moved easily.  bit.ly/1MXwqQA
Finishing Boards With Flames
Shou-sugi ban — also known as Yakisugi — is a traditional Japanese technique for treating siding. It has gained some cache with designers, making its way to interior wall treatments.
DeltaMillworks.com, Austin, TX, calls the technique "the wood version of weathering steel (the oxidization of steel to provide a protective barrier)" and offers lumber treated with an industrial version of shou-sugi-ban that passes lumber through a Weinig planer and under a flame. "Burning cedar or some other wood gives it a charcoal barrier that is rot and fire resistant ... and very distinctive looking," the company says. It offers many finishes and degrees of burn in a variety of wood species. bit.ly/215zFQx
What Comes After Gloss?
What trend will follow high gloss cabinetry? REHAU is queuing up a matte surfaced material made by Italy's Arpa Industrial: FENIX. 
This self-healing soft matte nanotech material for cabinetry and furniture in vertical and horizontal applications is part of its REHAU surface solutions (that includes Rauvisio Crystal Glass and Brilliant High-Gloss). The advanced material was developed using acrylic resins and electron beam technology to achieve a soft-to-the-touch, light-absorbing, "super-matte" texture. It "heals" scratches through thermal scratch regeneration, resists fingerprints, heat, mold, acid, solvents and cleaners. Anti-bacterial properties make it a surface for healthcare, hospitality, offices, kitchens and bathrooms. bit.ly/1LrZfJm
Lumber: How To Buy It
Joshua Farnsworth teaches fundamentals of selecting wood, and "how not to sound like an idiot at the lumberyard.  bit.ly/1S6Svkj
Panel Talk
A channel sponsored and written by Timber Products Co., it is filled with technical advice and design trends on veneer panel and plywood. Readers learn about book match, slip match and other veneer patterns, and wood species trends. bit.ly/1O5YWov
Bathtubs Made from Wood Veneer
Alenga takes carefully selected wood veneers, saturates them with resin, then compresses then together under high pressure. The Swiss firm makes the tubs in wenge, walnut, pear, oak, iroko, and mahogany.  bit.ly/1Mpnne5
Wunderwoods Wonderful Elm Slab
Scott Wunder had an orphan elm slab for which he struggled to find a home, until a request for a kitchen peninsula top came in. It finished to a gorgeous gloss.  bit.ly/1NFxvx9
Why I Never Stain Cherry
In this immensely popular video, woodworker Jon Peters explains the natural oxidation of cherry wood that brings color over time, without stain.   bit.ly/1T1AG75
Oak Shortage Hits Barrel Makers
For Jack Daniels, white oak is a key ingredient in making whiskey. A shortage could mean operations are slowed at one of the most technologically advanced barrel makers in the world. bit.ly/1PPUxGix
How Reconstituted Veneer is Made
The process for making reconstituted veneer, sliced from a thick stack of veneer sheets to create a plentiful and uniform product, is recounted in a video from Alpi  Lignum. bit.ly/1NFzKAJ
Reclaimed Lumber Sales Story Goes National
Leveraging the backstory on boards and timbers it hauls from 19th century farms,StoriedBoards charges $499 for a mantelpiece. But each pine, oak,hickory or other board and plank includes a 12-page booklet detailing the history of the family that once owned the structures from which it was reclaimed. bit.ly/1QwLVG8
5 Trends from KBIS: It Was a Hardware Show
KBIS 2015 was a hotbed of finishes, color, and design trends. It also reflected changing lifestyles, and creative possibilities of functional hardware and LED technologies released in the past two years, when applied to cabinetry and home design. bit.ly/1PCyog3x
Dual-side Textured Panel
Uniboard launched WoodPrint Duo Technology, a two-sided textured laminate panel that matches front and back. The announcement was made at the 2015 Woodworking Machinery & Supply Conference and Expo. bit.ly/1OTbZLl
Transparent Veneer Is a Web of Glowing Fibers
A transparent wood veneer, Alpilignum Radiant, has been developed by Italian firm Alpi, which says Radiant is a composite veneer that incorporates transparent plastic resin lines, allowing light to shine through and to disperse throughout. bit.ly/1OhGffSx
Wood Layering Gives Optical Effect
3form, a design-driven architectural millwork materials solutions company, launched a new veneer layering technique at NeoCon 2015 that captures the warmth of wood, while adding visual and tactile dimension to its Varia Ecoresin plastic substrate. It's wood veneer laid up to a  plastic backing, and can be backlit, or cut in laser patterns.  bit.ly/1kIhr77
Valchromat Colored Engineered Wood Captures Light
An engineered wood that combines the natural features of wood with the brightness of colors, it is a product of Investwood, SA a Portuguese company. The board has color throughout; so knicks and scratches do not scrape away the color. The wood fiberboard production is done at two plants, IFM, SA and Valbopan, SA — the latter producing MDF Valbopan and Valchromat, from pine. bit.ly/1MExJET    
Closet Clients Opt for Textured Panel
Closets customers are opting for textured melamine over wood, and over other non-textured synthetic materials. This sleek modern look is a must-have. bit.ly/1I03XxT
Tallest Timber Tower Yet: 18 Stories
One of the tallest wood buildings in the world will soon be constructed at UBC, providing housing for hundreds of students. When completed, the $51.5-million residence building will stand 53 meters tall -about 174 feet. It uses super strong cross laminated timber.  bit.ly/1YiPwZG
Fastener for Quick RTA Assembly
A tool-free fastening and assembly system, Lockdowel can be used for the construction of cabinets, casegoods, furniture, fixtures, closets and components such as drawer boxes. It creates an invisible joint that can withstand mechanical and vibratory stress without loosening. Machinery for automated use of it has debuted.  bit.ly/2161cBz
Zero-joint Laser and Hot Air Edgeband
Edge processing technologies that can help improve not only the production, but the aesthetic appeal of the wood parts produced include tooling developments for the edgebander, work unit technology and new gluing technology.  bit.ly/1OTe4XFbZ
Bamboo Furniture Made Like Origami
Tables made from bamboo folded like origami paper, and chairs with unusual and complex designs: Bamboo is strong and doesn't break easily. But it does also tend to warp, and that's why it hasn't been used for larger furniture, but this technique could change that. bit.ly/1MWw6pO
Vanity Sales Hit by Formaldehyde
The global bathroom vanities market is expected to reach $8.40 billion by 2020, but health concerns due over urea formaldehyde in resin used to bind MDF panel fibers are expected to hamper growth.  bit.ly/1j9W1OC
Extending Hardware Applications
Hardware continues to be more versatile. At interzum companies showed shelf runners for pull-out shelves, with fixing on the bottom for display stands or furniture. Soft-closing also continues to be popular. bit.ly/1MXwqQA
Have something to say? Share your thoughts with us in the comments below.