Yoder Lumber's New Website Is Awesome
July 30, 2015 | 12:34 pm CDT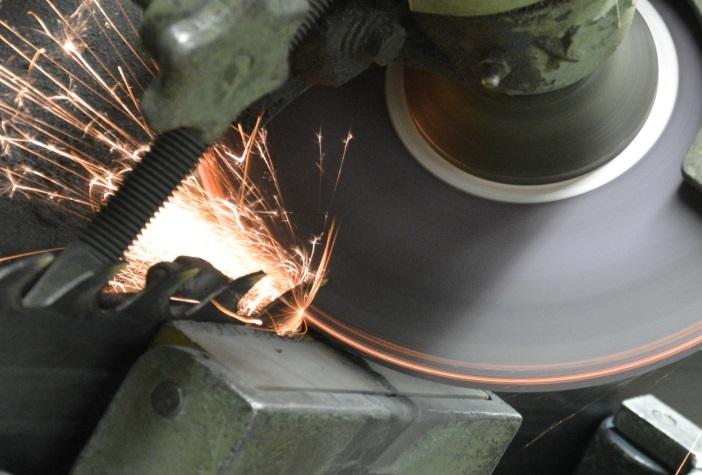 The rise of mobile phones means woodworking companies, like all businesses, must relaunch their websites. Yoder Lumber has done so with an unusual degree of detail and quality, that conveys much about how the company runs other aspects of its business.
Sharpening saw blades at Yoder Lumber
http://www.yoderlumber.com/about-yoder-lumber/history.html
Yoder commissioned extensive, high quality photography - and sometimes, let's be frank, making the grizzled personnel operating woodworking machinery look great is not easy. But Yoder Lumber has really done that with great photos. 
Yoder Lumber really did the job in its overall website relaunch, a process that often turns into a catalyst for a business to go through what can be a deep self-examination. Website designers demand all kinds of things: history, mission statement, and a full complement of content about each aspect of a company's product offerings, key personnel, and history.
Frequently new website pages turn up with incomplete content in these descriptive areas - which can amount to dozens and dozens of pages. It is not unprecedented, for example, to click on a link and find "Ipso factum....," the Latin filler type that is used by a designer to website owner how the text should look. "Under construction" is another common result for unfinished pages. Or in extreme cases, pages turn up with phrases like "450 words about the sales department goes here." 
None of that is true for Yoder Lumber. And in fact, Yoder when a step further, building in fresh video of its operations, newly edited and placed in a great looking YouTube channel. 
In the history department, Yoder Lumber's website is very complete. Good job, Yoder Lumber! 
Yoder Lumber has been a leader in the production of Appalachian hardwood lumber since 1944. Here's how our company evolved from a single portable sawmill serving local landowners to a provider of customized hardwood lumber solutions to customers around the world.
1944 – Founder John J. Yoder started the company with five employees and a portable sawmill. The mill was moved from location to location during timber harvests, sawing timber into lumber on site for landowners.
1955 – Yoder Lumber designed its first permanent sawmill in Sugar creek, Ohio. This became known as the Charm location and it is still in operation today.
1965 – Yoder Lumber installed a new building and circular sawmill at the Charm location.
1972 – Yoder Lumber began producing a line of wooden pallets for local manufacturing companies. This service lasted for over 15 years.
1975 – Yoder Lumber purchased the Berlin, Ohio location for use as an active manufacturing plant and dry kiln yard.
1985 – The company began offering lumber in a variety of species to local customers through a retail office.
1987 – Smash Proof Products – Yoder Lumber designed and produced a line of creepers for the automotive industry from 1975 to 1989.
1989 – New dry kilns, storage buildings, a manufacturing plant, a warehouse and office space were added to the Berlin location. The company also expanded its truck fleet with a new line of Peterbilt and International trucks.
1992 – Yoder Lumber expanded the Berlin plant to increase manufacturing space to 17,000 square feet.
1995 – A new Headrig Bandsaw was installed in the Charm sawmill to increase efficiency.
1996 to 1999 –The Berlin plant was expanded to increase warehouse space and add to the company's main offices.
1999 – Yoder Lumber purchased the Buckhorn facility from Semac Industries, increasing overall capacity with two band sawmills, a pre-dryer, dry kilns, and various storage buildings.
2002 – Rolling Ridge Woods, the company's veneer logs division, was incorporated in Parkersburg, WV. This division was acquired as part of the Buckhorn yard purchase from Semac Industries in 1999.
2003 – A new 45-bay sorting line was created at the Buckhorn location that increased throughput to sort on average 17 million board feet of lumber annually.
2004 – Yoder Lumber began exporting lumber by containers to customers in China.
2005 – Yoder Lumber Logistics was officially launched as a corporation and division of Yoder Lumber.
2010 – A new, state-of-the-art sawmill which includes a 7' Salem Headrig and Linebar Resaw Bandmill was completed at the Buckhorn facility.
2014 – Yoder Lumber celebrated its 70 year anniversary and installed a Woodeye and Talon Saw Line from Eagle Machinery at the Berlin location.
2015 – Yoder Lumber rebranded its entire organization and created seven new division names and logos. The company's new Architectural Wood Solutions division was created to support the retail environment and restaurant fixtures markets.
Have something to say? Share your thoughts with us in the comments below.