New RTA solution cooked up as biscuits
May 31, 2014 | 7:00 pm CDT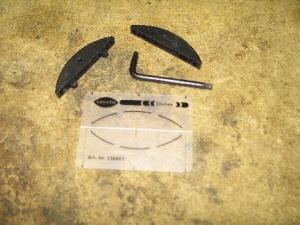 Ready-To-Assemble connections have been a challenge for small shops lacking equipment for dowel-based RTA hardware. But with the new  Lamello Clamex connectors, a biscuit joiner is all you need. Once installed, the Clamex connectors are almost invisible and unassembled parts can be easily moved and stacked with no protruding parts.
Biscuits without glue
Shaped like half of a normal wood-joining biscuit, Clamex connectors are twice as thick (8mm) and are made of fiberglass-reinforced plastic.
Rather than glue, two screws secure each biscuit half into the recess. One half has a hole in the side for a torx-type wrench to activate the locking mechanism. The result is a sturdy joint that can be easily taken apart and put back together. The only hint that the hardware is even there is the small access hole for the wrench. The connectors can be used in all manner of joints including miter joints from 0 to 180 degrees.
Clamex connections require male and female connector halves, screws, the wrench to tighten the connectors and a plastic template for accurately locating the connectors.
Installing the connectors
Put the template on the parts to be joined and use it to mark pencil lines for your cuts. Make an additional mark to locate the tool access hole. Next, cut the biscuit slots.
You'll need an 8mm cutter or just do what we did in our tests; make two cuts with the standard 4mm cutter, moving the fence 4mm for the second cuts. Then take a 6mm drill bit and drill the tool access holes.
Lamello has a drill jig available to precisely locate these holes for miter joints, but we found the template worked quickly and accurately for standard joints.
Install the connectors with the screws provided, and then assemble the joint. Use the wrench through the access hole to tighten it up, and you're done.
Is it for you?
Lamello's Clamex connectors are a clever and aesthetically pleasing solution for RTA connections in any shop with a biscuit joiner. They are distributed exclusively in the U.S. by  Colonial Saw.
Have something to say? Share your thoughts with us in the comments below.