Woodcraft offers new line of Black Dog Salvage furniture paint
July 18, 2016 | 10:47 am CDT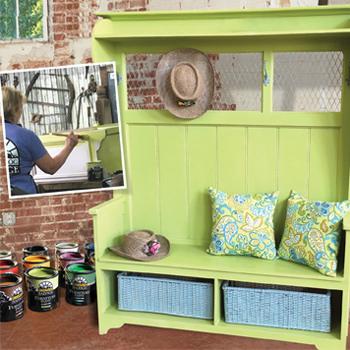 Photo By Woodcraft
PARKERSBURG, W. VA. - Black Dog Salvage, the famous architectural salvage company and reality TV stars of "Salvage Dawgs" on DIY Network, partnered with Woodcraft and launched a new line of furniture paint and topcoats earlier this year.

Black Dog Salvage, located in Roanoke, Virginia, specializes in saving valuable architectural pieces of history from the landfill for residential and commercial reuse. The company's salvage projects take the crew around the country and are documented on "Salvage Dawgs." Some of the pieces are sold, while others are upcycled into custom furniture and interior design accent pieces at the Black Dog Salvage custom wood and metal shop. All are on display at the company's 40,000-square-foot Marketplace in Roanoke and online at www.blackdogsalvage.com.
Black Dog Salvage co-owners Robert Kulp and Mike Whiteside, from left, developed a brand-new furniture paint and topcoat that are available exclusively at Woodcraft. Photo: Woodcraft
Woodcraft worked with the company to help upgrade its woodshop. Through that relationship the two companies teamed up to launch a new furniture paint available exclusively at Woodcraft and Black Dog Salvage.

"Black Dog Salvage Paint was originally developed for the furniture we build in our shop. Our goal was to create a safe and easy to use paint that could be customized for each of our furniture designs," Black Dog Salvage co-owner Robert Kulp said. Co-owner Mike Whiteside added, "Made in small batches in Pittsburgh, Pennsylvania, our paint line includes a true black and white, affording the ability to mix custom tints and shades."

Black Dog Salvage Furniture Paint is a water-based, easy to use interior paint uniquely designed to adhere to most surfaces, cover in a single coat, and dry fast to a smooth matte finish. It can be used on finished and unfinished furniture, woodwork, metal or glass. Black Dog Salvage Guard Dog Topcoat Paint Protector is a water-based, interior Poly/Acrylic Topcoat designed as a durable, self-leveling, final finish for Black Dog Salvage Furniture Paint. It can be used to protect painted surfaces or as a protective finish coat for woodworking and home improvement projects of all kinds.

 
Have something to say? Share your thoughts with us in the comments below.