Solid wood RTA furniture maker succeeds in its niche
May 2, 2018 | 3:45 pm CDT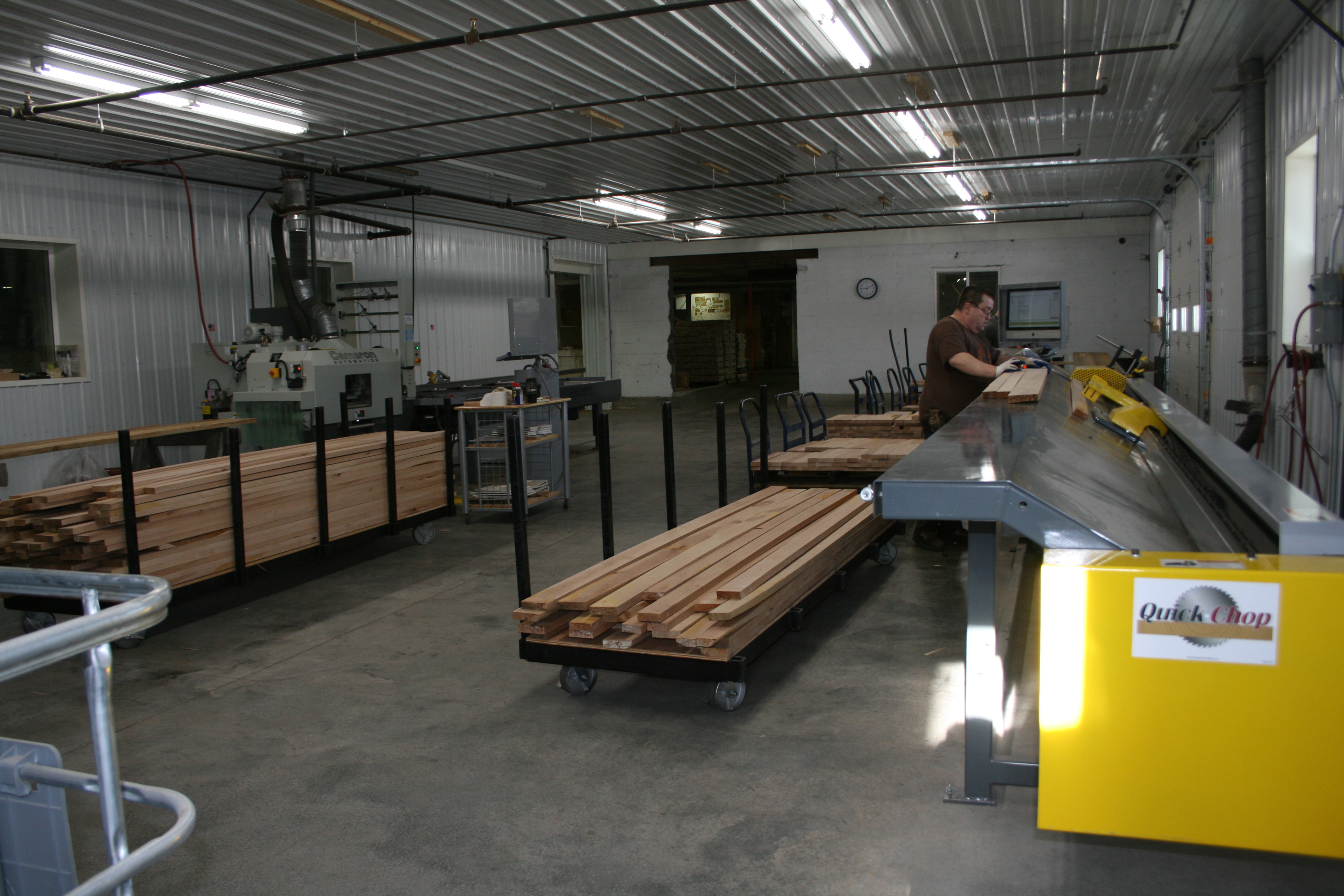 Catskill Craftsmen has evolved into its niche of kitchen furniture while updating its processes and maintaining a strong environmental emphasis.
The primary products are solid wood RTA kitchen Islands, microwave carts and cutting boards.
"We have become a drop ship company for internet resellers," said Ken Smith, vice president. "Our products are listed on essentially all major internet sales sites such as Amazon.com, Wayfair.com, Homedepot.com, Lowes.com, Overstock.com, and Macys.com. Products are shipped via UPS/FedEx directly from our warehouse to the customer's door, where they are assembled by the customer.  
"We have a broad product line with various sizes and features, so the customers have several styles to choose from that can meet any requirements for features, and space restrictions," Smith said.
"Many of our pieces are solid wood. We also make some items with solid wood structural parts and veneer covered particleboard panels for the cost-conscious consumer.
"RTA furniture design can be challenging. Assembly can't be too difficult. Construction must be solid. Parts must be drilled precisely so they go together. We have a great customer service team to assist consumers if needed."
Once surfaced, table top and cutting board panels are transferred to one of the company's CMS computerized routers for shaping and drilling.
Catskills to consumers
Catskill Craftsmen is located in Stamford, New York, a small rural village in the northern sections of the Catskill Mountains, at the headwaters of the Schoharie Creek and Delaware River. The area is known for its downhill skiing, hunting and fishing.
The company started in 1948 as a maker of shipping crates, and later bookcases, for encyclopedias.
All products are made by the company's 45 employees in Stamford. Products are primarily made of yellow birch, and are finished by applying mineral oil to the wood.
"We purchase fresh sawn lumber from local sawmills and dry it on site in our kilns," Smith said. "Once the lumber is dried to 6 percent moisture content, it is transferred into the plant. We run the boards through an Oliver two-sided planer so any defects are readily visible."
A Cameron skew-chop system from James L. Taylor has helped Catskill Craftsmen improve its efficiency.
The planed lumber is processed through the Cameron gang rip system, where it is edged and ripped to get the maximum yield from the lumber. The rips are then processed using a Cameron Quick Chop saw. The operator enters the desired cut lengths and footage requirements into the system, then marks any defects on the lumber using a crayon.
The system calculates the best way to cut the boards to again maximize the yield of the lumber. Once the cuts are sorted by length, they are moved to the J.L. Taylor glue clamp and optimizing system. The cut sticks are placed in the optimizer, where they are measured and combined to give the correct panel sizes, again maximizing yield of the material.
After the glued panels dry overnight, they are surfaced using a Timesavers top/bottom head planer/sander line. Once surfaced, the table top and cutting board panels are transferred to one of the company's CMS computerized routers for shaping and drilling.
Other parts are sent to the moulder or drilling machines as needed. Once parts are the right sizes with all of the correct holes drilled, they are sent to the packaging department to be boxed and placed in inventory for shipment to the consumer.
Smith said that the Cameron system essentially replaced their outdated dimension system between the rough mill planer and the glue clamp.
Smith said the company needs to become more efficient for other reasons.
"Recent minimum wage increases in New York State have been substantial," he said. "We are forced to find ways to become more efficient and save money. We are a "benefit rich" employer offering a good medical/dental plan, a generous 401(k) plan, paid holidays, and significant paid days off for our employees.
"In order to meet the increased wage requirements paid to our employees, we invested in the new equipment to increase our material yields and improve our labor efficiency."
After the cuts are sorted by length, they are moved to the James L. Taylor glue clamp and optimizing system.
Pellet mill processes wood waste
Catskill Craftsmen began a process of reducing waste and conserving energy long before most others. In 1994, The company built a wood pellet mill on site that processes all sawdust, shavings and waste materials from the manufacturing process and converts it to wood pellets, a low emission alternative fuel to heating oil.
Producing up to nine tons of wood pellets a day has effectively reduced the wood waste coming out of Catskill's manufacturing process to zero, while supplying employees and neighbors with a heating alternative made from a renewable resource.

Teaming up with the Watershed Agricultural Council in 1997, Catskill Craftsmen upgraded its facilities, including installation of a plant-wide air recirculation system that keeps the warm air in the plant during the long winters of the northeastern United States and reduces the amount of energy needed to heat the plant.

Catskill Craftsmen also works with the local energy supplier and participates in peak usage shutdowns to reduce regional grid strain.
FACTS:
Catskill Craftsmen
Stamford, New York
Products: Solid wood RTA kitchen Islands, microwave carts and cutting boards
Employees: 45
James L. Taylor Mfg. Co. Skew-chop system, saw, 800-952-1320  jamesltaylor.com
Have something to say? Share your thoughts with us in the comments below.