La-Z-Boy Q4 sales rise in all business segments
June 21, 2018 | 11:29 am CDT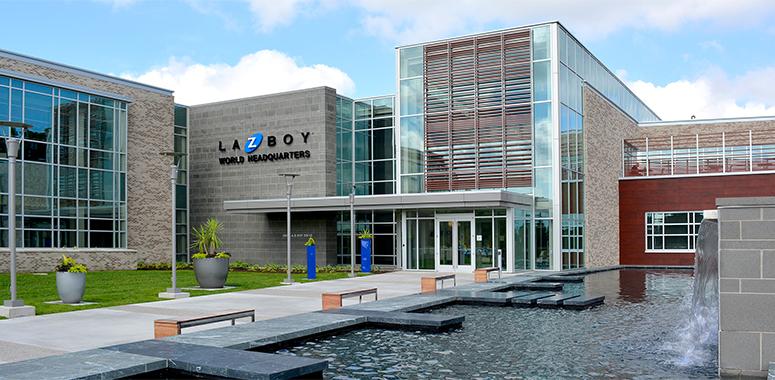 MONROE, Mich. - Furniture giant La-Z-Boy saw $$20 million in fiscal fourth-quarter 2018 sales - a 1.8 percent increase over the same period last year. It also saw a 21.7 percent rise in net income, climbing to $34.4 million.
For its fiscal 2018, the company said that its earnings per diluted share tallied up to $1.67 per share, which marked a 6-cent decline from the $1.73 per share that it posted in the year-ago quarter, due mostly to the tax reform charges. La-Z-Boy's consolidated sales for the year were 4.2 percent higher than in fiscal 2017, reaching $1.58 billion.
 The company's same-store written sales for the La-Z-Boy Furniture Galleries network increased 3.9 percent in Q4 and 2.3 percent for the entire fiscal year.
Chairman and CEO Kurt Darrow said sales increases were "driven by solid performance in all three business segments."
The furniture maker's fourth quarter upholstery segment saw sales rise 0.6 percent to $327 million for the year. Case goods sales rose 17.5 percent to $30.6 million. Retail sales rose 3 percent to $121.5 million.
"The La-Z-Boy Furniture Galleries store network posted its fifth consecutive quarterly written same-store sales increase," Darrow noted. "Across the network, 20 projects were completed in fiscal 2018, including new stores, relocations and remodels. Throughout the year, we significantly upgraded the quality of the La-Z-Boy Furniture Galleries network and ended the year with a total of 350 stand-alone stores, with 132 in the new concept design format."
Darrow expects La-Z-Boy will execute strategic initiatives to drive growth, deliver top-quartile profitability performance within the industry and provide increasing returns to shareholders.
"We are making strategic investments across the company to ensure we remain a leader in the dynamic marketplace while delivering an enhanced customer experience through a combination of investments in online, in-store and in-home design options and services," Darrow said. "Our consistent cash flow enables us to continue to invest in our brand and world-class global supply chain which we believe is a key to long-term success and meaningful financial returns for investors while providing the ability to pursue a multi-faceted e-commerce strategy to capture a new and younger consumer."
Have something to say? Share your thoughts with us in the comments below.