WMS 2019 KEYNOTE SPEAKERS
OPENING KEYNOTES 
Mike Holmes, Jr. -  9:00 a.m., October 31
Mike Holmes Jr. is a professional contractor, television host, public speaker, educator, and Healthy Home advocate who received the education of a lifetime by working with his father, celebrity contractor, Mike Holmes, on the hit TV show Holmes on Holmes® and Holmes and Holmes seasons 1 and 2. Currently Mike Holmes Jr is filming Holmes and Holmes Season 3, where he works alongside his dad to rescue homeowners from shoddy contractor jobs and DIY projects gone bad. Mike is also one of the stars of HGTV's hit show Home To Win.
Will Sampson, Editor in Chief, FDMC magazine -  9:00 a.m., November 1
William Sampson is a lifelong woodworker, and he has been an advocate for small-scale entrepreneurs and lean manufacturing since the 1980s. He was the editor of Fine Woodworking magazine in the early 1990s and founded WoodshopBusiness magazine, which he eventually sold and merged with CabinetMaker magazine. He helped found the Cabinet Makers Association in 1998 and was its first executive director. Today, as editor of FDMC magazine he has more than 20 years experience covering the professional woodworking industry. His popular "In the Shop" tool reviews and videos appear monthly in FDMC and at WoodworkingNetwork.com
WMS LUNCHEON KEYNOTES 
Luke Elias, president of Muskoka Cabinet Company Inc. - Noon, October 31
Leading Muskoka Cabinet Company for 30 years, Luke Elias says he only loves his family more than his pursuit for advancing technology in business.
Early on, with a Bachelor of Business of Administration from the University of Ottawa, Luke ran some small businesses ranging from general aviation services to human resource directories. Over time one thing become clear to Luke: it doesn't matter what the business is, there is always ways to automate and increase efficiency.
In 1989 Luke purchased a cabinet manufacturing company with the notion of changing how one would access the kitchen cabinet and quickly became more interested in implementing computer hardware and software to improve office to shop communication. This was followed by an early investment in cutting and optimization software and the implementation of: Nested Based Manufacturing in 2000, ERP software in 2004, 100% water base automated finishing in 2005, paperless shop floor in 2009, RFID product tracking in 2012, Robotics in 2015, Automated part tracking and movement in 2017.
Luke's pursuits in technology and efficiency finds him today as co-founder of SMARTMRP Inc., an ERP/shop automation software specifically designed for the woodworking industry. With SMART at its core, Muskoka boasts one of the most advanced panel processing cells in the world, utilizing Robotics, RFID, ERP and an AGV, for machining, sorting, labelling, transporting and tracking parts. These innovations have resulted in Muskoka having output three times the industry average. 2019 will see the launch of SMARTSonic, the fastest, most advanced panel processing cell of its size in the world.  
Constantly straining the financial budgets of his company, Luke believes the key to survival and growth is through integration of processes and automated sharing of information within the organization. 
Daniel Drapeau, CEO, Miralis  - Noon, November 1
As a young man, Daniel Drapeau had nothing to do with the kitchen cabinet industry. He was a track & field athlete; he completed a bachelor's degree in engineering physics and then worked in the telecom industry (Telus Canada) for several years, from 1998 to 2007. He had to hit the ground running and overcome complex business challenges, which at the end of the day had earned him some valuable management experience. But deep inside, he always knew he was meant to be an entrepreneur. In 2007, an opportunity hit his radar: a cabinet maker was coming up for sale in his hometown, and hiring a general manager in the meantime. 
He packed up his wife and kids, rolled up his sleeves, and got to work. He learned the ropes by day, and took cabinet-making classes at night and on weekends, to make sure he knew the industry through and through. And the long hours paid off: two years later, in 2009, he finally got to own the company for himself. With that same sense of determination, he took the challenge head-on and brought his company to an international level. Innovation flows in his blood and it was only natural to find out he had a passion for product development that spanned the fields of both kitchen cabinetry and advanced technologies. His vision and inclusive leadership approach have motivated his team to turn Miralis into the renowned North American trendsetter it is today.
WMS 2019 CONFERENCE SPEAKERS
Nick Anastas, Sr. Estimator at Archmill House/AWMAC ON GIS Director & GIS National Chair
Nick Anastas has spent the last 25 years commercially working with wood.
Starting from the solids breakout department at the illustrious JF Gillanders and eventually working his way through the shop to Lead Hand, then Project Manager, and ultimately Senior Estimator.
Since then, Nick has worked in a number of small and large shops, in differing capacities from Project Manager to Plant Manager in privately and publicly held companies with 100's of cabinetmakers in shops up to 160,000 ft² working on showcase projects such as the Toronto City Hall, AGO, Aga Khan Museum; TIFF; Ritz Carlton and more.
Nick is currently the Chief Estimator at Archmill House in Ancaster, with over 35 million in annual sales, while also volunteering as AWMAC Ontario's GIS Director, National GIS Chair; and contributing member to the NAAWS publication and Joint Standards committees. Nick is very fond of kittens, coffee and bourbon. But not necessarily in that order.
Brad Cairns, Principal, Center for Lean Learning 
Brad Cairns is a partner at Quantum Lean and is dedicated to improving the woodworking industry in North America using lean methods. He is also president of Best Damn Doors, a door manufacturing business in St. Thomas, Ontario. Brad registered his first woodworking company at the age of 16. In his own words "there was just no other path for me, I love to build stuff". Having done display cabinetry, full museum galleries, store fixtures (for large chains), Residential kitchens, component manufacturing & commercial millwork. After 25 years in business, he brings a vast knowledge of the woodworking industry.  His personal BHAG (Big Hairy audacious goal) is to transform the woodworking industry back into a fun and profitable sector of North American manufacturing. An avid student of TPS (Toyota production systems) & TOC (Theory of Constraints) these combined manufacturing principles are the basis of his approach to business. "Travelling the globe learning, and then being fortunate enough to be able to share that knowledge in a manner that helps transform companies and lives is what makes every second worth it," says Brad.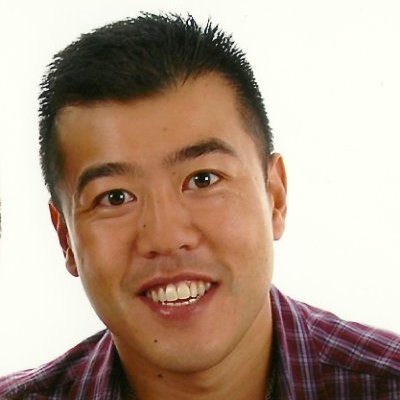 Jason Chiu, Managing Director - UBC - Centre for Advanced Wood Processing
Jason Chiu is a quality control certification specialist and extension trainer at the Centre for Advanced Wood Processing, at the University of British Columbia. Jason holds a Bachelors degree in Wood Products Processing from UBC. He has worked for several secondary wood products companies performing; quality systems implementation, training, and process layout and design. Jason has conducted audits of several industrial finishing facilities and performed hands-on finishing training, as well as developing a comprehensive range of finishing testing services for industry. 
Ian Christie, Outside Sales Representative at Upper Canada Forest Products 
Ian Christie has been in the wood products industry for the past 15 years. Using his acquired knowledge of lumber, veneer and composite panels Ian is a well respected Sales Professional.  Working for Upper Canada Forest Products Ian as a  Senior Sales Representative. As a Board Member at AWMAC Ontario Ian has utilized his experience, knowledge and belief in education to help build the Education platform currently being used by the association and is currently President of the Ontario Chapter. In his free time Ian enjoys coaching youth sports and volunteering in his community. (Image courtesy Woodworking Canada.)
John Topic, North American Marketing Manager, Willis
Willis assists the design community by offering market leading design material solutions and education to real world problems across North America. John has over 25 years of experience in various areas of marketing strategies and design. John's career started in the field of graphic design which was reflective of his general love for all areas of design. His experience as a graphic designer parlayed him into more comprehensive marketing roles at companies like The Bombay Company, CFM Corp., EcoWater; a Berkshire Hathaway Company and, of course, Willis.  In his 9 years at Willis, John has delved deep not only into developing comprehensive marketing and communication strategies, but into furthering his design knowledge by traveling the world to both seek out and present design insight. John continues to play an integral role in Willis' interactions with the design community and the general growth of the company, most recently heading up significant brand transitions and territory acquisitions that has seen Willis double in size in the span of just 3 years.