Wood Pro Expo Lancaster kicks off Thursday
October 16, 2018 | 11:13 am CDT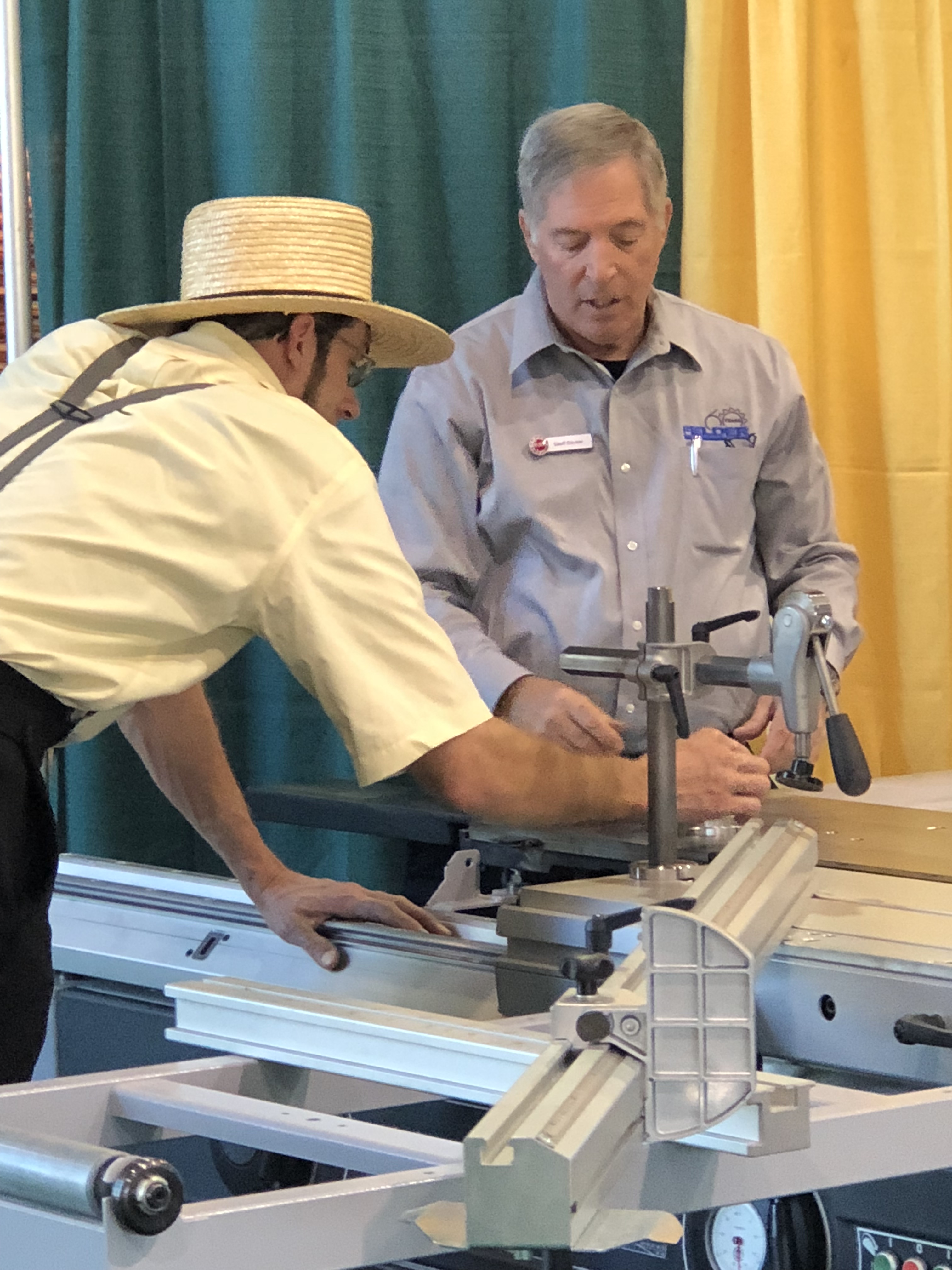 LANCASTER, PA -- More than 700 attendees have pre-registered for Wood Pro Expo Lancaster as of press time.  This represents a 30% increase in preregistration numbers versus last year.  When Wood Pro Expo opens Thursday, October 18, attendees will have the opportunity to learn as well as take in almost 12,000 sq. ft. of exhibits.  The event will be held at Warehouse at the Nook in Manheim, PA.  Attendees can start their day by taking in a complimentary keynote ahead of the exhibits opening each morning.  The keynotes will be presented at 8 a.m. on October 18 and 19 and the exhibits open at 9 a.m. each day.
Complimentary keynotes
FDMC editor, Will Sampson, will present his popular 2018 Pricing Survey as the opening keynote for Wood Pro Expo Lancaster on October 18. (VIEW WPE Lancaster conference schedule.)  Titled, Solving the Pricing Puzzle 2018, the session will address the perennial pricing issue facing woodworking companies.  Learn if you are you charging the right price for your work.  Sampson takes you inside the results of the 2018 FDMC Pricing Survey for custom woodworking. You'll learn what other shops charge for the same work, fundamentals of pricing custom work, and common pitfalls to avoid in your pricing process.
Dr. Eugene Wengert AKA the Wood Dr. will headline Day 2 (October 19)  of Wood Pro Expo Lancaster with his opening keynote, The Wood Doctor is in.  His wide-ranging presentation will address the changes in the industry and their effects on the typical woodworker's business.  "No doubt that many basics in our industry are changing, " said Wengert.  "We'll look at changes in wood availability, wood prices, wood product market changes and more, and then what we can do to be ready to minimize the impact or even benefit from these changes." 
He'll also save some time to field questions from the audience on practical or technical challenges you encounter in lumber and panel.   His question and answer column in FDMC magazine has made him a treasured woodworking industry resource.  Wengert is the author of eight practical books and has published over 500 articles relating to the wood products industry. As a former professor and extension specialist at Virginia Tech University and researcher at the USDA Forest Products Lab in Madison, Wisconsin, Wengert taught over 30 practical wood processing classes and seminars a year for the wood products industry, including sawing, edging, grading, drying, machining and gluing.
The
Warehouse at the Nook
features ample free parking, free shuttle, and a restaurant and hotel on site.
Business Sessions
Lean expert, Mike Roth, returns to Wood Pro Expo Lancaster to conduct a two-part workshop titled, "Jump-Starting Your Lean Journey," on October 19.  Roth's session will address implementing lean management with any sized business.  Roth says his talk will be relevant to woodworking businesses no matter where they are on their lean journey.  A Lean Six Sigma Master Black Belt with a lean manufacturing certificate from the University of Michigan,  Roth is the CEO / President of  Go-Lean-Six in Lancaster, PA.  The company provides strategic leadership and "on site" mentoring.   Roth has more than 20 years of experience in the process improvement field with organizations such as Harley-Davidson, Johnson Controls, Mack Trucks, BAE Systems and Volvo.  His session at Wood Pro Expo Lancaster in October 2017 was well received and he also addressed a packed audience at the Charlotte Wood Pro Expo in February 2018.
The Path to Professionalism
If you are in the process of launching a woodworking business or have been in business for a while and just can't seem to stay on track, this new Wood Pro Expo session may be just what you need.   Will Sampson will address best practices and more in his presentation, Path to Professionalism, October 18 at Wood Pro Expo Lancaster.  Sampson will share what he has learned from visiting hundreds of shops across North America. He will help you get started on the right foot or get back on track. Topics will include best business practices, efficient production, effective marketing, and secrets some shops don't learn for decades.  "This presentation is targeted at woodworking businesses starting out and ones that still struggle from time to time," said Sampson.   "We'll explore business fundamentals specifically for woodworking shops with an emphasis on custom work," he said.
How to use PR effectively
Another presentation, "How to use PR effectively," will be delivered by Amanda Eden, director of public relations/media strategist at Stoner Bunting. Eden will address best next steps to take if you have completed a high-profile project or hired a well-known designer. Learn how to attract media attention and gain coverage of your firm by using effective PR strategies with digital marketing and social media.
Also presenting will be Carroll Henning, Marketing Director for Woodworking Network.  "The home and building products industry is filled with innovative products and brands aimed at everyone from middle-class consumers in suburbia, to the influential and powerful movers and shakers of the architecture and design world," said Eden.

Running Machinery Program
New this year for Wood Pro Expo Lancaster is an expanded conference schedule that includes the WPE Running Machine program. VIEW Running Machinery program schedule.   The program is aimed at giving participants a comprehensive understanding of the machines and systems on display.
Finishing and respiratory equipment distributor, Grapek Bates, will demonstrate its products in action.  According to Grapek Bates spokesman, Kyle Martin, the company will focus on how new respirator technology is changing the game.  "We want to demonstrate how industrial respiratory equipment can keep you safe.  We will demonstrate the different types of systems such as supplied air, mobile belt units, air purifying respirators and face respirators."  Martin said attendees will be able to try on the equipment themselves.  The company will also demonstrate 2 K (two component mixing equipment) to show the benefits of having electrical and mechanical mixing equipment for finishing.  The focus will be on how the new equipment can decrease waste, deliver accurate mix ratios and higher return on investment.
Another exhibitor, Ellert Equipment, will be offer hands-on finishing advice. Ellert has more than 30 years of experience in the spray equipment industry and is knowledgeable in various kinds of spray booths, spray gun systems and powder coating.
Also Felder will offer a demonstration based on the question, "What is the best shop setup, Jointer-Planer or Jointer And Planer?"
Other Wood Pro Expo Lancaster exhibitors participating in the Running Machine Program include Wurth Group (Big Machines or Small Machines, which one will work for you?)  and RT Machine (Lock Miter - Stronger Together, RT Machine demonstrates precision miter joints).
 
Warehouse at the Nook
The Warehouse at the Nook features ample free parking, free shuttle, and a restaurant and hotel on site.   "Our new facility gives us the room and convenience that WPE Lancaster needs," said  WPE show manager, Lewis Goldman.  The Warehouse Hotel is housed in a former industrial warehouse along with the country's largest indoor sports facility. It features luxurious modern rooms with amenities including free internet, refrigerators, large flat-screen TVs and more in an environmentally friendly, recycled facility.  You don't have to leave the site to find some great activities the family will love. The arcade has more than 60 games, and kids earn tickets to cash-in for awesome prizes. Bring them to the Nook Climbing Gym or Clip 'N Climb to give rock climbing a try. The complex is close to several local attractions.  Hershey Park, Dutch Wonderland and Strasburg Railroad are a short drive away. It is also in close proximity to historic downtown Lancaster and the Central Market.

 






 
Have something to say? Share your thoughts with us in the comments below.