Leica room measurements feed accurate dimensions to Cabinet Vision design platform
November 28, 2017 | 3:46 pm CST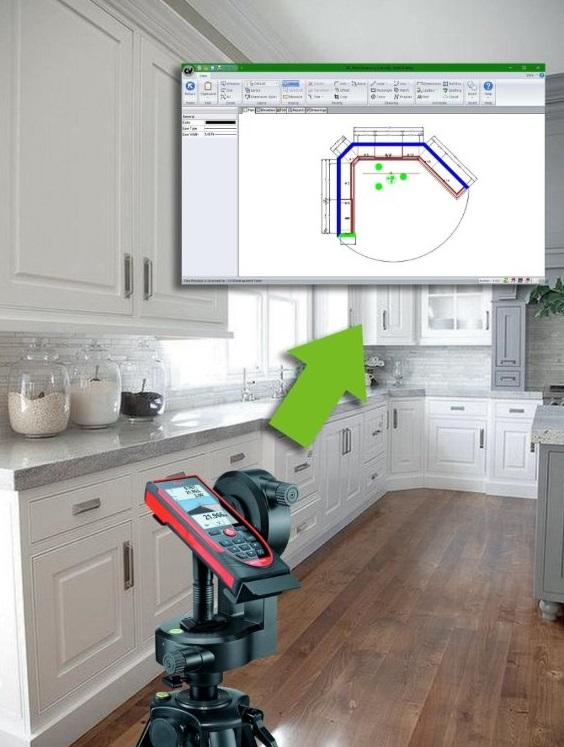 CHARLOTTE, N.C. -- Cabinet Vision will show the latest tools available in Version 10, including the Leica Disto S910. The laser distance-measuring tool by Leica Geosystems that is linked with Cabinet Vision, will be featured in the Cabinet Vision booth Feb. 15-16 at Wood Pro Expo Charlotte, at the Charlotte Convention Center.  
Because Cabinet Vision and Leica are both part of the Hexagon group of companies, it has been able to work directly with the developers of the DISTO system to create a seamless and direct link between the two products. The direct link between the Leica S910 and Cabinet Vision allows customers to use it to take room measurements that will be automatically imported into Cabinet Vision. Following import, Cabinet Vision generates room layouts based on the data. It is priced at  $1,749.
Cabinet Vision (Version 10.1 and above) provides a seamless job measuring solution. Simply connect the S910 to your computer using a WiFi connection, then choose the Leica utility from within Cabinet Vision to take room measurements - including doors, windows, and fixtures, with point and shoot ease. Cabinet Vision then takes those measurements and automatically creates the snap points for you to quickly get started designing your job. 
Leica DISTO S910 Features
Digitally self levels
Manual positioning of laser point
Real-time video on laser head
Cross hair target finder in video (great for outdoor use)
4x zoom lens (great for distance measuring)
Takes digital photographs for jobsite verification
Wi-fi connections
Rechargeable battery via USB
2+1 year manufacturer's warranty
Real-time display of measurements as drawings on the laptop screen
Measures up to 984' from a single location (300 Meters)
Accuracy: 1/16" for recommended applications
The latest release of Cabinet Vision offers new tools and upgrades that increase efficiency while ensuring quality. Improvements include new and enhanced bid center reporting tools, the ability to edit individual sliding and paired doors, the option to export a room from one job and import it into another job, and much more.
This version of Cabinet Vision also marks the introduction of Ghost Rendering (above), or the ability to determine varying degrees of transparency. This new tool enables users to display both inner and outer components in the same view.
Wood Pro Expo includes two days of educational sessions, exhibits and live demonstrations for woodworking professionals who want to learn how to make the latest in cutting-edge technologies work for them.
Have something to say? Share your thoughts with us in the comments below.