Tips to attract and retain employees

January 18, 2023 | 1:00 pm CST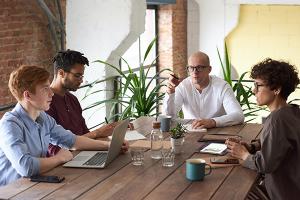 With the continuing labor shortage challenges faced by many closet companies, it's even more important than ever to be able to not only attract but retain employees. This webinar will focus on key recruitment and retention strategies and how to implement them.
Presenter: Andrew Wadhams, The Wadhams Group
Andrew Wadhams is an accomplished consumer products executive with a passion for creating extraordinary customer experiences. He believes listening to experienced team members, at the point of contact with customers, is critical to eliminating barriers and unlocking performance. This customer-first lens has helped him establish a track record for driving growth and exceeding profitability goals. His team's programs and results have proven sustainable and repeatable across retail, educational, and healthcare formats.

Wadhams began his career in the Gap organization as a store manager and ultimately was responsible for 800 locations generating $1.4B in sales. During his time at Gap he opened Gap's first 60 stores in Canada, helped rebrand Banana Republic, consistently drove best in class results, and led Gap's "Project Blueprint" that reduced Gap's North American footprint and improved average store performance.
Wadhams joined California Closets as Chief Operating Officer in 2016 and was tasked with creating a "Company Owned" division. His team assessed, (re)purchased, and integrated over 30 franchisees; collaborated to define best practices; created training curriculum for Designers and Installers; (re)designed performance-based comp plans; (re)directed an annual marketing spend of $13M across 5 channels, and designed an award-winning showroom format. In 2018 he added CC Manufacturing to his responsibilities. By the end of the second year, manufacturing had doubled production capacity to $300M while reducing operating expenses by 25%. During his time at CC Owned, the team tripled their volume with average annual organic growth of 24% while growing average EBITDA by 700 basis points. CC NPS scores were high enough that in 2018, Harvard Business School published a study about CC titled "Optimizing the Customer Experience" (revised May 2019).
 
This 45-minute webinar will be moderated by Michaelle Bradford, editor of Closets & Organized Storage magazine, and will have a short Q&A at the conclusion of the presentation.

Andrew Wadhams
Principal, The Wadhams Group

Michaelle Bradford
Editor, Closets & Organized Storage