Le propriétaire de Ro-Bois-Tic prendra la parole à SIBO
December 17, 2019 | 12:59 pm CST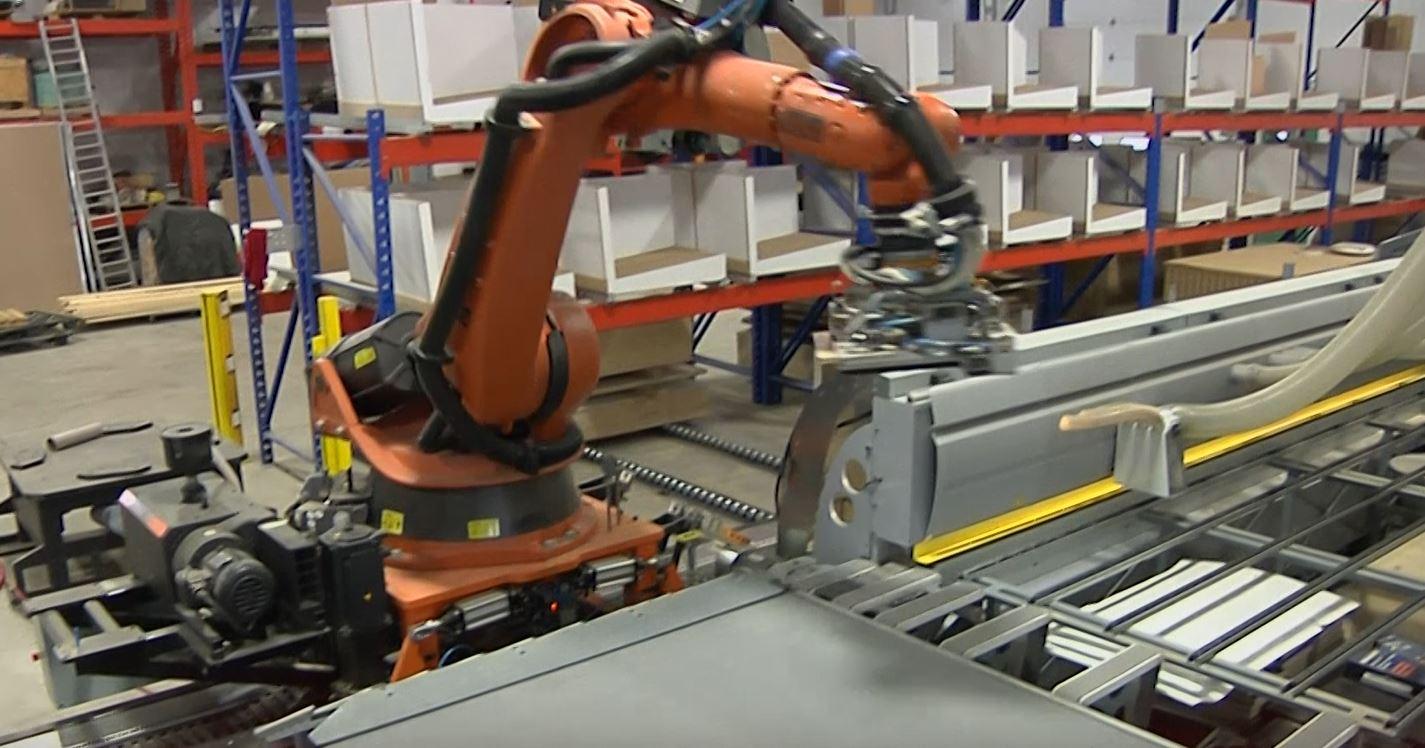 DRUMMONDVILLE, Québec – Bastien Larouche, fondateur de Ro-Bois-Tic en 2012 en tant qu'entreprise de fabrication d'armoires robotisées avec un seul homme et un seul robot, prendra la parole au Salon industriel du Bois Ouvré (SIBO) de 2020.
Larouche présentera un déjeuner-causerie de son opération unique le jeudi 23 avril au Centrexpo Cogeco.
M. Larouche, ancien directeur d'usine chez Teknion, un fabricant de meubles de bureau à grand volume, discutera de ce qui l'a inspiré à lancer son usine de fabrication robotisée d'armoires prêtes à assembler. Il présentera également une vue d'ensemble de la ligne de fabrication de Ro-Bois-Tic dans laquelle son partenaire robot s'occupe de tout, depuis la pose de panneaux thermofusionnés sur une toupie encastrée, du balayage des débris, de l'alimentation des pièces imbriquées dans une plaqueuse de chants, et ce, jusqu'au perçage de trous et l'insertion de goujons.
Entrepreneur de nature, la présentation de M. Larouche portera sur les principaux défis qu'il a surmontés, ainsi que sur certains des avantages que l'automatisation robotique a apportés à son entreprise.
Larouche a fait la couverture de Wood & Wood Products de février 2013, qui comprenait une étude sur les opérations robotisées de Ro-Bois-Tic. Au cours de la même année, la publication a reconnu Larouche comme un acteur majeur du marché de l'industrie du bois.

À propos de CCI Canada

CCI Canada Inc, organisateur du Salon Industriel du Bois Ouvré (SIBO), appartient à CCI Media, une entreprise de médias interentreprises axée exclusivement sur les marchés de la fabrication de produits industriels en bois en Amérique du Nord. Le magazine FDMC,  publication principale de CCI Media, est distribuée mensuellement en formats papier et numérique. CCI Media publie également le magazine bimensuel Closets & Organized Storage. Woodworking Network est la marque maîtresse de la gamme combinée de produits imprimés, numériques et web pour l'industrie de la fabrication du bois et d'événements organisés par CCI Media.

L'entreprise a fait l'acquisition de WMS et de SIBO, à la fin de 2015. WMS, le salon national canadien de l'industrie du bois, réunit plus de 7000 professionnels de l'industrie et son prochain salon aura lieu en automne 2021 à Mississauga en Ontario. En plus du WMS, CCI Media produit le Wood Pro Expo de Texas, un marché régional, qui partagera les locaux de la conférence annuelle Cabinets & Closets Conference & Expo, du 11 au 13 mars 2020, à Arlington, au Texas. CCI Media présentera également la conférence d'information à la direction (Executive Briefing Conference - EBC), du 8 au 10 novembre 2020, au Centre de villégiature Broadmoor à Colorado Springs, en Colorado.
Have something to say? Share your thoughts with us in the comments below.