Le CKCA lance sa campagne d'armoires "Achetez canadien"
December 10, 2019 | 7:54 pm CST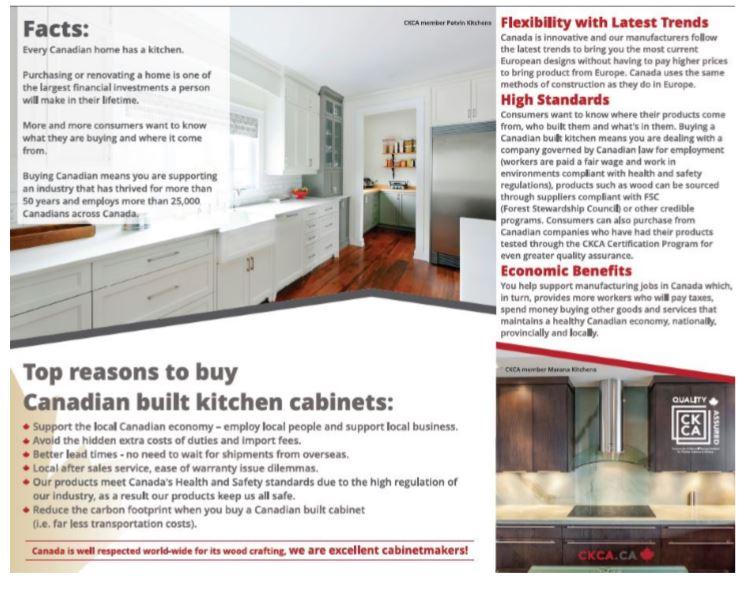 OTTAWA, Ontario - L'Association canadienne des armoires de cuisine encourage ses membres à se joindre au mouvement « Acheter des armoires de cuisine construites au Canada » suite à un lancement informel réussi à la Woodworking Machinery & Supply Conference & Expo (WMS) tenu le mois dernier.
Dans sa chronique de novembre dans CKCA News, Sandra Wood, directrice générale de CKCA, a écrit : « C'était un grand événement - très populaire. Pour cet événement, nous avons décidé de porter des T-shirts avec le message "Achetez des armoires de cuisine construites au Canada". Pourquoi? Parce qu'il n'y a pas de meilleure façon de transmettre ce que nous représentons que de le mettre sur un T-shirt. Est-ce que ça a fonctionné ? Oui ! Pendant 3 jours, beaucoup de gens ont remarqué nos T-shirts et c'était notre objectif.  Voir les pouces levés, les sourires, ou signes d'approbation des participants nous ont démontré que ce message est important et qu'il résonne auprès des fabricants et des fournisseurs. »
Wood a ajouté que CKCA a également distribué des échantillons du dépliants « Acheter canadien » à son kiosque durant le WMS. Les membres CKCA sont invités à utiliser cet échantillon comme modèle pour créer leur propre campagne « Achetez canadien » à distribuer dans leurs salles de montre et lors des événements de l'industrie. Ils peuvent personnaliser le dépliant en y insérant des photos de leurs produits de cuisine et leur logo, et en ajoutant un témoignage de client. Ils peuvent utiliser le slogan « Acheter canadien », ainsi que les « Principales raisons d'acheter des armoires de cuisine fabriquées au Canada », des faits sur l'industrie canadienne des armoires de cuisine et d'autres renseignements inclus dans le l'échantillon du dépliant.
Have something to say? Share your thoughts with us in the comments below.