La ville hôte du SIBO 2022 célèbre le passé et embrasse l'avenir
September 24, 2022 | 11:21 am CDT
DRUMMONDVILLE, Québec – Drummondville, siège du Salon Industriel du Bois Ouvré (SIBO), se présente comme la capitale québécoise de l'expression et des traditions. La ville, située sur les rives de la pittoresque rivière St-François, est riche de sa culture d'hier et d'aujourd'hui.
Le Centrexpo Cogeco, où se déroulera le SIBO 2020 du 27 au 29 octobre, représente le clin d'œil de Drummondville au 21e siècle. Le centre d'exposition étincelant et à la fine pointe de la technologie représente l'infrastructure la plus moderne du genre au Québec. En plus de 87 000 pieds carrés d'espace d'exposition, l'installation comprend des salles de réunion modernes, un restaurant de 140 places et 1 200 places de stationnement gratuites. Le Grand Times Hotel, hôtel siège du SIBO 2020, est relié au Centre Cogeco. Le centre d'exposition est situé au centre entre Montréal et Québec au carrefour de l'A 20 et de l'A 55.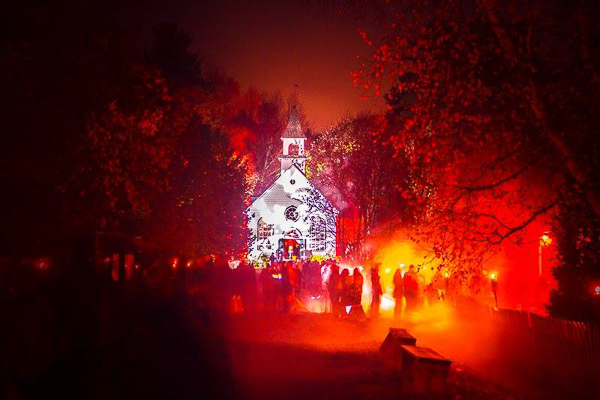 À l'opposé de l'ultra-moderne Centrexpo Cogeco, le Village Québécois d'Antan est l'attraction phare de Drummondville. Le Village Québécois d'Antan compte 70 bâtiments représentant le Québec des années 1810-1930, dont des maisons d'époque, des remises et des granges, ainsi que neuf bâtiments principaux reconstitués.
Le village terminera son populaire festival du village hanté mettant en vedette plus de 100 personnages terrifiants dans 20 expositions effrayantes pendant le SIBO 2022. Apprenez-en plus sur le site Web du Village Québécois d'Antan.
Pour les passionnés d'obturation et d'histoire, le centre-ville de Drummondville abrite le Musée de la photographie Desjardins.
Le centre-ville de Drummondville, haut lieu de restauration et de divertissement, est situé à moins de 10 minutes du Centrexpo Cogeco. La Société historique de Drummond coordonne des visites à pied du passé historique de la ville.
Visitez Tourisme Drummondville pour savoir quoi faire et où manger et boire.
À propos du Salon Industriel du Bois Ouvré (SIBO)
Le SIBO, historiquement l'événement le plus important pour l'industrie des produits secondaires du bois au Québec, offre une opportunité exclusive aux fabricants et distributeurs de machines à bois, d'outillage, de logiciels, de quincaillerie d'ébénisterie, de produits de bois et de planches, et bien plus encore de se connecter avec les fabricants représentant les 8,2 milliards de dollars du bois du Québec. économie des produits.
Pour les demandes d'espace d'exposition et de parrainage, contactez Rob Roszell à [email protected] ou Harry Urban à [email protected].
Consultez le prospectus des exposants du SIBO 2022.
Plus d'événements Woodworking Network à venir
Wood Pro Expo Lancaster (WPEL), 13-14 octobre 2022, Spooky Nook Sports Center/Warehouse at the Nook, Manheim, Pennsylvanie.
Closets Conference & Expo (CCE) co-implanté avec Wood Pro Expo Florida (WPEFL), du 12 au 14 avril 2023, Palm Beach County Convention Center, West Palm Beach, Floride.
Wood Machinery & Supply Conference & Expo (WMS), 2-4 novembre 2023, International Centre, Mississauga, Ontario.
Have something to say? Share your thoughts with us in the comments below.