Wood Industry Market Leader: Scott Grove, Imagine Grove & Green Grove
October 12, 2021 | 10:41 am CDT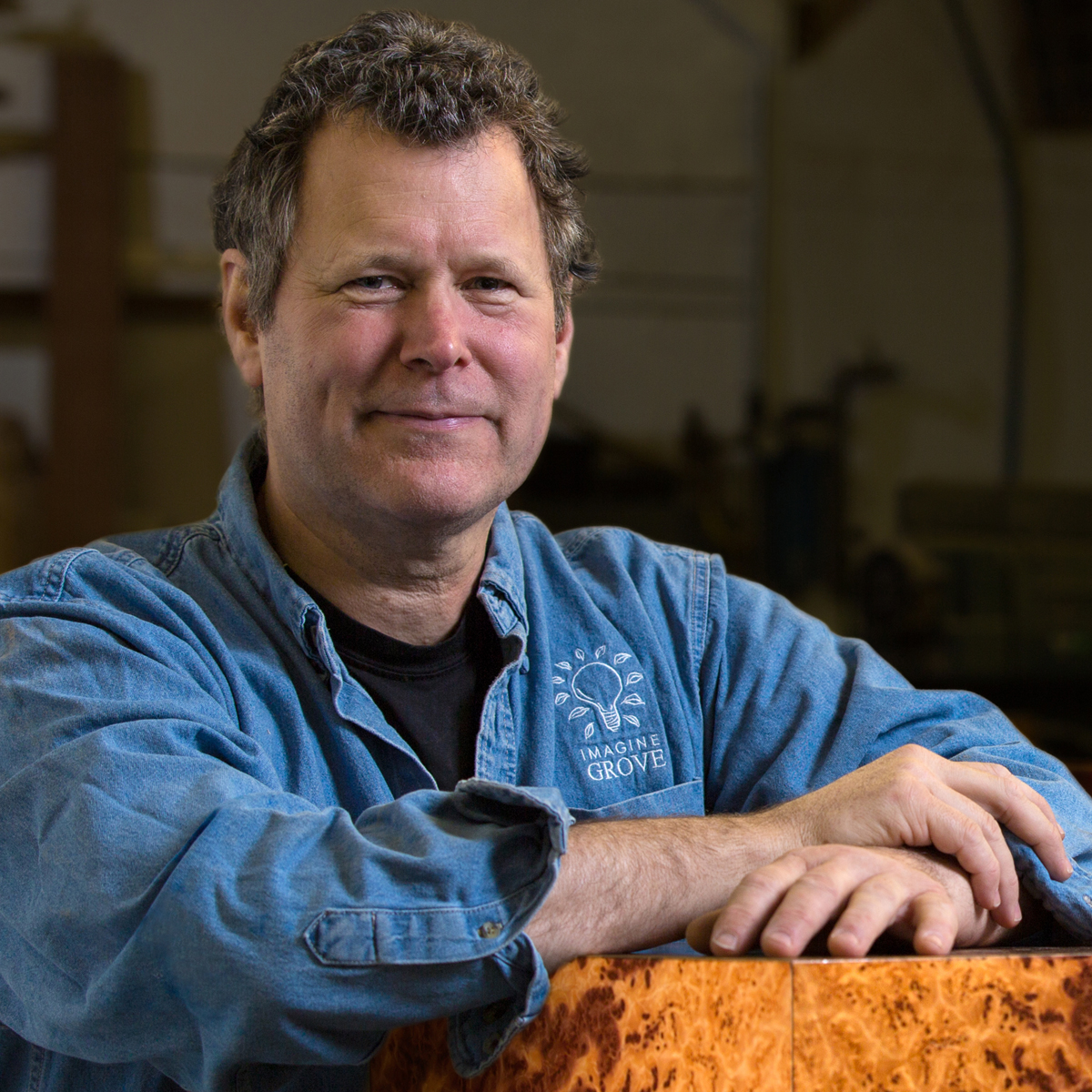 Master craftsman/furniture maker, veneer expert, artist, sculptor, instructor and author – Scott Grove does it all. He sold his first sculpture to a gallery at 16, and has projects in museums nationwide.
He can also add businessman to the list. After graduating from the Rochester Institute of Technology, in 1981 he and a partner launched a millwork, cabinetry, and renovation firm for area homes and businesses. "During this time, I pursued my art too, and realized that if I put glass on top of one of my sculptures, I could turn it into a table," Grove said. "Thus, I started making art furniture," for sale nationwide.
Grove's array of experience includes working with interior designers and architects designing and creating corporate furnishings. He also worked for world-renowned studio furniture artist Wendell Castle as his Studio Director, where he learned from the master while also focusing on his own sculptural work.
He also teaches woodworking skills, nationally and internationally. During the COVID pandemic he made the switch from in-person to remote learning via IRDs (Interactive Remote Demos) for his veneering program at the Chippendale School of Furniture in Scotland. "That experience has broadened my educational reach to national and international audiences, with my Veneer Me Crazy! Series of live and recorded demos. I also give IRDs to woodworking and turning clubs on a wide range of topics."
Today, Grove credits his success to the experiences gained, the quality and creativity of his projects, service, and his ability and willingness to learn new skills.
"My goals are to increase income streams that require initial investment but make money continually, like video classes and books. I'm a one-man shop now, so I can be nimble and move in different directions, hire staff when I need to, and keep moving forward."  He added, "I have a few innovative projects planned that will continue to push the aesthetic and physical limits of wood veneer. I also plan to have more Veneer Me Crazy! and inlay classes."
With all he's accomplished, three achievements stand out: "My four Veneer Tech Challenge Awards, which was an unprecedented achievement that still stands; when Schiffer Publishing asked me to write a book on my pioneered veneering techniques; and when I was included in Marc Adams' book, 'The Difference Makers: 30 Contemporary Makers; 30 Remarkable Stories'."
Outside of work, Grove enjoys being with family – and creating. "Even when I'm watching the stars, or hiking the woods, my mind is in constant creative mode."
Quick Glimpse:
• Education: BA Environmental Design with a minor in sculpture from Rochester Institute of Technology
•  Number of years at the company: 42 – three iterations: Scott Grove, Imagine Grove Woodworking, and Green Grove Design.
•  Number of years in the industry: 42
•  Words that best describe you: My wife calls me a creative genius. I'm not sure about the genius part, but I describe myself as a non-stop creative.  I've also been called a creative force.  
• Business mantra: My approach is to push boundaries in design, construction, and my art. So, my mantra in life is: Find the line, then cross it.
• Best advice: Don't get greedy.
• Who have you tried to emulate: Marc Adams, for following his passion, pushing boundaries, and finding and bringing out the best in others.
About the Wood Industry Market Leaders: This marks the 13th year Woodworking Network has paid tribute to outstanding men and women that have made an impact, not only at their companies, but within the various wood products industries. Since 2009, more than 85 industry professionals have shared their influencers, insights and strategies.  Read more about the 2021 and past honorees at WoodworkingNetwork.com/Market-Leaders.
Have something to say? Share your thoughts with us in the comments below.