Wood Industry Market Leader: Luke Elias, Muskoka Cabinet Co.
October 12, 2021 | 10:08 am CDT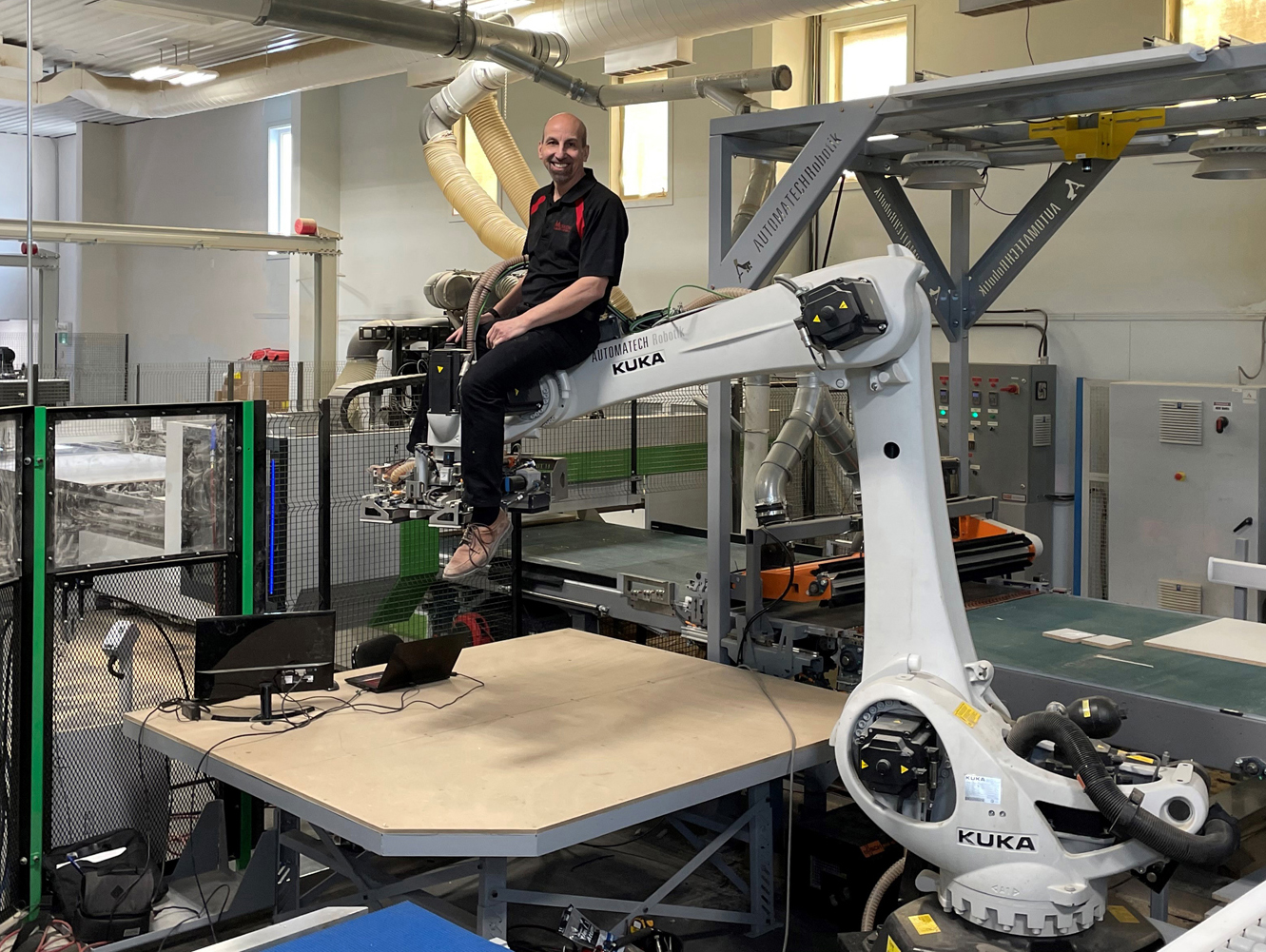 "We call ourselves a high-tech company that makes kitchens," said Luke Elias, president of Muskoka Cabinet Co.
With 70 employees in an 18,600-square-foot shop, the Ontario-based manufacturer produces three times the industry average, per square foot, per employee. "We put a lot of volume through this little factory, and it won't be long until we're four times the industry average – that's one of our goals."
Elias credits his "great team of people that embrace my vision of technology and automation" for the company's success.
It was a request by his mother for a kitchen makeover that gave Elias his start as a cabinetmaker.  He not only created a tambour rolling system for the doors, Elias also produced the high-gloss acrylic cabinetry.  "I thought this was kind of cool."
Shortly after, in 1989 during his last year of business school, Elias saw a for sale ad for a cabinet manufacturer. Knowing he was interested, "My wife said, 'just go buy it.'" He did. 
Under Elias' leadership the company has become renowned for its use of technology and adaptation of lean manufacturing. He is frequently asked to speak at events and share the journey. "I love to talk about what we've done at Muskoka, and the breakthroughs that we've made.  I'm proud of the fact that other people in the industry seek me out to learn about what we've done at the company." Among the recent additions to the company's lineup is an RFID robotic panel processing cell and an RFID-enabled finishing line. 
Along with continuous improvement to the production process, another goal of Elias' is employee empowerment. "If you do it right with automation, you can in effect increase the wages of your employees – and attract better employees."
Recruiting new workers to the industry is a key concern and focus Elias shares with others. "We need to get the word out," to students of all ages that wood products manufacturing can be a rewarding – financially and otherwise – career choice."
Elias is actively involved in promoting the industry, and is on the board of the Canadian Kitchen Cabinet Manufacturers.  He is also involved in community endeavors, and the company donates funds to the YMCA and other organizations, including approximately $20,000 annually to Christie Lake Kids, a camp for underprivileged children.
Outside of work, Elias likes to travel, train and spend time with his family. "Because I have a great team, I have the time to do these things."
Quick Glimpse:
• Education: Business degree from University of Ottawa
• Number of years at the company: 32 years
• Number of years in the industry: 32 years
• Word that best describes you: Persistent – I never give up.
• Business mantra: Where there's a will, there's a way. I learned this from my parents and I think it's helped shape everything that I've done.
• Best advice: If you're not in business to make money, you shouldn't be in business. I was taught that at a very young age.
• Who have you tried to emulate: There are two. Walt Disney was a visionary on steroids – he was a master of experiences and an extraordinary visionary. The other is Henry Ford. An industrial entrepreneur of the production line, and he also introduced the concept of paying employees a good wage.
About the Wood Industry Market Leaders: This marks the 13th year Woodworking Network has paid tribute to outstanding men and women that have made an impact, not only at their companies, but within the various wood products industries. Since 2009, more than 85 industry professionals have shared their influencers, insights and strategies.  Read more about the 2021 and past honorees at WoodworkingNetwork.com/Market-Leaders.
Have something to say? Share your thoughts with us in the comments below.