Wood Industry Market Leader: Kelly Victor-Burke, Burke Architectural Millwork
September 30, 2022 | 11:22 am CDT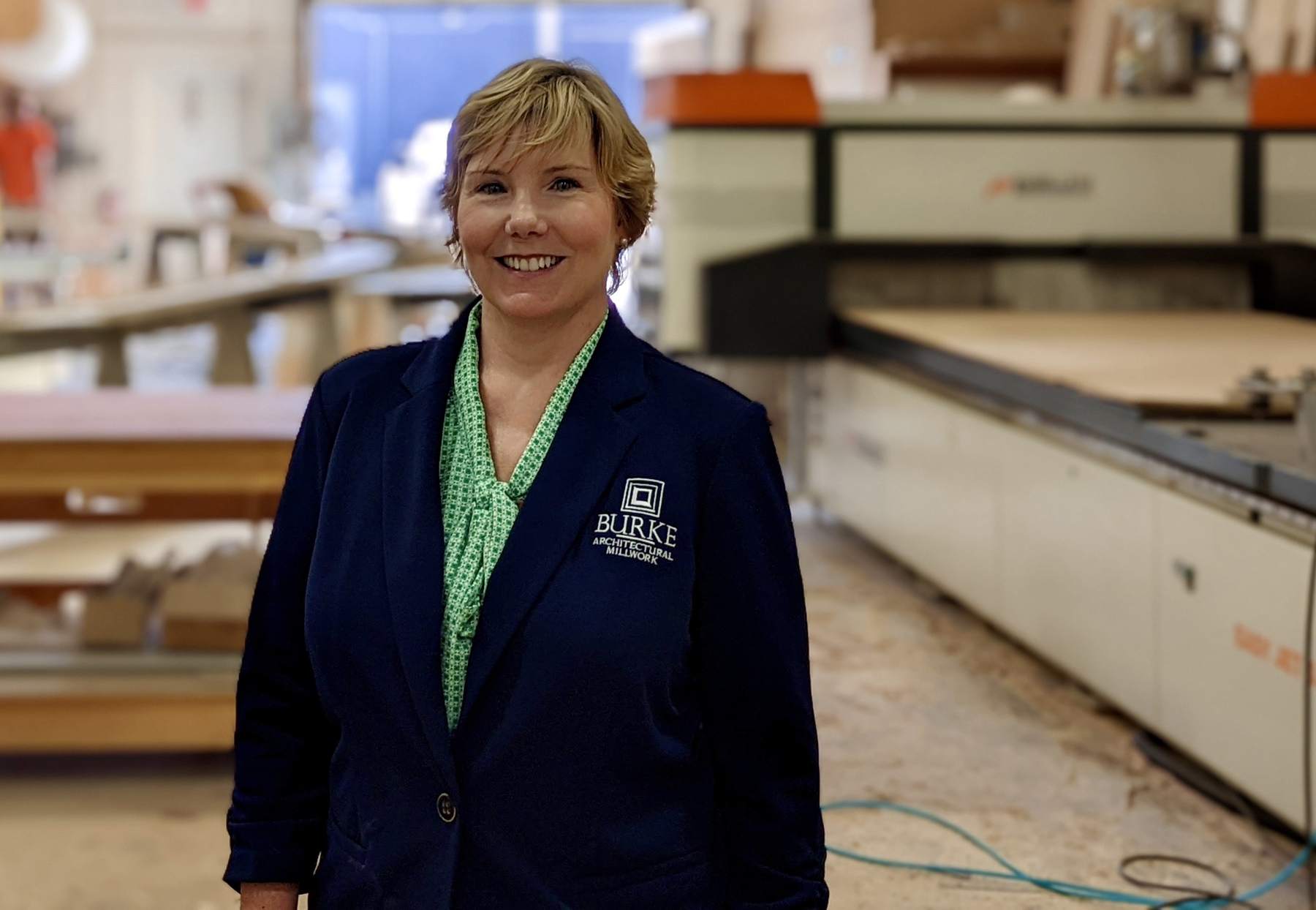 Kelly Victor-Burke, CEO of Burke Architectural Millwork (BAM), might be relatively new to woodworking, but her impact on the industry will be felt for years to come.
Since founding the Michigan-based architectural woodwork firm in 2016 with her husband Barry, an experienced craftsman, Victor-Burke has spearheaded a team of business owners, educational partners and industry organizations in the creation and approval of the first Department of Labor registered apprenticeship in woodworking: Woodwork Manufacturing Specialist. She also drafted the framework to address the employment gap in the wood products industry through cross-training and upskilling new and existing employees in CAD, mechatronics, wood processing, coatings, estimating and project management.
"When we made the decision to start our own company, I was most interested in the mentoring and the education — to get a new generation into the industry," said Victor-Burke, whose resume includes professor emerita (30 years) at Eastern Michigan University.
Along with her work to advance woodworking as a career and grow the industry's workforce, Victor-Burke cites BAM's early purchase of a CNC router as one of their smartest decisions. "It has really transformed our company and the approach of our company, which, although we're custom, is to integrate the latest technologies."
Another transformation will take place next year with the debut of Bespoke Closets and Organized Spaces, a custom closet line with "panache." Although Bespoke Closets will be an internal division of BAM, "it's like we're literally starting a whole other company," she said. "Our challenge is going to be getting Bespoke Closets up and running as well as continuing to expand our projects on the architectural millwork side." BAM, which is WBENC (Women's Business Enterprise National Council) certified, recently expanded its footprint to 13,000 square feet to accommodate the extra production.
Going the extra mile, BAM also makes available its conference room to the community and area designers, and participates in Manufacturing Day.  "We want to have that relationship with the community, and it also is a way of building our talent pipeline."
In addition, Victor-Burke serves on many boards, including the Mechatronics Advisory Board at the Advanced Technology Academy in Dearborn, and was named a "Notable Women in Manufacturing" by Crain's Detroit Business.  Outside of work she is an avid reader, enjoys time with her family and, perhaps surprisingly, mowing the lawn, for "the sense of accomplishment it brings."
Quick Glimpse:
Education: Multiple degrees from Eastern Michigan University
Number of years at the company: 6
Number of years in the industry: 6
Word that best describes you: Tenacious
Business mantra: For me personally, it's take care of things immediately because no one is coming behind you to clean it up. At work, we always tell employees they are to be
curious/ask questions, be passionate about their work, and work hard, but also be kind.
Best advice: Bet on yourself (attributed to Henry Ford).
Who have you tried to emulate: At a summit in DC, Warren Buffett said he hoped we all had someone we wouldn't want to let down; in business or just in life, you should always try to make someone proud. That was a huge thing for me.
About the Wood Industry Market Leaders: This marks the 14th year Woodworking Network has paid tribute to outstanding men and women that have made an impact, not only at their companies, but within the various wood products industries. Since 2009, more than 90 industry professionals have shared their influencers, insights and strategies.  Read more about the 2022 Market Leaders and past honorees at WoodworkingNetwork.com/Market-Leaders.
Have something to say? Share your thoughts with us in the comments below.