Wood Industry Market Leader: Edward San Juan, E.F. San Juan
October 12, 2021 | 9:52 am CDT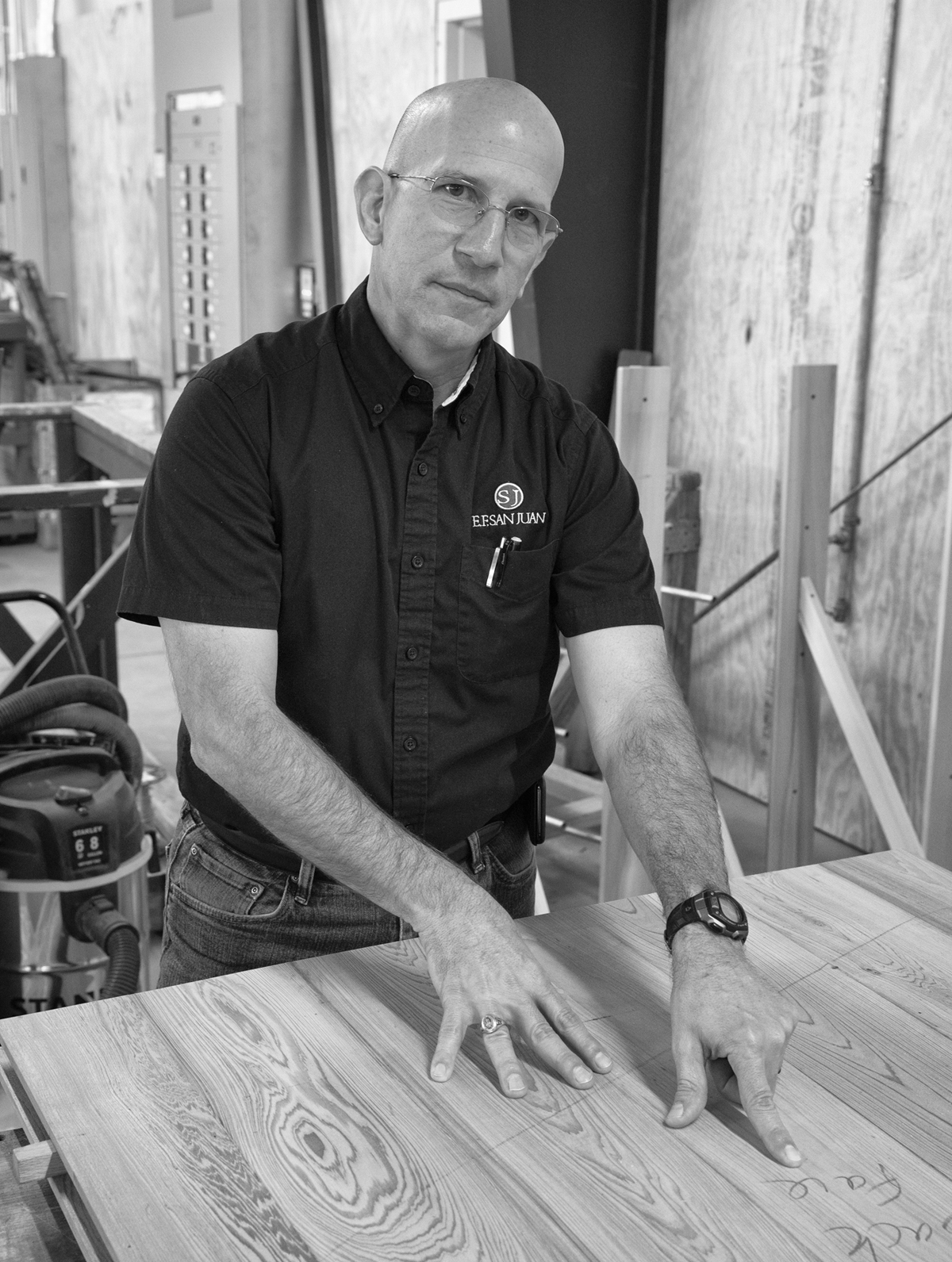 Edward San Juan, president, has helped grow E.F. San Juan Inc. into the widely recognized architectural moulding, millwork and cabinetry manufacturer it is today. The family-owned firm specializes in custom residential, historical restoration and commercial projects throughout Florida and the Southeast, as well as across the United States, with manufacturing performed at the company's state-of-the-art facility.
San Juan grew up around a furniture manufacturing company owned by his father and grandfather.  "I never knew or considered another industry other than the woodworking industry," he said.  "My earliest memories of their manufacturing plant are resurrected anytime we produce a project using American black walnut.  That scent takes me right back to being 7 years old and hearing the buzz of the plant when I stepped out of my father's office door."
Edward's father formed E.F. San Juan, Inc. in 1976 and Edward worked, and learned, in this business during high school and college before being offered a partnership by his dad.
San Juan cites his father's work ethic – "he is 83 years old and still comes to work every day" – and his educational background for helping him understand the financial and managerial requirements for building a sound business. His exposure to beautiful architecture and great architects, including Leon Krier, also contributed to his knowledge and success as president.
There have been many milestones in the years since San Juan joined the firm. "That said, I believe our proudest achievement is having created a business that means so much to our local community. We teach woodworking skills, work ethic, and personal responsibility to those who have hitched their wagon to our team. More than that," he added, "we act like a family and provide support and stability for our team members."
Crediting his team of employees for the company's success, San Juan said his goal is that E.F. San Juan "would one day be owned 100 percent by our employees. We could not do what we do today without a great team, and I want them all to have this same opportunity and freedom. That would be an amazing legacy."
The company is also creating a legacy in the community.  Most of its charitable donations of time and treasure go to local schools to help fund the education of future generations in the area.
Along with spending time with family, in his free time San Juan said, "I'm a bit of a neat freak. Give me a driveway full of dirty cars to wash and detail or a lawn in need of some attention and I'm as happy as a lark."
Quick Glimpse:
• Education: Bachelor's Degree in Finance and MBA from the University of Florida.
• Number of years at the company: 34 years full time
• Number of years in the industry: 43
• Words that best describe you: Focused, organized, dedicated
• Business mantra: Make it a GREAT day!
• Best advice: "If money can fix it, it's not a problem."  One of the hardest things about running a business is maintaining perspective. A terminal illness is a problem – most everything else is survivable and surmountable.
• Who have you tried to emulate: Coach Pete Carroll. He's a winner and he always seems to be having fun.
About the Wood Industry Market Leaders: This marks the 13th year Woodworking Network has paid tribute to outstanding men and women that have made an impact, not only at their companies, but within the various wood products industries. Since 2009, more than 85 industry professionals have shared their influencers, insights and strategies.  Read more about the 2021 and past honorees at WoodworkingNetwork.com/Market-Leaders.
Have something to say? Share your thoughts with us in the comments below.