K&Z Cabinet shows off cell production for high end millwork
March 23, 2016 | 1:30 pm CDT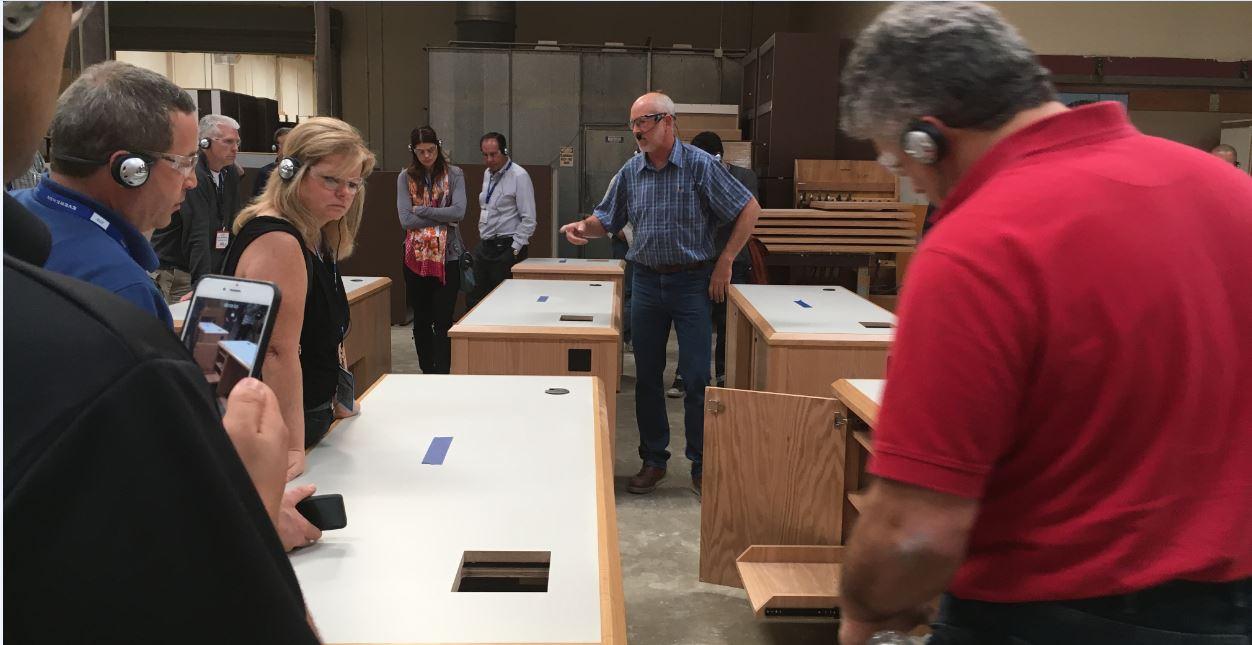 ONTARIO, Calif. - A plant tour visited K&Z Cabinet as part of the 2016 Cabinets & Closets Conference and Expo.
K&Z Cabinet Company uses high technology with a touch of custom woodwork in its cellular production approach to high end architectural casegoods and millwork. It is one of southern California's largest casework manufacturers, with over eighty-five employees producing 60 to 80 cabinets daily.
Stiles Machinery sponsored the tour,
which departed from the Pasadena Convention Center as the final session of the Closets Conference Track. Two busloads of registrants took the tour, with a preview of the business and refreshments at the premises before walking through the production facility.
K&Z has completed well over 4,000 projects, including world-class medical, commercial and educational facilities. Some of   most noteworthy projects include: the Nursing Tower at Cedars-Sinai Medical Center in Beverly Hills; Rand Corporate Headquarters in Santa Monica; and significant projects for USC, UCLA, UCSB and numerous K-12 schools in the Los Angeles and Anaheim Unified School Districts.
Walter Kummetz and Heinz Zaiser founded K&Z Cabinet Company in June 1964. Its first fifteen years were full of challenges, but Kummetz and Zaiser, along with a dedicated staff of 10, slowly but surely established for itself a reputation of excellence.  
As K&Z's project volume increased, so did its staff-so much so that it outgrew the South El Monte location. The now stable, mid-sized company was relocated to its current facility in Ontario, California.
The business is now led by Dennis Chan, who began as an estimator with K&Z in 1987. He was promoted to Vice President in 1995 and became owner and President in 1998.  In addition to managing the company, Dennis continues to lead an active role in K&Z's daily operations, from estimating jobs to negotiating sales.
Mike Twyford, Vice President, joined the company in 1980. He oversees all of K&Z's operations, from in-house manufacturing to outside installation.
Among current projects are the Business and Humanities Buildings at San Diego City College in San Diego, the Fort Irwin Replacement Hospital in Fort Irwin and the Heritage Fields K-8 School in Irvine, CA.
Have something to say? Share your thoughts with us in the comments below.