The 4th Taiwan International Woodworking Machinery Show (WOOD TAIWAN)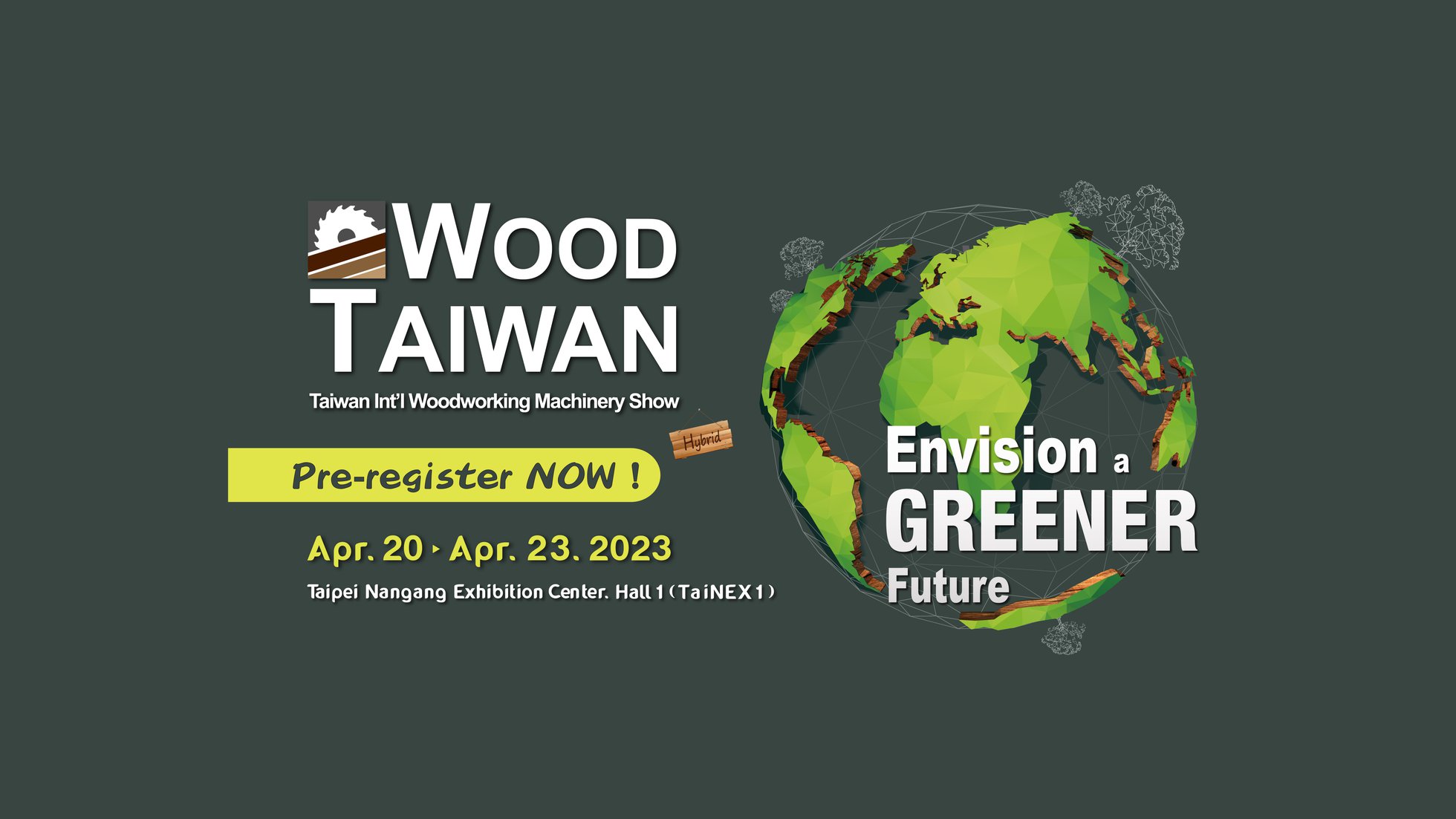 About the Event:
Co-organized by TAITRA and TWMA, WOOD TAIWAN 2023 will be held at Taipei Nangang International Exhibition Center, Hall1 from April 20 to 23, echoing the theme - Envision a Greener Future. From production to consumption, WOOD TAIWAN 2023 will showcase how wood is produced, processed, and manufactured in the woodworking machinery industry, and how it is used in a sustainable fashion on the consumer end for environmental protection and energy conservation.
WOOD TAIWAN 2023 brings you the latest woodworking products and technologies from around the world. From raw materials, supplies and finishing accessories to woodworking, material processing machinery and hardware components. Plus, the newest technologies in forestry, wooden architecture, and total solution for woodworking machinery.
In addition, an array of activities will be organized, including an industry forum, WOOD Insight, Guided Tour, WOODiscover Live Tour, Manufacturers Win Podcast and online exhibition. Through the above services, you will experience WOOD TAIWAN 2023 in a brand-new way to make it a place for networking, collaboration and innovation.
The Green Material of the 21st Century: Wood
Humans cannot live without nature, especially without wood, a natural resource that can be seen everywhere in modern-day wood products: from tables and chairs to beds, furniture and floors. Wood is not only one of the most breathable natural materials, but also one that has been around us for the longest time. As a bioresource, wood is also seen as a green material of the 21st century. As the awareness of net-zero emissions and sustainability grows, wood, one of the few carbon-negative materials, becomes an indispensable resource.
Optimizing the Use of Wood
According to Tu, Qin-Liang, senior consultant of TWMA, trees in primeval forests were cut down on a massive scale in recent decades, bringing destruction to primeval forests. In response to this, many countries imposed bans on cutting trees to protect woodlands. But due to market demand, many regions such as North America have started to put forward plans for large-scale plantations, an attempt to meet the needs of the woodworking industry as well as consumers by taking advantage of man-made forests. In light of this trend, woodworking machinery will play a crucial role in how to utilize such natural resources in a sustainable and effective manner.
The idea of sustainability will be embodied in WOOD TAIWAN 2023: Envision a Greener Future held in April. As a platform for the wood processing and relevant industries to showcase their finest products, WOOD TAIWAN offers various solutions to maximizing the utilization rate of wood. For example, with woodworking machinery optimizing the production line, the utilization rate increases from 30% to 90%. Not only does this approach reduce the waste of raw materials, but it also improves end products' (e.g., furniture) sustainability.
For more information or to register, click here.
Hotels
To receive a list of recommended hotels, click here.
Time:
April 20, 2023 | 10:00 am CDT to April 23, 2023 | 6:00 pm CDT