Hardware: CompX Locks into a New Niche
April 24, 2015 | 4:28 pm CDT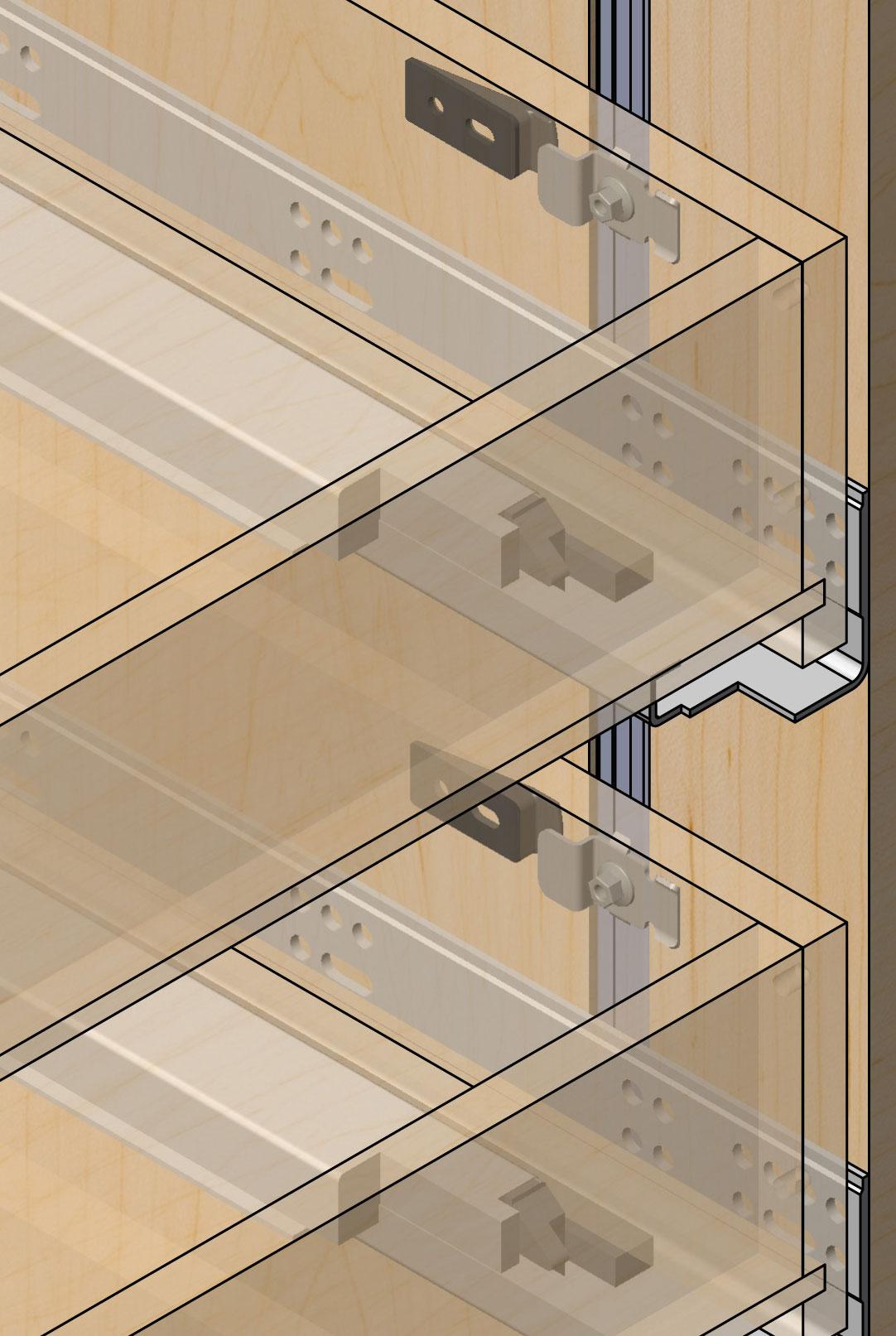 The need to gang lock multi-drawer pedestals and lateral files that utilize undermount slides has become more common over the past few years, particularly in the office furniture and architectural millwork markets. The challenge, however, is that the majority of gang lock systems in the marketplace are designed for use with 0.50-inch or thicker side-mount drawer slides and not undermount styles.
The reason is that undermount slides offer reduced side clearance between the drawer box and end panel, notes Tim Peters, sales manager at CompX Timberline.
"Depending on the drawer box material and the undermount slide used, the side clearance can measure as little as 0.187 inches or as much as 0.390 inches wide. Standard gang lock systems will not fit in this reduced side clearance without spacers or extra machining," he says.
The Solution?
An industry leader in locks and locking systems for wood furniture, CompX Timberline has developed the DC-515 Drawer Clip and LC-515 Locking Clip, which work together and enable any of the company's standard gang or central lock systems to be used with most name-brand undermount slides.
CompX developed the new components after receiving a number of active requests from customers, Peters says. Approximately a year in development, the clip system made its debut at the 2015 Cabinets & Closets Expo, held April 15-16 in Schaumburg, IL.
Designed to work within the reduced side clearance undermount slides provide, the CompX Timberline DC-515 and LC-515 also do not require spacers or extra machining when the drawer box material ranges from 0.437 inches to 0.625 inches thick.
In use, the DC-515 Drawer Clip mounts to the drawer box side panel and the LC-515 Locking Clip affixes to the standard CompX Timberline Lockbar. When locked, the LC-515 moves up and in front of the DC-515 Drawer Clip, thereby securing the drawers from opening.
The shape of the DC-515 and LC-515 also helps increase security, according to CompX. While in the locked position, the two components interlock, which helps prevent them from being bypassed should there be an attempt to force entry into the drawer.
For more information about gang locking with undermount slides, contact CompX.com/contact-timb.html
Have something to say? Share your thoughts with us in the comments below.