The Young Woodworking Professionals competition recognizes outstanding projects and the young wood pros that create them.
The 2023 competition is now open for entries. Please feel free to submit a project using our entry form for an opportunity to be recognized for your craftsmanship! Deadline for entries is March 10, 2023.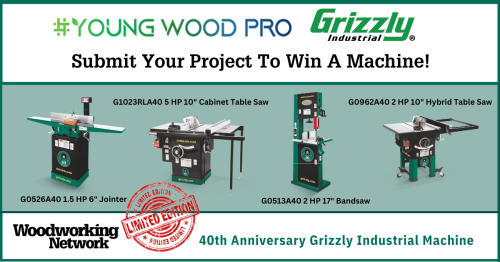 Prize
The 2023 Young Woodworking Professionals contest winner will receive a $500 monetary award from Woodworking Network and will be featured on WoodworkingNetwork.com and in an upcoming issue of FDMC magazine. In addition, Grizzly Industrial is offering the winner the choice of one of their four limited edition 40th Anniversary Grizzly Industrial Machines. The winner can choose from a 1.5HP 6-inch jointer, a 5HP 10-inch cabinet table saw, a 2HP 17-inch bandsaw, or a 2HP 10-inch hybrid table saw.
How to enter
Beginning January 9, the 2023 YoungWoodPro Contest will be open for entries. The contest extends to March 10.
During that time young woodworking professionals are encouraged to post a picture of their woodworking project along with a brief description on Instagram, Twitter, or at Woodworking Network's Facebook page using the hashtag #YoungWoodPro. When posting on Twitter or Instagram, be sure to also mention @WoodworkingBiz (Twitter) or @WoodworkingNetwork (Instagram). Alternatively, you can enter directly with an online form.
Entries are limited to one per person, and entrants must be between the ages of 18-35, (by year's end 2023) and be a professional woodworker. Judging of your project is based on the photo you post so good photography is essential. 

Judging
Due to the wide range of the submitted projects and their applications (i.e., functional, decorative - furniture, boat, artwork, etc.), judging consideration will be given to:
Overall look/presentation of the project
Complexity of construction and design

More information
For more information contact Sarai Abraham, Digital Content Specialist: [email protected]
View past winners
This will be the seventh year Woodworking Network has recognized outstanding #YoungWoodPro projects. For a look at past winners, see below: