Using CNCs for more than melamine: mid-century modern strike plates
June 1, 2017 | 9:19 am CDT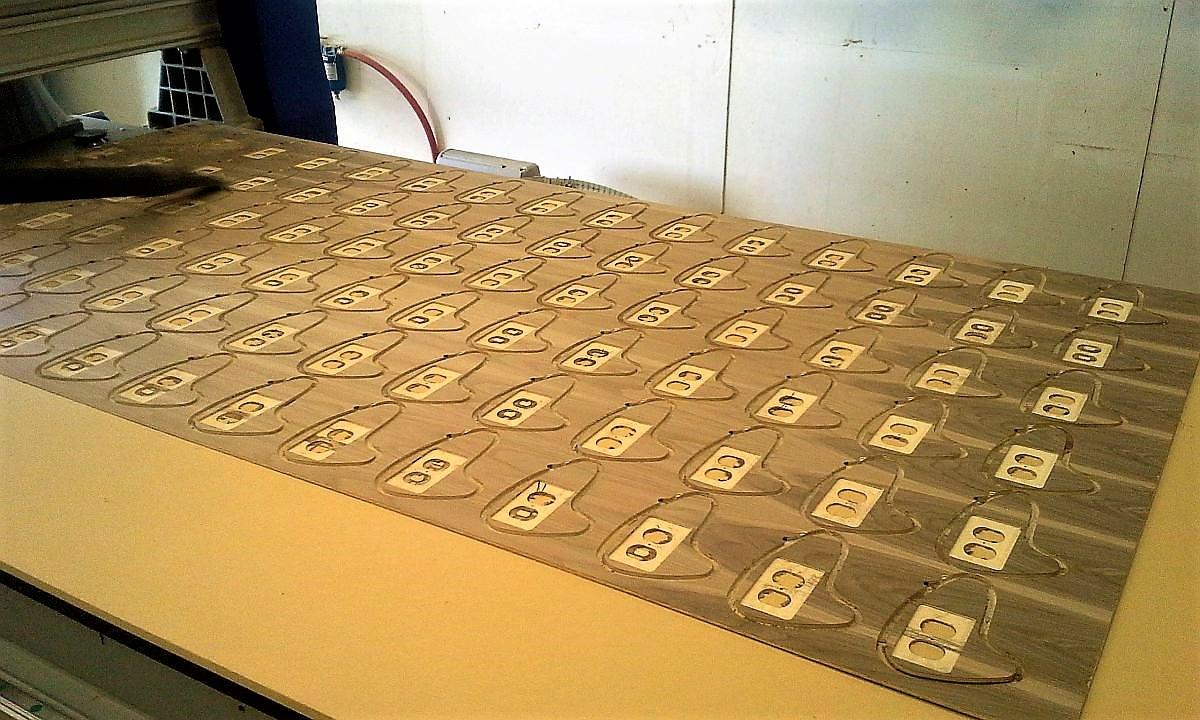 Using your CNC machine for all kinds of other projects - not just just cutting up melamine or MDF - takes a willingness to experiment outside the box. We had some success cutting butterfly keys from solid wood, using these in a
live-edge walnut slab table
. Here's another. 
Mid Century Modern Inspired Strike Plates
We have had a few commissions come our way that have only been possible to take on since we have CNC automation. One of the projects in this category was from a local guy who already had a company that sold mid-century modern inspired mailboxes, and was looking to add a line of mid-century inspired strike plates.
We worked up a few prototypes over the summer before dialing in the final design and material.
The strike plates were nested and cut from a 4'x8′ sheet of 1/4″ Baltic birch core walnut plywood. We machined each sheet face down, since we had to cut a pocket to accept the outlet on the back side. We were able to array 90 plates on each sheet. In the future, we may try to nest the plates even closer together to get even more yield, but then we increase the risk of having the small parts move during milling.
Even though the CNC machine does all the work of cutting the material, it is only as smart as the programmer who tells it what to do. The challenge for us was to figure out the most efficient and quickest way to cut all 90 strike plates from each sheet. In the end, we settled on this order of operations:
Step 1

: Drill a 3mm hole to accept the mounting screw. 
Step 2

: Machine out the 1/8″ deep pocket for the outlet, using a 3/8″ down cut spiral bit.
Step 3

: Onion skin the outline of each plate using the same 3/8″ down cut bit.
Step 4

: Cut the outlet hole for the switch or outlet faces, using a 1/4″ down cut bit.
Step 5

: Cut away the onion skin left from step 3 using the same 1/4″ down cut bit.
When we started with a freshly milled spoilboard, we had no damaged strike plates due to small part movement. Much of what we do as CNC programmers is to determine the order of operations that will result in the highest quality piece in the shortest amount of time. Sometimes speed is sacrificed in order to ensure quality, and sometimes it's the other way around.
The final product came out beautiful and can be purchased from the web site linked below.
Have something to say? Share your thoughts with us in the comments below.