Reasons to use technology in design
By Rita Melkonian
September 4, 2018 | 3:27 pm CDT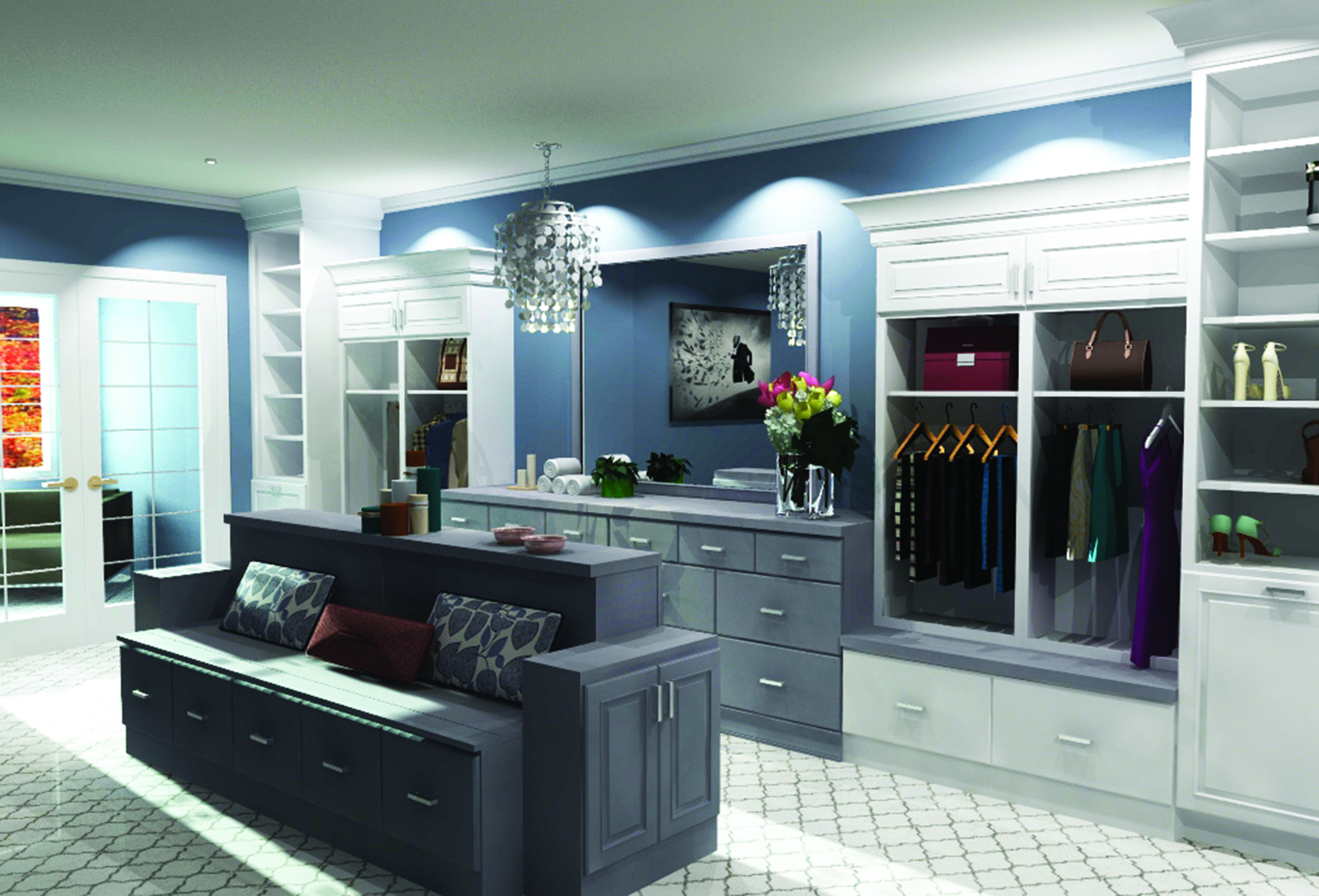 The use of technology in the interior design industry is becoming more and more popular. Gone are the days when simple hand-drawn floor plans and wood swatches were enough to sell a space. With all the new technology that the industry has adopted over the past couple of decades, it is crucial for interior designers to stay up to date and show their clients that they've got what it takes to deliver a functional and beautiful space.
The new generation of clients are more likely to have done their research before contacting a designer to re-design their space, and many of them are aware that 3D floor plans are now the norm in the interior design industry. As a designer, it is your job to provide high-quality services to your clients to help them make an informed decision.
Credit: 2020/Samantha Barto
Whether you're designing custom storage solutions for a walk-in closet, a kitchen, or a laundry room, it's best to use modern interior design technology to help your clients really visualize their space. Doing so will build your credibility as a designer and will make it easier for your clients to trust you and your vision of their space.
Credit: 2020/Shelley Cummins
Renderings and 360 panoramas
One of the best tools in the interior design industry is, of course, interior design software. Instead of presenting your clients with a 2D drawing that you've sketched up by hand, you can really impress them by creating their space in 3D, on your computer. 
Renderings are a great way to sell custom storage solutions because they offer your clients a realistic view of their future space. You're able to convey your ideas and your vision of their space accurately and in a way that is easy to understand. The way you present your designs is what will set you apart from other designers, so make it count.
If you want to go one step further, you can invest in an interior design software that can transform your renderings into 360 panoramas. That means you can show your clients a 360 view of their space to really seal the deal. If you've designed a beautiful custom storage solution and you're able to show all angles of it to your client, chances are they will sign you on.
Another nifty feature you can use to sell your designs is the integration of decorative items in your storage solutions. You're more likely to get an emotional response out of your clients if you include personal items such as shirts, shoes, dresses, and power tools (if you're designing storage solutions for a garage!).
Virtual reality
When you hear the words "virtual reality," you often think of video games. But did you know that virtual reality is now being used in the interior design industry? Many years ago, the topic of virtual reality was purely science fiction. But VR technology has come a long way and is getting better and better every year.
So what does VR have to do with interior design? What if we told you that you could send your 360 designs to your phone and project them through VR goggles? That you could offer your clients a truly immersive experience by allowing them to "walk around" in their virtual closets or kitchens? 
Giving your clients a chance to view their space through VR goggles is the competitive edge you need to stand out from other designers. It's something that will really wow your clients and will show them the closest thing there is to the real deal. If your design is well thought-out and meets all your clients' needs, VR is the finishing touch that will sell your design.
Digital manufacturer catalogs
Using interior design software to create and showcase storage solutions is a great way to close more sales, but pricing and budgets also play a significant role in your clients' decision-making process. And that's where digital manufacturer catalogs come into play. 
Being able to show your clients the exact products that will be installed gives you a huge advantage. Instead of using generic products in your designs, you can use items from manufacturer catalogs that are already integrated in your design software. That way, there won't be any surprises once the installation process is complete.
Another advantage is being able to offer your clients accurate cost estimates. Generally speaking, digital manufacturer catalogs come equipped with updated pricing and information, making it easier for you to give proper estimates to your clients. It also makes is less likely to make mistakes when processing your orders because you can generate a list of all the items you've used in your design with the right dimensions and pricing.
Digital marketing
You've probably heard this before, but we'll say it again. Digital. Marketing. Matters. Unless you're already a hotshot interior designer with a huge customer base (if so, congrats!), you're going to want to invest your time (and maybe some money) into digital marketing to promote your brand, your services, and your designs.
It's not easy being an interior designer in this day and age, but there are steps you can take that will help you sell more of your storage designs. One of those steps is creating a website for your business. Your customers will most likely research you online before ever contacting or meeting you, so it's vital to have a beautiful website where you can show off your skills as a designer and list all the services you offer.
You can also use social platforms such as Houzz, Facebook and Instagram to really make a name for yourself. These platforms allow you to share your work through a digital portfolio, share your contact information, and interact with the interior design community. Having a strong digital presence can help you grow your business and sign on more clients who will trust you based on all the great content you share online.
Author bio: Rita Melkonian is a marketing content specialist at 2020, a provider of interior design and space planning applications, where she researches and writes content related to the world of interior design. She graduated from Concordia University with a bachelor's degree in English Literature in 2012 and has been a professional writer for the past five years. 
Melkonian is also passionate about interior design and has a blog where she shares tips and tricks on how to live big in a small space.
Have something to say? Share your thoughts with us in the comments below.