Real Closet innovates with patented solid wood, wall-mounted systems
January 25, 2016 | 8:19 am CST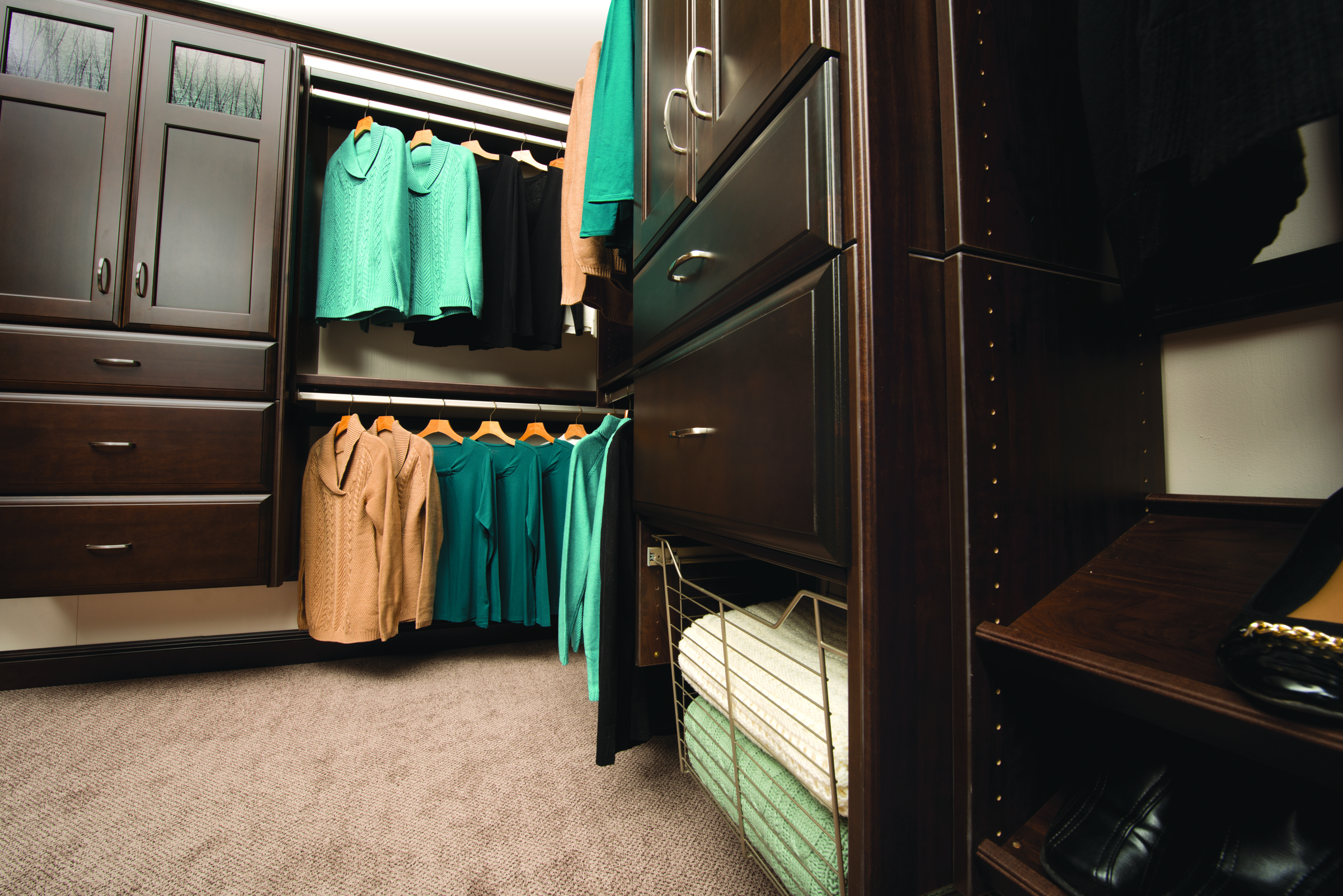 Photo By Real Closet
The closet industry is seeing real growth for the first time in a long time with many designers and manufacturers reporting a spurt of new projects and improved business conditions.  Surveys also suggest more homeowners view closet remodeling as a way to not only improve home values, but also provide a significant return on investments.
 
As home owners look at various options available for a closet renovation from floor-mounted closet organizing systems to wall-hung units, a Duluth, Minnesota, company – Real Closet Inc. – has patented a hybrid of sorts that it says can revolutionize the industry, offering the support, flexibility and all wood furniture-look of floor mounted systems with the perks of a floating, wall-mounted system, namely not having to deal with base moulding and uneven floors.  
EVENTS

Lisa Adams keynotes Closets Expo 2016

Lisa Adams launched LA Closet Design in 2007. Since then, a roster of celebrities, designers, architects and homeowners of all stripes have engaged Lisa's services. She tell how she has done it. 
---
Owner and inventor, Brian Billman founded Real Closet Inc. in 2009 during the depths of a recession, but the business has flourished over the years as awareness of the patented system spreads. Currently, the company has six employees that work in a 10,000 square foot manufacturing facility plus 29 field representatives and 400 dealers in North America as well as dealers in the Grand Cayman Islands and Puerto Rico.

 
Billman started out as a custom cabinetmaker with his own shop and then later became a dealer for the Minnesota-based Dura Supreme kitchen cabinet line.
 
As the demand for closets began to increase, the kitchen and bath industry started to evolve to a much more custom look. Billman says he saw a real opportunity to provide a new and affordable option in modular closet organizing systems.
"Very few companies in the closet industry manufacture their systems to look like traditional cabinetry, instead most look like casework," he says, "by adding wider maple edge it looks like a face frame."
 
And the cabinet industry has an entirely different mindset. "They don't think of closets as modular and build on site systems but as open finished cabinet boxes with closet rods that are added on site which increases the price point," he adds.
 
The difference with Real Closet is that it is an all wood, modular, flat-packed system that is also affordable.
 
"My main goal when developing this product was to create an affordable closet that looked more like custom cabinetry," Billman says. "This process also evolved into our product being green, and CARB 2 compliant."
The patented Wall Support Shelf system consists of two grooved solid maple, UV-finished foundation rails that are virtually invisible when above and below the partitions, he says. The modular closet unit mounts between the rails, which are properly aligned with provided spacers. Partitions have zinc coated pound-able fasteners (these are pressed into pre-drilled holes on the top and bottom and back edges of all partitions) with extended tabs that tilt into the grooved rails, making it almost zero clearance when in the upright position, Billman notes. These partitions are 23- and 47-inches tall and the patented Upright Extender System makes the partitions expandable to 70- and 93-inches tall.
 
The Real Closet system, which comes in three colors – white, spice and java – also has a 3/4-inch plywood shelf in 18-, 24-, and 30-inch standard widths, plus the patented wider span Twin Beam shelving available in 18-, 24-, 30-, 35-, 47-, and 59-inch widths. All shelf edges are solid maple with a UV finish. Drawers are dovetailed solid birch with profiled solid maple drawer fronts.
Manufacturing
The equipment Real Closet uses includes a Giben beam saw, Biesse edgebander, Busellato CNC, shapers, Ritter sander, and clamping and drilling stations engineered and constructed specifically for Real Closet.
 
Billman says the company decided to have its own clamping and drilling stations built as a result of the specific needs of its all wood, wall-mounted system.

Real Closet designed custom clamping and drilling machine concepts, and sought out an engineering firm to build them from scratch.
"The typical closet is made out of particleboard. Component parts are cut on a computerized CNC to finished sizes first and then edgebanded," he says. "Our product has wood mouldings -- a furniture-shaped edge -- so the manufacturing process is much different.

"First the plywood is ripped on a beam saw and then machined front and back edges to receive two 1-1/2-inch solid maple edges that then have a UV-finish applied and clamped through a special gluing process that allows it to be clamped at 8 feet per minute. Once the twin beam shelves are at this point they are then cut to finished sizes."
Design
Real Closet dealers use 2020 Design or Pro Kitchen to design its patented wall-mounted organizing system.
"Designers use kitchen software all day," Billman says, "this is why the Real Closet towers can drag-and-drop just like kitchen cabinets do to shorten the learning curve. Instead of using the closet versions that software companies offer, we created a catalog designed for the kitchen version of software with kitchen designers in mind."
Distribution
Real Closet ships factory-direct and Billman says they are looking to add even more dealers to its network, such as kitchen and bath studios, home interior designers, home centers, and even lumberyards. To learn more about Real Closet and view installation videos and tips, visit www.realcloset.com.

 
Have something to say? Share your thoughts with us in the comments below.