Modern design meets functional storage in this commercial cabinet
November 7, 2018 | 7:27 pm CST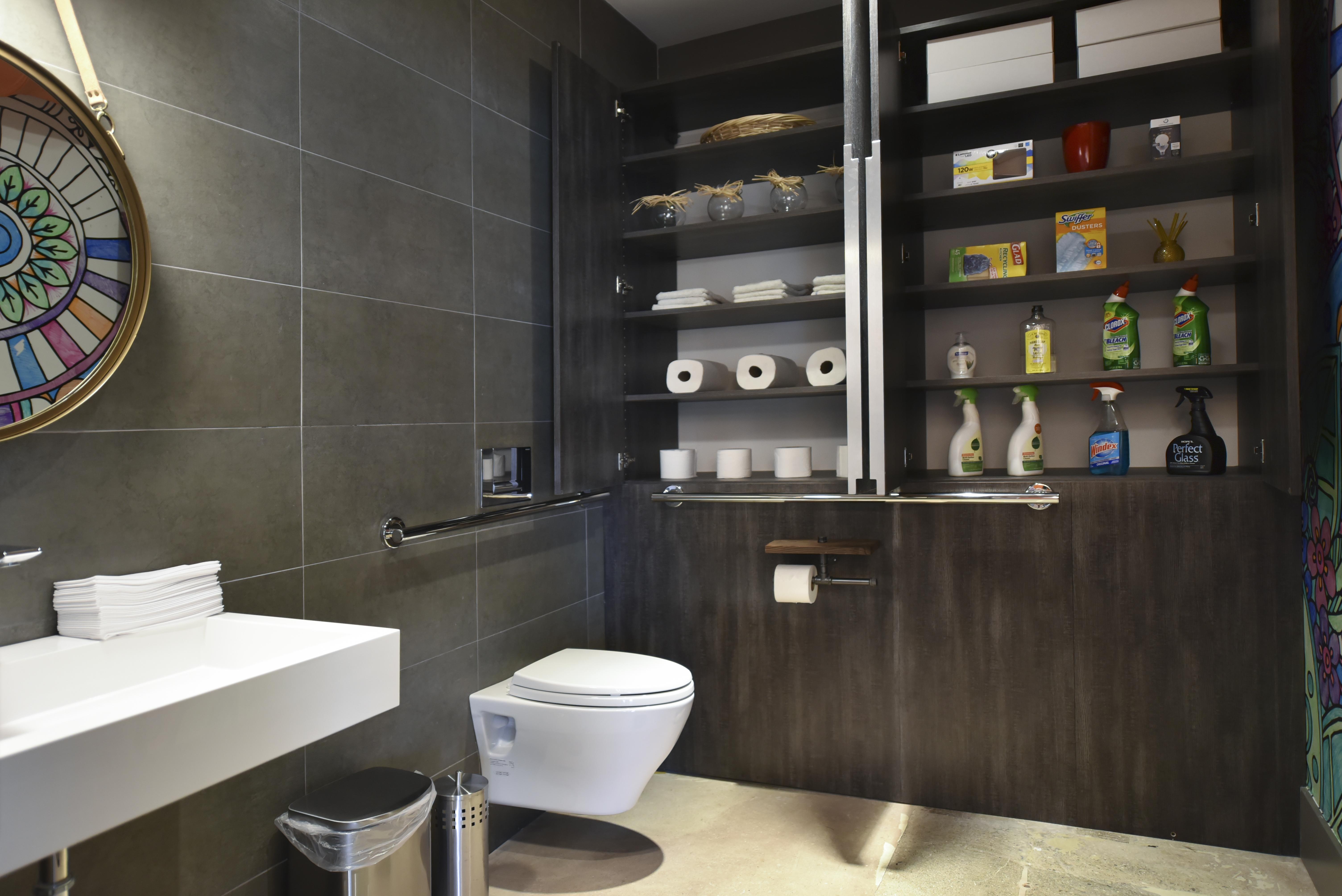 Photo By Sue Trainor/ Closet Works
Designer Sue Trainor, Closet Works,  submitted this project in the 2018 Top Shelf Design Awards. Titled "Disappearing Storage Cabinet," this project features a modern design style and seamless functional storage options.
Here's how Trainor described the project:
Project description
The client recently opened a commercial space — a tutoring center in Chicago — and needed extra storage for books, boxes of school supplies, paper, electronic equipment, light bulbs, cleaning supplies, etc. Unfortunately, there wasn't any room in his office or other "typical" locations for any extra cabinets. He did, however, have a large public restroom and wanted to build a storage space in the bathroom toilet area. 
He wanted a cabinet that would almost blend into the wall, creating a very modern look to coordinate with the tile and rest of the décor, while minimizing the existence of the storage cabinet, if not hiding it altogether. The only wall space that was available had plumbing pipes exposed half way down and only drywalled above the pipes. He thought a suspended cabinet was all he could do in that area but also needed to have a handicap handrail on that same wall and didn't know how he could do both and still have the sleek, contemporary look he wanted. 
Cabinets & Closets Conference & Expo News

 

 

2019 Top Shelf Design Awards reception to be held March 7 at the NASCAR Hall of Fame Museum in Charlotte, North Carolina.
---
I had an idea for a design that would end up providing a functional storage space to blend into the contemporary look he wanted, satisfying all handicap requirements, keeping plumbing pipes accessible for servicing, while minimizing the appearance of having storage cabinets in the public bathroom. He loved the end result and has some great extra storage.
I advised them to frame out the pipes just above the height needed for the handicap handrail which was about 36 inches from the floor. The framed section was bumped out about 19 inches, enough to create a space above where we could install a deep cabinet for storage. Our cabinet is also 19 inches in depth, with two sets of double doors. 
We installed only one very contemporary handle for every two doors. He didn't want to draw attention that there was even a cabinet on the wall so picked a handle over 30 inches long which looked more decorative than knowing it was a handle to open the cabinets. We installed false decorative panels over the bump out and the handrail was attached to that. The bottom right panel was attached in a way that the pipes would be accessible if needed but from the front looks like part of the wall.
Materials used
Vintage color laminate, flat front doors, and deco panels, customer-supplied hardware.
Equipment and/or software used
Have something to say? Share your thoughts with us in the comments below.