Lockdowel EClips fasteners allow Bella IMC to streamline cabinet manufacturing
May 30, 2017 | 3:12 pm CDT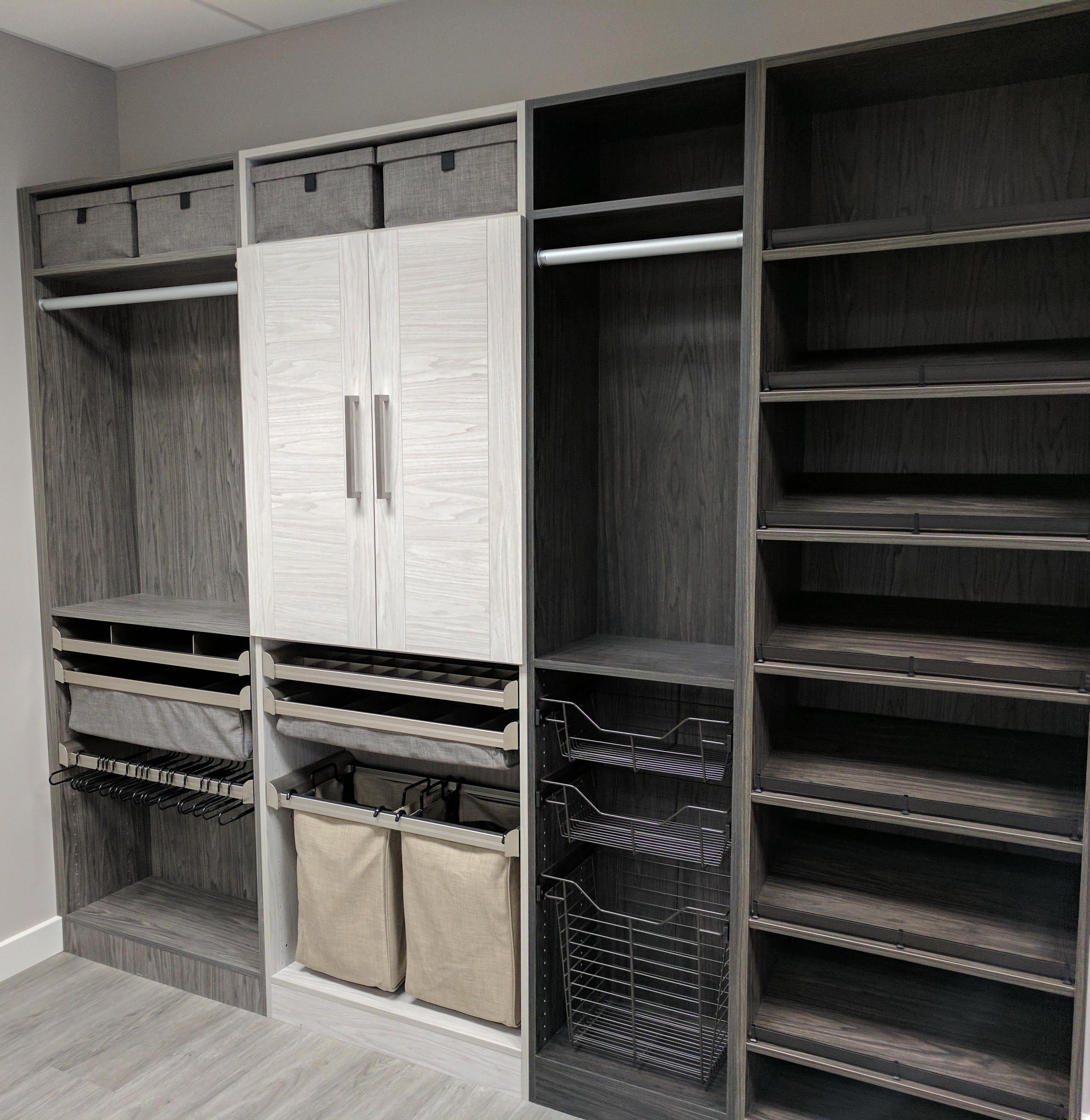 Bella Innovative Modern Cabinetry's production and sales strategies are opening new doors in the marketplaces. The Ft. Wayne, Indiana-based custom manufacturer is among the first in the industry to incorporate Lockdowel fastening technology in its RTA cabinetry, sold nationwide through an online ordering system.
Bella, which means beautiful in Italian, is a division of Chadwick Industries. Founded in 1997, Chadwick began as a custom furniture firm before moving into commercial cabinetry in 2004.  "We started day one with CNC equipment and gradually added new equipment year after year," said Chad Shelton, president. "I realized in the first week of having the equipment that I could create products and sell online."
Bella IMC is one of the first cabinet companies in the industry to incorporate the use of Lockdowel fastening technology in its RTA cabinetry.
Although it would take a dozen years before the idea became fully realized, "Our focus now is the manufacturing to order of cabinets and doors under the Bella IMC brand," he said.
"We decided to create Bella IMC because we wanted something that embodied what we were doing," Shelton added. "We were already building frameless cabinets and now we were adding modern design, an innovative construction method from Lockdowel, putting it online with Allmoxy and having it driven by Cabinet Vision."
How it works
Shelton said he first learned of the Lockdowel technology through a 2015 advertisement in Woodworking Network's Daily Brief newsletter. "I called them immediately because I was already working on the new direction for the company." 
Tests were soon run using Lockdowel EClips connectors. "There was no doubt in my mind that this was a game changer for us," Shelton said. "We've invested over $750,000 and climbing to change everything to this system."
While similar to other fastening systems in that the connector fits into a connection point, what separates the Lockdowel snap-together system is that no glues, nails or clamps are needed.  EClips have finned legs that press permanently into properly sized holes, leaving a protruding clip designed to slide and lock into a specially made recess. The fasteners are available for non-removable or removable applications, such as cabinet refacing.
Bella IMC creates modern frameless cabinetry in its 17,000-square-foot facility, which features a showroom in the front office and a 9,000-square-foot production area with state-of-the-art woodworking machinery.
"Lockdowel has designed a way to make the assembly of that connection faster by leaps and bounds," Shelton noted. "Typical RTA cabinetry comes with a bag of hardware. The Lockdowel cabinets come to you with the connectors already inserted. The assembler can put these cabinets together in two to seven minutes; that includes the drawer box assembly and hanging the doors and drawer heads."
There are also savings in the manufacturing process, due to fewer steps in the production process and faster assembly of parts in the shop, he added.  
More than half of the 17,000-square-foot facility is dedicated to the production process. For the manufacture of Bella cabinetry, panels are machined on the Morbidelli CNC router with nesting capabilities. Edgebanding is applied using an SCM Olimpic K600 single-sided machine equipped with a Thomas return conveyors purchased from Winner Woodworking in Indianapolis.  
"Tom Geimer (Winner Woodworking) was instrumental in helping us get to this point. He knows where we want to go in the future and most importantly how to get there," Shelton added.
Critical to Bella's manufacturing process is a new Omal horizontal boring and insertion machine. Installed in May, the Omal automatically drills and inserts the glue-less, tool-less Lockdowel ECips fasteners with precision, enabling 80 percent faster cabinet assembly, the company said. "Typically the only tool needed is a rubber mallet to tap the parts into place," Shelton added.
Also used in the 9,000-square-foot production area is a Holzma Beam saw and a RazorGage cutoff saw for door production.  "Over the next year and a half we will be adding more CNCs, a Stefani air edgebander with grooving capabilities, as well as Nederman vacuum systems and an array of conveyors and packaging systems.
"In the three-to-five year range is when it will go to another level. After five years it will be a must see," he added.
The company currently has six employees. Shelton said they anticipate hiring five more this year, and another nine next year.
"Our team is much happier now that they can fill the orders as they come into the system. Production has improved through its simplicity alone."
Custom ordering
The Bella IMC frameless cabinetry can be ordered online in customized sizes to 1/16 inch, assembled or ready-to-assemble. Currently there are three drawer front styles and eight door styles available, with glass inserts available soon. "We are always adding new cabinets to the ordering site," Shelton said.
The three, five and seven-piece doors are available in textured TFL materials, including Stevens' Artika Collection and the Tafisa Viva Collection, with offerings from Arauco, Uniboard, Northern Contours and Cleaf soon to be added.
Bella IMC sells wholesale to kitchen cabinet dealers, home improvement professionals, builders and cabinet and closet shops looking to outsource. In addition to the faster assembly times, benefits of sourcing Bella cabinetry include 60 percent less in upfront costs and as much as 70 percent lower rates from flat pack shipping. Most orders can be filled in two to four weeks, Shelton said, with some variance for large orders for multi-family housing projects.
Customers can order the cabinet box only, individual door and drawer fronts, or a complete cabinet through the Allmoxy driven ordering page. "All orders work through our Allmoxy driven ordering site that talks directly to Cabinet Vision software," he said. "Allmoxy has set up a great system that can be used in many industries."
To make things even easier for customers, the Bella website, BellaIMC.com, will soon have available videos showing how to assemble the cabinets and drawers. "There will be tips on how to get started and preparing for assembly and what to be aware of," Shelton said. "The videos will always be updated as we learn from those assembling in the field. They are intended to make the process as easy as possible and relate with the customer."
He added, "This is a whole home product and can be used in all markets. It's just boxes and doors! People always find a way to use them because they have a need.
"We are going to put this in as many markets as we can, one way or another. Finding good qualified partners is the first step."
Have something to say? Share your thoughts with us in the comments below.