Gladiator GarageWorks adds four new products for garage organization
September 7, 2016 | 9:44 am CDT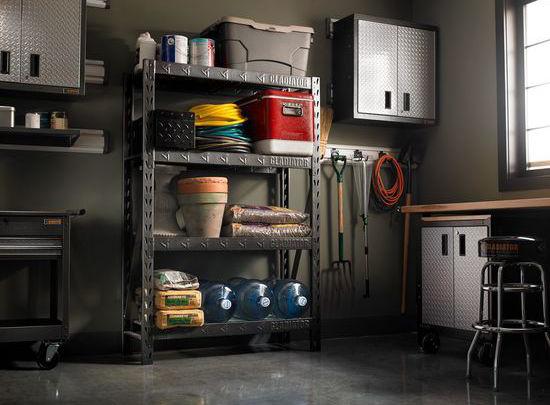 Photo By Gladiator GarageWorks
BENTON HARBOR, Mich. - Gladiator GarageWorks, a maker of garage and household organization and storage systems, released four new products garage organization including the Gladiator2-Drawer Utility Cart, 48-inch Rack Shelf with Hammered Granite Finish, GearTrack Essentials Pack and GearTrac Essentials Deluxe Pack.

All products are available at GladiatorGarageWorks.com as well as at select retailers.

2-Drawer Utility Cart ($199.99 MSRP)
Designed with mobility in mind, the 2-Drawer Utility Cart is easy to move, so homeowners can bring tools right to their latest projects. Four heavy-duty 5-inch swivel casters are welded to the bottom tray for structural durability and smooth mobility, while the two drawers allow users to easily keep frequently used tools within easy reach in the upper locking tray.

48-Inch Rack Shelf with Hammered Granite Finish ($139.99 MSRP)
This heavy-duty steel rack shelving unit allows anyone to store and organize large and bulky items with ease. Built with a welded steel frame and four robust shelves that each hold up to 1,500 lbs., the Gladiator 48-inch Rack Shelf also is fast and easy to assemble at home without needing tools, while the dual slot design allows for additional supports and shelves.

GearTrack Essentials Deluxe Pack ($44.99 MSRP)
The GearTrack® Essentials Deluxe Pack includes more than three linear feet of durable storage space. For larger items around the home, the GearTrack Essentials Deluxe kit includes five different hooks allowing for storage of racks, shovels and kayak paddles. The 42-inch GearTrack Channel can be installed anywhere into two studs.

GearTrack Essentials Pack ($29.99 MSRP)
Ideal for entryways and closets, the Gladiator GearTrack Essentials Pack contains a 32-inch GearTrack Channel that can be easily mounted using two studs for quick installation. Four "J" Hooks allow for lightweight items such as coats, keys, umbrellas and more to be stored, while two Scoop Hooks provide support for bulkier items.

"The GearTrack Essentials Pack and GearTrack Essentials Deluxe Pack offer consumers the opportunity to start small and gradually organize their homes without having to get rid of valuable memories," said Allison Gillespie, Brand Manager for Gladiator GarageWorks. "Wherever people are in their organizational journey, whether storing kid's toys or stashing away old hobby gear, Gladiator is there to help."

In addition to the new GearTrack packs, Gladiator also offers a wide range of home organization and storage systems, with products offered in both pre-assembled and ready-to-assemble options.

For more details on the Gladiator GarageWorks' new GearTrack packs as well as for a full line of product offerings, an interactive online studio with garage design tools, and more, visit www.GladiatorGarageWorks.com.
Have something to say? Share your thoughts with us in the comments below.