Devastating fire prompts new start for cabinet company
February 1, 2021 | 11:49 am CST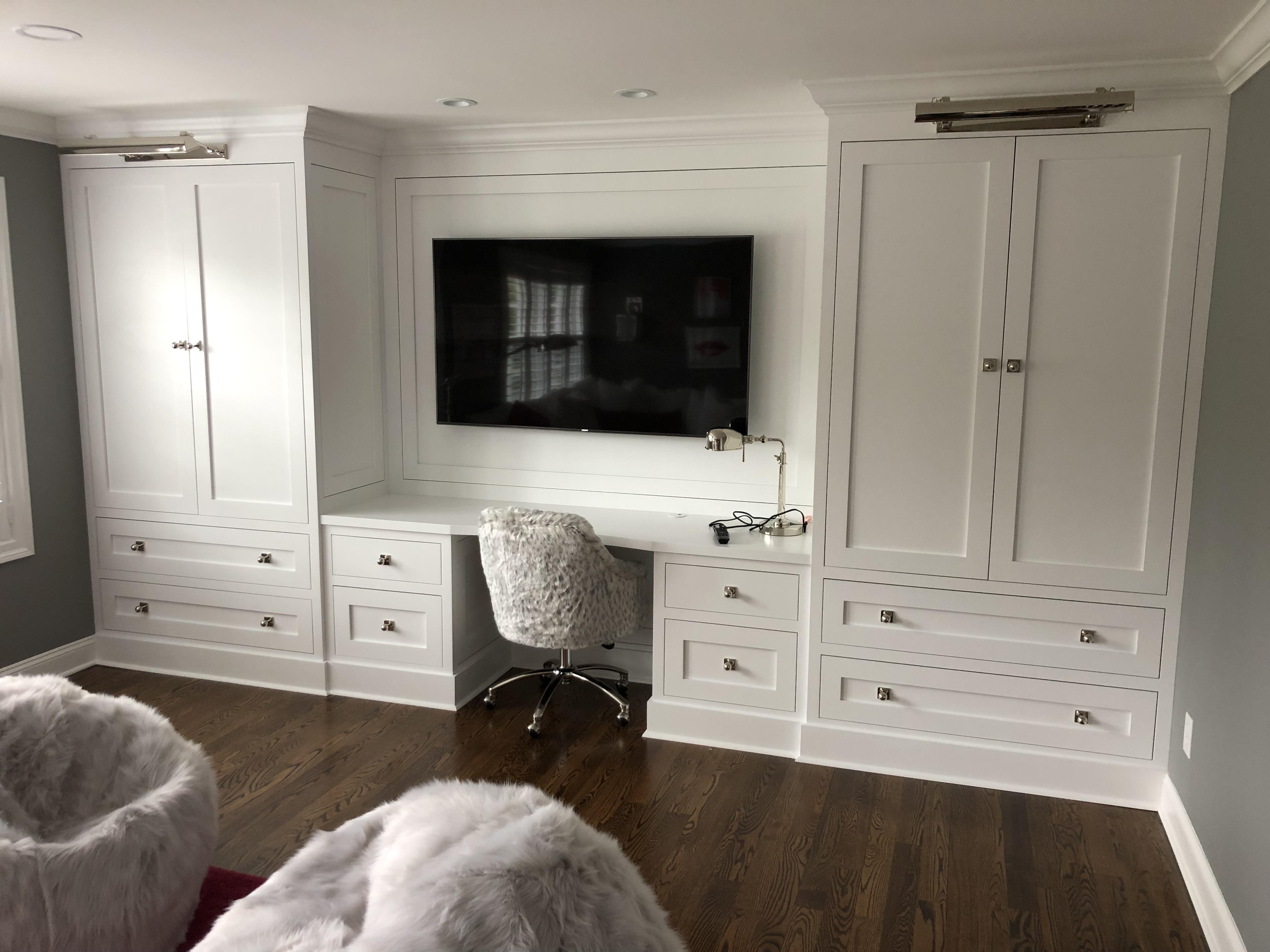 Photo By Olde Saratoga Millwork
The owners of New York-based Olde Saratoga Millwork know how to turn challenges into opportunity. After a devastating fire several years ago, the company was able to relocate and retool with state-of-the-art equipment. And during the initial months of the COVID-19 pandemic, the company implemented a new system allowing it to manufacture closets and home storage solutions.
In 2004 co-owner Keith Kreppein opened the shop in a 7,000-square-foot old industrial bag fabrication building on the Hudson River in Saratoga County with a used slider, a new wide belt sander and edgebanders. And he began making face frame cabinets.  
He didn't have any CNC equipment at the time – his shop was filled with hand tools, table saws and sanders – but in 2005 he purchased Cabinet Vision and that took his work to another level.
Kreppein eventually decided to fully automate the shop in 2009, which he said was always his long-term goal because automation was the best way to build cabinets. It also allowed him to combine his passions of construction, computer technology and cabinetry.
He purchased a CNC router and at that point he had about six to seven employees. Then in 2015 he met his current business partner, David Guy, and they decided to work together as a two-man shop. They invested in a Biesse Rover A in 2017 and had only used it a few months before the devastating fire ravaged their shop in January 2018.
They lost everything and it was one of those moments where you have to decide "do you quit or do you move on," Kreppein said.
The fire actually started in his neighbor's shop.
"Our neighbor was kind of an industrial metal working buyer and reseller. He would fix it up and resell the metal working equipment, but it was packed wall to wall, floor to ceiling with 30 or 40 years' worth of stuff, and it all went up in the fire."
There was so much equipment in the neighbor's shop that the fireman couldn't even get to it.
"They had to cut our garage door open in a triangle and get in with a fire house and basically start putting the fire out through our shop. And it was three hours of nonstop three inch or two inch fire hose in my shop, and it just ruined everything. It ruined everything."
Although the cause of the fire was inconclusive, they believe that old industrial heaters in his neighbor's shop sparked a dry pallet, which then ignited the oil in one of these old industrial machines. "That's what really what kicked off the fire. And, with an oil fire it took a while to put it out."
Kreppein and Guy decided to write the damages off as a total loss and then they began planning how to replace everything. He credits his insurance agent, Dan Lerch, Liberty Mutual, for making the process easier. They received their first insurance check within a week.
"We had a decision to make. Do we clean up the building that we were in which was just, the ceilings, the floors, the walls, all of the equipment was just rusted and caked with soot. It was such a mess, and David and I decided to start looking for a new building and we found one right off the Northway, 20 miles closer to where most of our jobs are," he said. "We negotiated and got the paperwork rolling. A new CNC machine, the Biesse Rover B was on order."
However, the new shop was not available until months later. So, Kreppein and Guy, in their burned-out shop, cobbled together a used table saw and other equipment including a spray gun to start making parts for the job they'd just received the day of the fire. 
In May they were able to move equipment to the new shop and their new CNC was delivered in June. "We had to get all the electric and the power up and running. And we ordered a new edgebander and a new sliding table saw. A whole new dust collection system that we had to have hooked up. All the duct work. A new rotary screw compressor. All the air lines. All this while trying to work off basically a table saw and put edgebanding on with a router. I don't know how we did it, but you figure it out and you do it."
Their new shop is 5,000 square feet and has 25-foot ceilings. "But it's way more efficient than my old shop ever was," Kreppein noted. 
New closet line
Olde Saratoga Millwork's business is 75 percent residential with frameless and beaded inset face frame cabinetry. 
However, because of COVID-19, Kreppein said they implemented the Lamello Cabineo system into their Cabinet Vision to manufacture closets.
"I think it was March when I had the Cabinet Vision integrate Lamello Cabineo into my system. And then, found a really nice closet designer that we work with," he said. 
"I don't know if I would have had the time to do it if it wasn't for COVID. Because we were sitting around a lot in March and April. I said, 'You know, now's a good time to implement this closet system.' And it's worked out very well for us."
A lot of the projects they received during that time were laundry rooms, and offices. Although the jobs were smaller, they were plentiful, he said. 
"We basically did not have a day off Monday to Friday, except for March. March was a little slow trying to figure it all out, but by the time April came around our shop became busier."
Kreppein said they still have work left to do on the shop, but it was all worth it in the end. "I would never want to do it again, though." Learn more at
oldesaratogamillwork.com
.
Have something to say? Share your thoughts with us in the comments below.