Designing with decorative surfaces
May 20, 2021 | 7:35 am CDT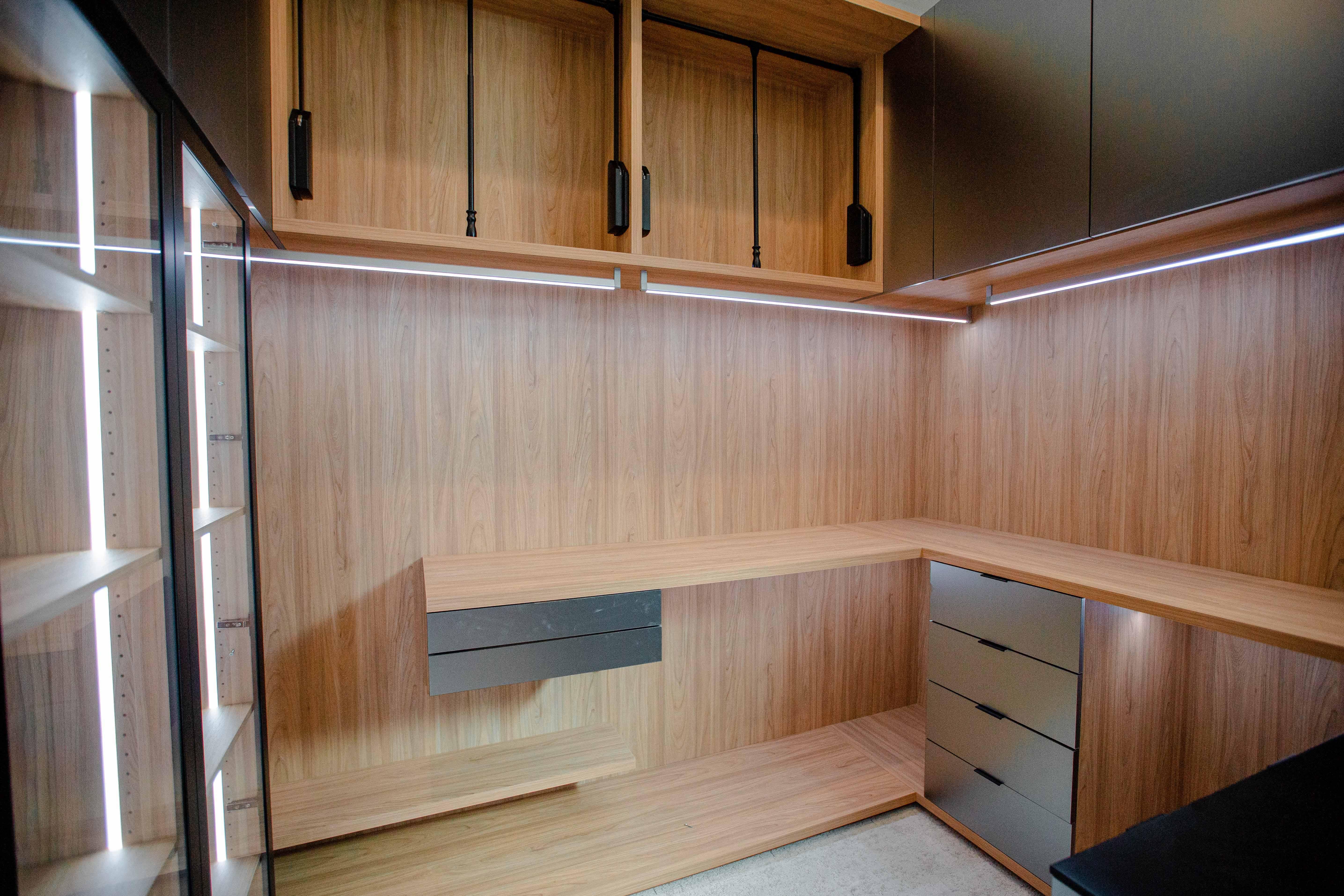 Photo By JCW Creative Agency
Decorative surfaces can add depth, contrast, and visual interest, while their unexpected applications can often take a project to a new level, design-wise. That was the case with this Denham Springs, Louisiana, home which features a modern take on the Tudor style while spotlighting a variety of unusual applications of surfaces and cabinet doors.
The project was designed by Gator Millworks in conjunction with Architect Mike Hogstrom of OnSite Design.
The home's design incorporated a variety of Rehau products, including Rauvisio Brilliant Bianco for the dining ceiling clouds, Rauvisio Carbon Steel for the pantry, master closet, and master bedroom, and Rauvisio Terra Craft Elm and Rauvisio Brilliant Bianco for the girls' closets. The super matte surface Fenix NTM makes numerous appearances: Grigio Londra for the kitchen; Nero Ingo in the office credenza and mudroom; Bianco Kos for the master bath, pool bath, guest hall niche, great room back-lighted niche floating glass wall panels, and in the laundry area where it is paired with Rauvisio Brilliant Vino.
The home has an "old world meets new world feel," said Robert Leiper, lead designer, interior design and millwork fabrication for Gator Millworks. "For the interiors, this meant we were able to go very contemporary with minimal trim and details."
The design brings together several interesting elements, from the clean look of the open shelving to the eye-catching geometrics of the lighting fixtures to the dramatic focal-point bathroom wall that provides a striking contrast against the otherwise pure-white space.
"Our main objective," he said, "was to create an interior environment that was clean and contemporary, yet warm and inviting." This is achieved through the use of a neutral palette, open floor plans, and an influx of natural light that helps to bring the design to life.
"We did not want to have to deal with the inherent issues that come from a site-finished product, or a specialty shop finish that is difficult to reproduce if damaged," Leiper noted.
The combination of unique material applications and a clean, contemporary design made the project really come together, creating a warm and inviting environment that was just what the clients were looking for.
 
Have something to say? Share your thoughts with us in the comments below.