Encore! Titus' products unveiled at KBIS coming to Closets Expo
March 11, 2022 | 10:22 am CST
SAN DIEGO – Titus Group will display several new hardware products at the Closets Expo that it introduced at the Kitchen & Bath Industry Show (KBIS) last month. 

Co-located with Wood Pro Expo California, the expo takes place April 28-29 at the San Diego Convention Center.

The new products Titus plans to showcase include:

Quickfit TL5 'Full Metal Jacket' dowels eliminate the need for wood dowels in connecting parts made of MDF, particleboard, or solid wood. The TL5 dowel features an expandable steel sleeve that engages in a 5mm dowel holes. This feature enables the use of the tool-less Quickfit dowel insertion technology across a wide range of applications in RTA furniture where 5mm drilling is the standard.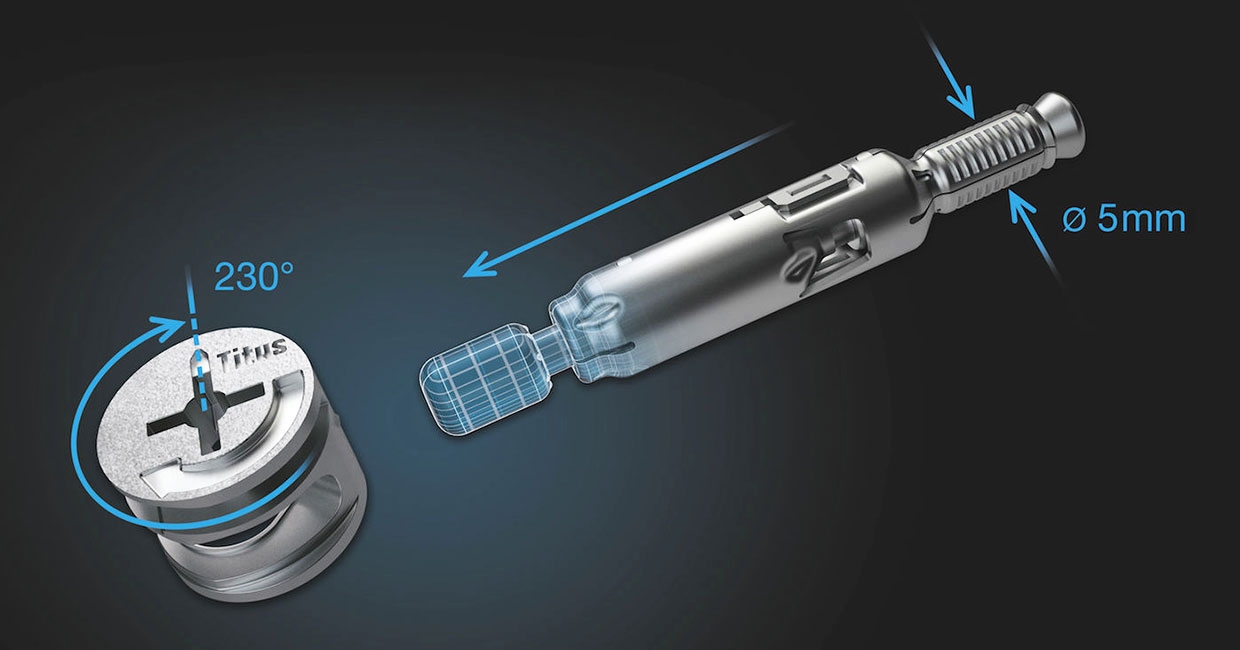 The Slidix family is comprised of a range of soft-closing systems covering applications in various internal sliding door systems, wardrobes, and drawer systems from cabinet slides to refrigerators. The compact sliding mechanisms, with a damping stroke of 50mm or 100mm, can be applied on wood, glass, hollow core, plastics, and other materials. Customers can choose among three possible movement principles that can damp the object from inside-out, outside-in, or in both directions, based on the required Slidix position and space limitation, speed of closing, weight, and friction.

The Slidix family includes the Slidix Centro, a solution for controlling the motion and centering of middle doors in cabinets and case goods with three or more sliding doors. Slidix Centro can be added to any two-way runner system, making it well suited for applications such as cabinets with drawers, kitchen islands, or double-sided pull-outs in pharmacies or retail displays.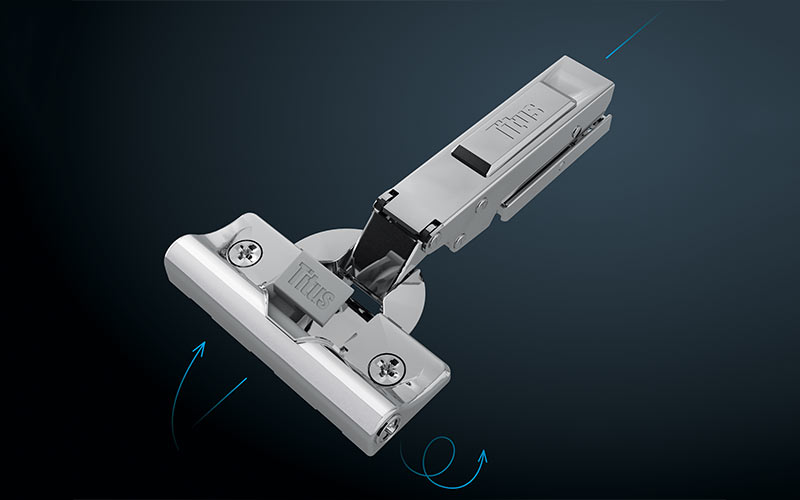 In addition to these products that debuted at KBIS, Titus will display its soft-close T-type hinge with 3Way snap-on hinge-to-plate mounting (top, front, and back) that it introduced at the 2021 Closets Expo in West Palm Beach, Fla. The T-type hinge is designed to save time for cabinet assembly while also providing a long, consistent performance of up to 200,000 cycles on even thicker and heavier doors where sagging is an issue. Titus says the T-type hinge's rigid design assures reliable operation over a wide range of tolerances, even in the case of accidental misalignment and inaccurate drillings. An easily accessible adjustment button and intuitive adjustment procedure of the damping action provide efficient soft-closing performance on doors of different dimensions and weights. The new hinges require only a shallow hinge cup, which makes them suitable for use with door thicknesses ranging from 15mm to 26mm.
Other products that Titus will display at the San Diego Convention Center next month include the Tekform Slimline Takto drawer slide, Push Latch, and Flush System 6 connects..
See these and other products at booth #600. Learn more at titusplus.com.

About the 2022 Closets Conference & Expo and Wood Pro Expo California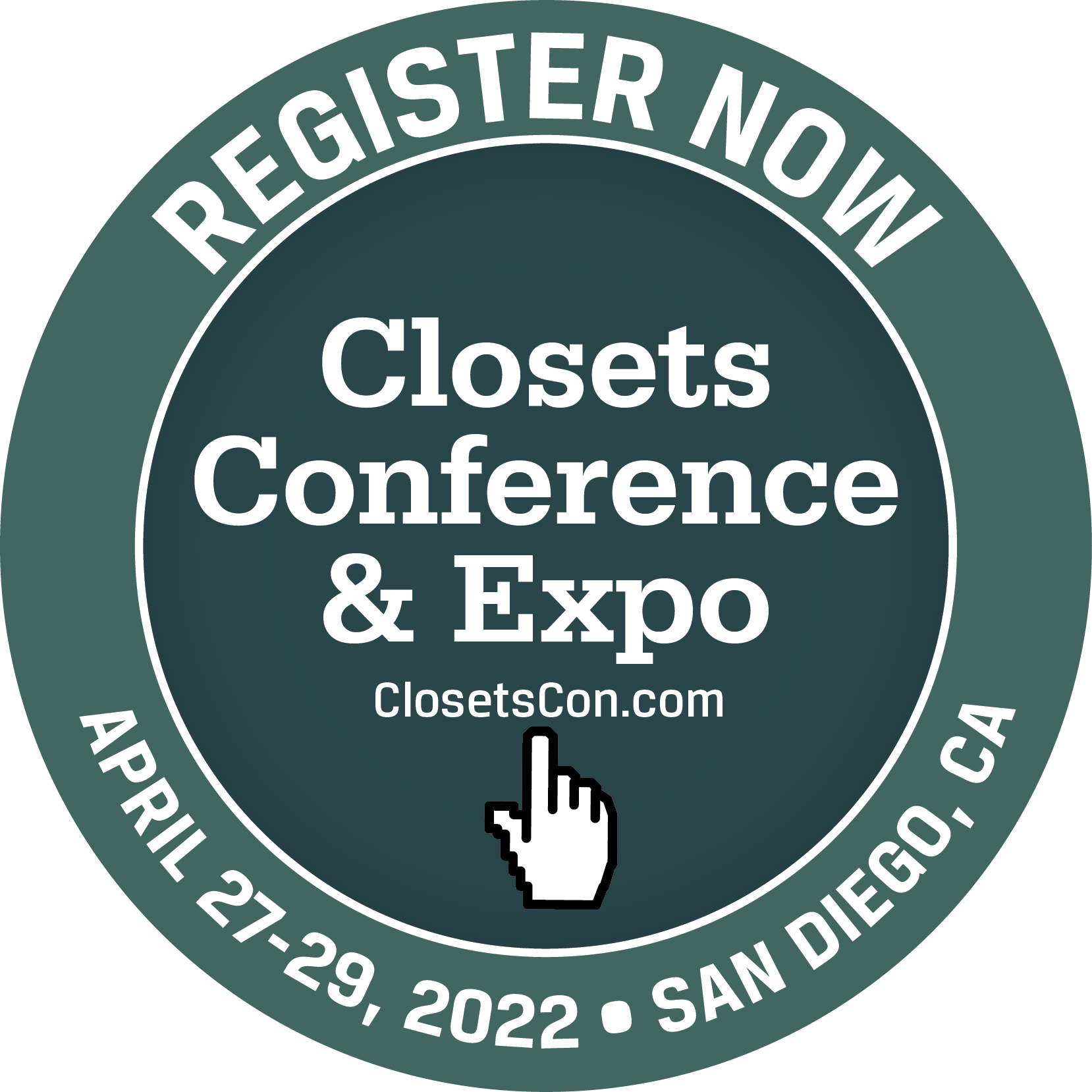 The Closets Conference & Expo is the annual national event for closet and home storage professionals. It is co-located with Wood Pro Expo California (WPE), a regional marketplace for woodworking professionals. The events are organized by Closets & Organized Storage and FDMC magazines respectively, each part of Woodworking Network. The twin-bill event is scheduled for April 27-29, 2022, at the San Diego Convention Center in San Diego, Calif.

The Closets Expo and WPE each kick off with a separate full-day conference on April 27, followed by the two-day expo, April 28-29, featuring woodworking machinery, supplies, and components. Additional educational programming is offered on both days of the expo. 

For information about exhibiting and sponsorship opportunities, contact Laurel Didier, publisher of Closets & Home Storage. For all other inquiries, contact Kim Lebel, show manager. 
View the interactive exhibitor prospectus.

More upcoming Woodworking Network events
Executive Briefing Conference, September 15-17, 2022, The Broadmoor, Colorado Springs, Colo.
Wood Pro Expo Lancaster, October 13-14, 2022, Spooky Nook Sports Center, Manheim, Pa.
Salon Industriel du Bois Ouvré (SIBO), October 27-29, 2022, Centrexpo Cogeco, Drummondville, Quebec.
Have something to say? Share your thoughts with us in the comments below.