CNC machines will run live at Cabinets & Closets Expo 2016
February 19, 2016 | 11:14 am CST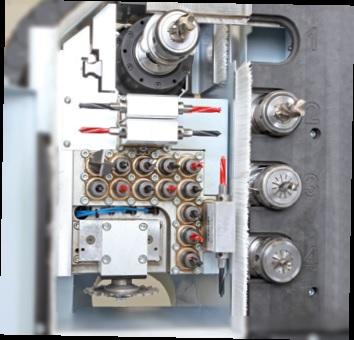 Photo By Stiles BHX 055
Running machinery includes CNC panel machining systems, edgebanders, saws, and joining equipment at the 2016 Cabinets & Closets Expo, taking place March 23-24 at the Pasadena Convention Center in Pasadena, California. Among more than 80 exhibitors already booked for the show are seven CNC manufacturers: Biesse America (Booth 129), Felder Group (Booth 101), Holz-Her (Booth 323), Laguna Tools (Booth 411), SNX Technologies (Booth 432), Stiles Machinery (Booth 221), and Thermwood (Booth 414).
Some will bring operating equipment, others will show virtual demo's through video and simulated control systems. Exhibitors who have shared their plans with us so far include the following:
Stiles Machinery will show the Weeke BHX 055 CNC vertical processing center, a highly automated, compact technology for CNC panel machining that fits even in tight quarters. Also running at the show will be the Brandt Ambition 1230 Edgebander. See them both at Stiles Machinery Booth 221. 

Holz-Her will exhibit its award-winning Evolution 7405 Vertical Machining Center as well as the Holz-Her 1308-Automatic edge bander. The Evolution can machine panels up to 10 feet in length on all four sides of the board in a single set up. It won the 2014 IWF Challenger's Award and an AWFS Visionary Award in 2015. Holz-Her is exhibiting in Booth 323.
The Holz-Her Evolution 7405 Vertical Machining Center.
SNX Technologies will be demonstrating its U.S.-made nVision semiautomatic contour edgebander in Booth 432. The nVision can work on straight or shaped (concave and convex) parts with a variety of tape widths and thicknesses. The nVision's patent‐pending Floating Laser follows the geometry of large or warped panels, ensuring that the final tape butt joint is as tight as possible, with .05mm increments available to dial‐in perfectly jointed seams. The nVision does contour edging without making calculations, complex programming or an operator's guidance of the process.
SNX nVision
The compact articulating vacuum arm edgebander offers capabilities to band panels with flexible tapes from 0.5mm to 3mm.  The nVision will be open banding pre-cut shaped closet parts with thin tape at the show, as well as completing a variety of closed band operations.
Felder, along with celebrating its 60th anniversary, will exhibit a variety of machines: Format - 4 Profit H08 nested based CNC machine, G480 edgebander with pre-milling and corner rounding, G330 edgebander, K940S sliding table panel saw, K540S sliding table saw, AD941 jointer/planer, FD921 line boring machine, and a RL clean air dust extraction system.
Thermwood, though not running equipment live, will be demonstrating the capability of its line of CNC routers though a virtual presentation, including its fully automated Cut Ready Cut Center. See them in Booth 414.
Cabinets & Closets Expo is also the first big show with running wood manufacturing machinery and controlling software to take place since Congress made permanent the investment tax incentives known as Section 179. Congress voted in December 2015 to make permanent a 100 percent deduction for capital investment, up to $500,000. (It is retroactive through 2015, according to www.Section179.org.) Investments above that level, up to $2 million, are deductible at a lower rate.
In addition, a 50 percent Bonus Depreciation is part of the law, and it will be extended through 2019. Businesses of all sizes will be able to depreciate 50 percent of the cost of equipment acquired and put in service during 2015, 2016 and 2017.
Have something to say? Share your thoughts with us in the comments below.